Israel Folau Tweets Bible Verse on Persecution After Furor Over Saying Gay People Are Going to Hell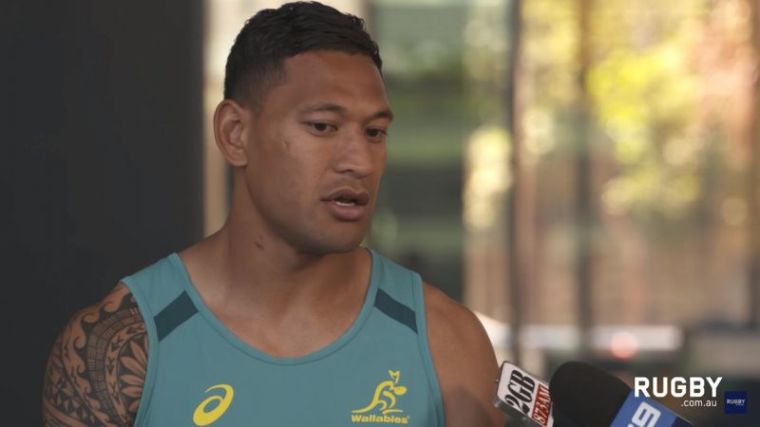 Israel Folau, a Christian rugby star from Australia, has tweeted Jesus' words on persecution as found in the Sermon on the Mount, days after sparking public furor when he said gay people are going to Hell unless they repent.
Australia's ABC News said on Tuesday that Folau faced a public outcry and had to appear before rugby authorities for a discussion on social media policy after a controversial Instagram exchange last week.
After being asked what is God's plan for gay people, Folau offered in a now-deleted reply: "Hell ... unless they repent of their sins and turn to God."
Folau, who was raised as a Mormon but joined an Assemblies of God church in 2011, posted on Twitter a portion of Jesus' Sermon on the Mount, as found in the book of Matthew, days after the Instagram exchange.
He highlighted the words: "Blessed are ye, when men shall revile you, and persecute you, and shall say all manner of evil things against you falsely, for my sake. Rejoice, and be exceeding glad: for great is your reward in Heaven."
The rugby star has spoken out on social media about issues concerning gay people in the past as well. In September 2017, ahead of the country's national postal vote on legalizing same-sex marriage, he tweeted: "I love and respect all people for who they are and their opinions. But personally, I will not support gay marriage."
Rugby Australia chief executive Raelene Castle said on Monday following the meeting with Folau that he remains a "strong role model."
"We are in a negotiation with Israel to extend [his contract] and we would really like him to stay in rugby, that's hugely important to us, he is a great player, he has delivered some great outcomes for us and has been a really strong role model in the Pacific Islander community and we would like to see he stays in rugby," Castle explained.
Castle noted that Folau understands why his comments about gay people and Hell could cause pain for others.
"Yes, and I think Israel has acknowledged that maybe he could have put a positive spin on that same message and done it in a more respectful way," she said.
Some, such as Martyn Iles, managing director of the Australian Christian Lobby, said that he is glad that Folau was not disciplined over his social media comments, but insisted that he should not have been summoned for an explanation of his beliefs in the first place.
"It is likely that the handling of this incident has set a precedent in Rugby Australia and other sporting codes where the ability of players to articulate mainstream Christian views is chilled. This is discrimination against people of faith in sport," Iles argued.
He added the lobby was concerned that "Falou's appropriate use of social media could stifle his freedom to speak openly about his faith and marginalize his Christian identity into the future."
After close to 61.6 percent of respondents voted in favor of legalizing same-sex marriage at the end of the last year, the Australian parliament officially legalized the practice on Dec. 7, 2017.