Gaza's only power plant shuts down; Israeli forces shifting to a 'full offense'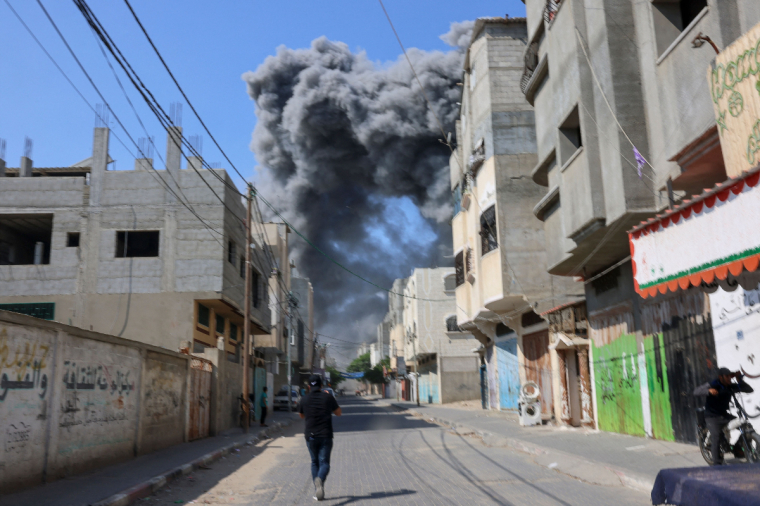 Gaza's only power plant has shut down due to a fuel shortage, plunging the territory into darkness as Israel amasses troops near the border. Amid rising death tolls on both sides, the United States is holding talks to create an aid corridor for civilians in Gaza.
The energy ministry announced the power plant's shutdown Wednesday after Israel cut off fuel and food supplies and is amassing troops near the border in response to a multi-pronged attack from Hamas over the weekend that has killed hundreds of Israelis.
Over 2 million people live in the Gaza Strip, a 25-mile strip of land between Israel and the Mediterranean Sea.  
"This threatens to plunge the Strip into complete darkness and make it impossible to continue providing all basic life services, all of which depend on electricity, and it will not be possible to operate them partially with generators in light of the prevention of fuel supplies from Rafah Gate," Gaza authorities said in a statement on Wednesday.
"This catastrophic situation creates a humanitarian crisis for all residents of the Gaza Strip."
Israeli Defense Minister Yoav Gallant said in an address to troops Tuesday that Israel Defense Forces are moving to a "full offense." 
"They will regret this moment — Gaza will never return to what it was," Gallant said, according to The Times of Israel. "Whoever comes to decapitate, murder women, Holocaust survivors, we will eliminate him with all our might, and without compromise."
The U.S. has sent the first plane carrying armaments to Israel, aimed at facilitating Israel's military operations after the surprise attack from Hamas.
Meanwhile, U.S. National Security Adviser Jake Sullivan said talks are ongoing with Israel and Egypt about creating an aid corridor for civilians in Gaza. Secretary of State Antony Blinken is set to arrive in Israel this week in what has been described by a State Department spokesperson as a show of solidarity and support.
The World Food Program and aid groups have called for aid corridors as supplies are diminishing. The United Nations World Health Organization said supplies for seven hospitals have already run out, The Associated Press reported.
Doctors Without Borders also warned of dwindling supplies at two hospitals it runs in Gaza. Matthias Kannes, the group's head of mission in Gaza, told AP that it "consumed three weeks' worth of emergency stock in three days partly due to 50 patients coming in at once." 
The death toll continues to rise, entering the fifth day of hostilities. The war has claimed at least 2,200 lives on both sides, according to AP.
It's unclear if the death toll includes the roughly 1,500 Hamas fighters recovered by Israel forces.
Nine U.N. staff members have also been killed in airstrikes since Saturday, according to the United Nations Relief and Works Agency for Palestine Refugees. The agency said nearly 175,500 internally displaced people are sheltering in 88 UNRWA schools across the Gaza Strip. But they expect numbers to increase as airstrikes continue. Since Oct. 7, UNRWA has recorded collateral and direct damage to at least 18 of its facilities.
U.S. President Joe Biden confirmed Tuesday that U.S. citizens are among the individuals taken hostage by Hamas. He also warned other countries not to get involved militarily to avoid the risk of an expanded regional conflict, according to AP.
Israel has reportedly mobilized 360,000 reservists and appears increasingly likely to launch a ground offensive into Gaza.
Israeli airstrikes late Tuesday struck the family house of Mohammed Deif, the leader of Hamas' military wing, killing multiple relatives, senior Hamas official Bassem Naim told the AP. 
At least 14 Americans have also been confirmed dead, and several others remain missing, Biden said. 
Secretary of State Antony Blinken has described the assault as the worst attack on Israel since the Yom Kippur War in 1973 carried out by Egypt and Syria, differentiating the current situation from past conflicts and emphasizing that this is a terrorist assault involving home invasions and kidnappings of civilians.
Israeli officials have described Hamas' attacks as similar to 9/11 and Pearl Harbor.