Issue Gay Marriage License, Lose Your Salary, Texas Bill Would Tell State Employees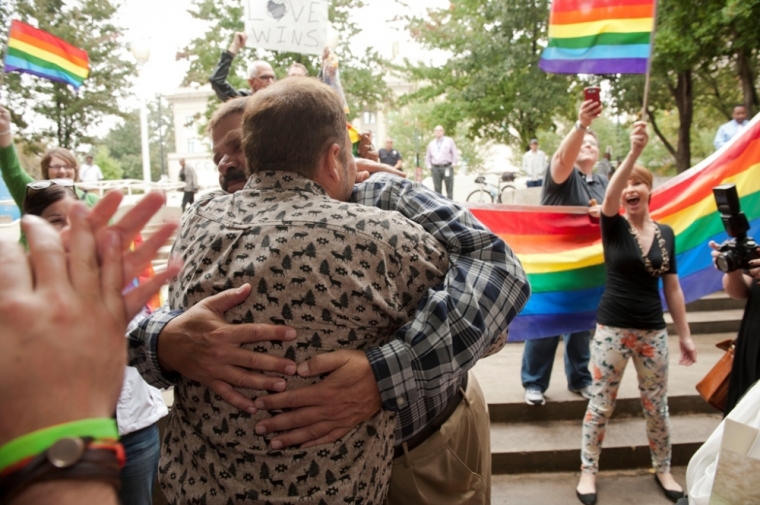 A bill has been introduced in the Texas Legislature that if enacted would strip the salary of any Texas-government employee who issues a marriage license to a same-sex couple.
Known as House Bill 623, the recently introduced bill declares that no state funds will go to the distribution of gay marriage licenses.
"State or local taxpayer funds or governmental salaries may not be used for an activity that includes the licensing or support of same-sex marriage," reads HB 623.
"If an employee violates this subsection, the employee may not continue to receive a salary, pension, or other employee benefit at the expense of the taxpayers of this State."
Also called the "Texas Preservation of Sovereignty and Marriage Act," HB 623 was filed last week by Republican State Representative Cecil Bell of Magnolia.
In a statement regarding the proposed legislation, Rep. Bell said that HB 623 was part of his obligation to represent the interests of the people who elected him.
"When I was elected, I made a promise to my constituents to fight to protect our traditional values and to stand strong in the defense of our constitutional rights as Texans and Americans," stated Bell.
"We as Texans voted in 2005 to define marriage as being solely between a man and a woman. In Texas marriage is sacred and traditional families are recognized as the fabric of our society."
In 2005, Texas voters approved Proposition 2, which added an amendment to the state constitution defining marriage as being only between one man and one woman.
Debate over HB 623 comes as a legal challenge to the Lone Star State's marriage amendment makes it way to the Fifth Circuit Court of Appeals.
Last February, a federal judge struck down an amendment to Texas' state constitution defining marriage as being between one man and one woman.
San Antonio Judge Orlando L. Garcia of United States District Court for the Western District of Texas ruled that the amendment violated the U.S. Constitution.
"While significant, Judge Garcia's ruling will have no immediate effect on gay and lesbian couples wishing to marry in Texas," reported the New York Times back in Feb. 2014.
"The judge issued a stay on his decision while the state appealed to the United States Court of Appeals for the Fifth Circuit, in New Orleans."
Texas filed an appeal with the Fifth Circuit, which is scheduled to hear oral arguments on the appeal on Friday.
Regarding HB 623, the LGBT group Equality Texas has denounced the proposed legislation and has called on activists to contact Bell and express their opposition to his bill.
"HB 623 punishes state employees who would follow the law by issuing marriage licenses to loving couples. The bill would also attempt to exempt the State of Texas from constitutional requirements," reads an "Action Alert" from the group.
"Tell Cecil Bell that Texas and Texans respect the constitution, respect the rule of law and respect the right of loving couples to make their own decisions absent unnecessary government intervention."