James Dobson Says Paula White Led Donald Trump to Jesus Christ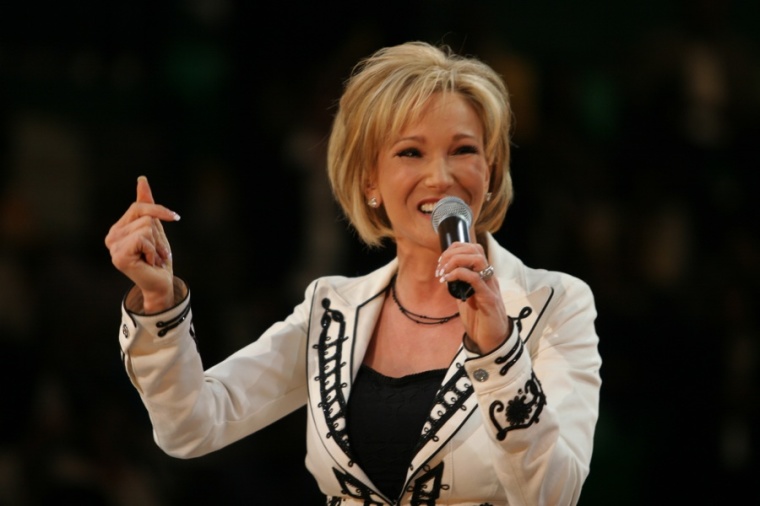 After making headlines last week for saying Donald Trump is a "baby Christian" who has accepted a relationship with Jesus, evangelical leader James Dobson has emphasized that even though the Republican nominee is still maturing in his Christian walk, that is no reason to not vote for him and give Hillary Clinton the power to "run the world."
After the presumptive Republican presidential nominee met with over 900 evangelical leaders in New York City last Tuesday, Dobson, the founder of Focus on the Family and Family Talk radio, said during an interview with Pastor Michael Anthony of GodFactor.com that Trump "did accept a relationship with Christ."
The 80-year-old Dobson said during the interview that he knows the person "who led him to Christ" and he believes that Trump "really made a commitment."
After Dobson's comments were published by numerous news organizations, he released a statement on his website, Dr. James Dobson's Family Talk on Monday, in which he said he heard that televangelist Paula White had led Trump to Christ, but "Only the Lord knows the condition of a person's heart."
"First, Trump appears to be tender to things of the Spirit," added Dobson, who's a member of Trump's evangelical executive advisory board. "I also hear that Paula White has known Trump for years and that she personally led him to Christ. Do I know that for sure? No. Do I know the details of that alleged conversion? I can't say that I do. ...
"If anything, this man is a baby Christian who doesn't have a clue about how believers think, talk and act. All I can tell you is that we have only two choices, Hillary or Donald. Hillary scares me to death. And, if Christians stay home because he isn't a better candidate, Hillary will run the world for perhaps eight years. The very thought of that haunts my nights and days. One thing is sure: we need to be in prayer for our nation at this time of crisis."
The Christian Post reached out to Paula White Ministries for comment, but a response was not received by press time.
White, the senior pastor at New Destiny Christian Center in Apopka, Florida, took part in last week's meeting between Trump and evangelical leaders and has also agreed to serve as a member of Trump's evangelical executive advisory board.
Following last Tuesday's meeting, White sat down for a video interview with Christian Broadcasting Network's David Brody and explained that she has known Trump for over 14 years. In the interview, she recalled the first time that Trump called her on the phone.
"I get on the phone and he starts to quote back to me three sermons that I preached, I mean verbatim. Those sermons are 'Value of Vision.' I did the series about vision and he says, 'You're fantastic,'" White explained. "He said, 'It really ministered to me and I loved your preaching.' So, he literally gave back to me, when I say verbatim, [I mean] point for point about the Word."
Although Trump professes to be Presbyterian, some evangelicals are quick to dismiss Trump's Christian faith because of remarks he has made in the past that make it seems as though he is not aware of some of the essential components of the Christian faith, such as asking those you have hurt or offended for forgiveness.
White, however, asserted that Trump's limited knowledge of "Christianese" does not mean that he is not a Christian.
The minister told CBN that she has spent a lot of time in prayer with Trump in the past, and finds any argument that Trump is "not saved" to be the "furthest thing from the truth."
"Quite honestly, he doesn't know our Christianese and perhaps our language that we know in the Christian world," White told Brody. ... "I have had those private times of prayer with him, conversations with him, where someone [else] might take a soundbite and say 'See, he is not saved,' or 'He doesn't love God.' That is the furthest thing from the truth."
White added that Trump learned about her television program because he has always been a fan of and watches Christian television.
"He loves Southern Gospel. One of his favorites is Gaithers," she said. "For a birthday or an anniversary or something, I would send him up Bill Gaithers tapes or books or sermons by this person just because he absolutely enjoys hearing the Word."
When Brody asked White what she makes of the 2016 election and the fact that Trump rose from a non-contender to presumptive nominee in a 17-candidate GOP presidential field, White said Trump's presumptive nomination is likely the "hand of God" at work.
"I think that [God's] plans are not our plans," she said. "That has to be providence. That has to be the hand of God, in my opinion."
Speaking after the interview, Brody proclaimed that White has been an "integral player in Trump's faith walk."
"[Trump] relies on her [heavily] when it comes to guiding him along that faith journey," Brody asserted.