James Holmes Identified as Colorado Shooting Suspect at Batman 'Dark Knight' Movie Screening
Police officials have identified 24-year-old James Holmes as the suspect who allegedly opened fire on a full movie theater at a midnight showing of "The Dark Knight Rises" in a Denver suburb early Friday.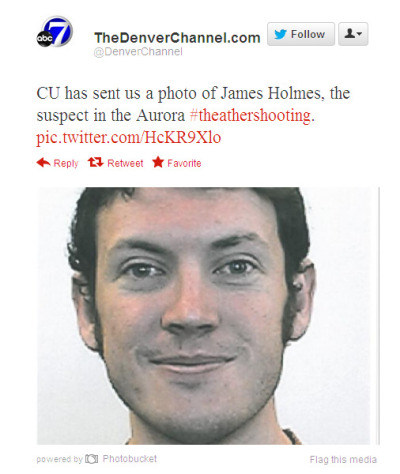 There are several men with the name James Holmes in Dever, CO., therefore warranting confusion among those attempting to track down the suspect.
One James Holmes, who is not the alleged killer, wrote a Facebook comment explaining that he is in no way associated with the movie theater shooting that occurred early Friday morning, and politely asked random people to stop friending him.
SEE VIDEO FOOTAGE OF COLORADO SHOOTING AFTERMATH AND DETAILS OF ATTACK
"James Holmes is a pretty common name, surprisingly, so try not to jump the gun. Regards, a different guy named James Holmes," wrote the non-suspect James Holmes on his Facebook.
A San Diego woman claiming to be the suspect's mother spoke to ABC News early Friday morning, telling them that they had found the right person.
"You have the right person," she told ABC News, saying that she had a gut feeling that the suspect in custody is her son.
 "I need to call the police... I need to fly out to Colorado," she added.
Although the mother is claiming that the shooter is her son, several news sources suggest that she could be referring to one of the numerous James Holmes who is not her son.
"If your name's James Holmes and you live in Colorado, maybe change your FB profile to 'I'm not the guy' before the Internet ruins your life," tweeted Corey Pierce.
According to eyewitness accounts, suspect Holmes allegedly kicked open the emergency exit of a theater at Century 16 movie theater in Aurora, CO. and began shooting at random while he walked up the steps of the theater to the front entrance.
Holmes was allegedly wearing a riot type mask and bullet proof vest. Reports indicate that he opened a tear gas canister, and some victim reports are indicating that they felt explosions of shrapnel hit them as they crawled for safety.
Holmes was arrested shortly after the shooting near his vehicle in the back of the theater. He then told police that there were explosives at his apartment in North Aurora.
SEE VIDEO FOOTAGE OF COLORADO SHOOTING AFTERMATH AND MORE DETAILS
Police are currently investigating the apartment, and although no explosives have been detonated, they told CNN they have found several items of interest.
Police told ABC news that Holmes' residence was "booby trapped," and that they found several explosives as well as an abundance of a strange chemical.
Shooting Suspect Identified: James Holmes of Aurora Colorado
Dozens Dead, Injured in Colo. Theater Shooting
Footage: Shooting in Aurora, CO Theater During 'Dark Knight Rises'