James Martin to World Meeting of Families: Homosexuality Not a Choice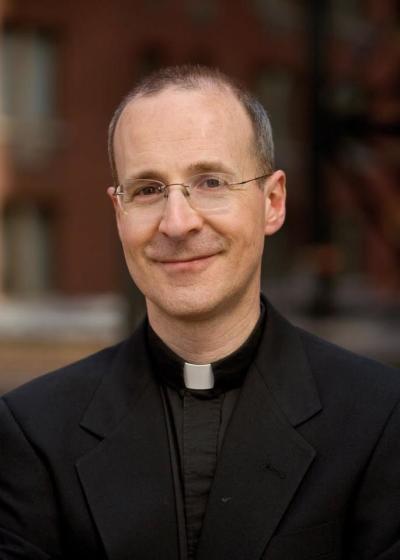 Father James Martin, a Jesuit priest who has garnered controversy for his outreach to the LGBT community, told the major Catholic gathering the World Meeting of Families that sexual orientation is not a choice.
Held every three years by the Roman Catholic Church, the World Meeting of Families is a multiday international event centered on issues of marriage and the family. This year's gathering is being held in Dublin, Ireland, from Aug. 22–26.  
In a speech given Thursday on how the Church can be more welcoming of LGBT families, Martin took issue with the idea of sexual orientation being a choice.
"Sadly, many people still believe that people choose their sexual orientation, despite the testimony of almost every psychiatrist and biologist — and, more important, the lived experience of LGBT people," said Martin.
"You don't choose your orientation or gender identity any more than you choose to be left-handed. It's not a choice. And it's not an addiction. Thus, it is not a sin simply to be LGBT."
Martin also called on those gathered to examine their attitudes about LGBT individuals and their families, exhorting them to "get facts, not myths, about sexual orientation and gender identity from scientific and social-scientific sources, not from rumors and misinformed and homophobic online sites."
During his presentation, Martin did not advocate in support of same-sex marriage or demand that the Church cease referring to homosexuality as a sin.
Echoing past comments, Martin took issue with the Catechism of the Catholic Church referring to homosexuality as "intrinsically disordered." In the past, Martin has argued that the term should be changed to "differently ordered."
"Like many Catholics, many LGBT people struggle with various aspects of the Church's teaching — for example, terms like 'intrinsically disordered.' At the same time, many aren't as focused on those parts of the tradition as people think," continued Martin.
"Many want something much simpler: They want to experience the Father's love through the community. They want to meet Jesus Christ in the Eucharist. They want to experience the Holy Spirit in the sacraments. They want to hear good homilies, sing good music and feel part of a faith community. Treat them like that."
In recent times, Martin has been criticized for his efforts to reach out to LGBT individuals, especially through his book Building a Bridge, which called on churches to be more welcoming of sexual minorities.
Last September, Martin was disinvited from speaking at a Catholic seminary in Washington, D.C. due to heavy criticism the school experienced on social media for hosting the priest.
"In no way does this decision signal approval or agreement with the comments or accusations that the various social media sites have made over the recent weeks," the seminary said in a statement last year.
Southern Baptist Convention theologian and evangelical leader Albert Mohler also said last year on his radio program "The Briefing" that he believed Martin was advocating for changes that involve "overthrowing the entire tradition of the Christian church."
"If you say that LGBT sexual orientation is merely 'differently ordered,' you have actually not only changed the Catechism, in this specific case of the Roman Catholic Church, you have changed the Catholic Church's understanding of the doctrines of Creation, of humanity, of sin, of redemption," said Mohler, who's president of the Southern Baptist Theological Seminary in Louisville, Kentucky. "It is an entire reorientation of the Catholic faith."
Earlier this month, the Catholic Medical Association's peer-reviewed journal The Linacre Quarterly published a study showing sexual orientation change efforts therapy as being effective.
Titled "Effects of Therapy on Religious Men Who Have Unwanted Same-Sex Attraction," the study found that SOCE therapy can improve the mental health of participants.
The study was based in a survey of 125 men in the United States, and found among other things that 70 percent of respondents self-reported "some to much" reduction in their same-sex attraction and their behavior and an increase in their opposite-sex attraction and behavior.
"For this survey group, contrary to the null hypotheses, SOCE is neither ineffective, nor harmful," concluded the study.
"On the basis of this survey, religious clients could be told that some degree of change is likely from SOCE, and positive change in suicidality, self-esteem, depression, self harm, substance abuse, social functioning should be moderate to marked."