Japan Twin Earthquakes Kill More Than 30, Injure 760 People; Tokyo May Seek US Help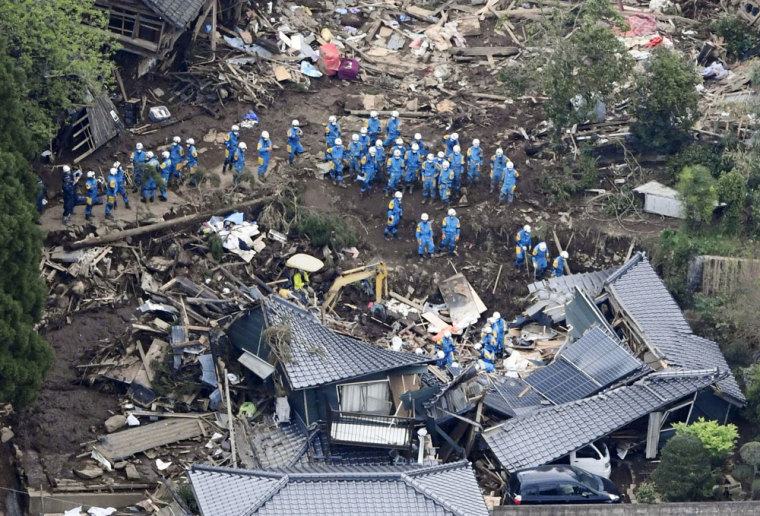 At least 19 people were killed and hundreds injured after a 7.3 magnitude earthquake struck southern Japan early Saturday, two days after being hit by a 6.5 quake, which killed at least 16 people. Japanese Defense Ministry is considering seeking help from U.S. forces to deal with the disasters' aftermath.
Apart from those killed, at least 760 people were injured and scores were trapped or buried alive after the latest tremor struck Kumamoto Prefecture at around 1.30 a.m. local time on Saturday, according to Japan Times.
Rescue crews were removing rubble to search for survivors of the earthquake, whose epicentre was near the city of Kumamoto on the southern island of Kyushu and measured at a shallow depth of 6 miles. The jolt topped buildings, collapsed bridges, gaped holes in the earth and triggered a huge landslide that swept away homes and cut off a national highway.
Heavy rains are likely to follow, which could cause more landslides and affect already damaged structures, the Japan Meteorological Agency said.
"We have already seen several of the mid to upper 5 plus magnitude range, and over the next several days and weeks, we would not be surprised to see more earthquakes of this size," Reuters quoted John Bellini, a geophysicist with the U.S. Geological Survey, as saying.
The two quakes have left about 1,500 people injured, 80 of them seriously, and the toll, which stood at 28 early Saturday, is likely to increase, according to Japan's chief cabinet secretary Yoshihide Suga, who also said that about 70,000 people have left their homes, according to The Guardian.
Nearly 200,000 homes were without electricity, and drinking water supply was also affected in many areas, according to local media.
"Nothing is more important than human life and it's a race against time," Prime Minister Shinzo Abe was quoted as saying. "I want rescue activities to continue with the utmost effort."
U.S. State Department spokesman John Kirby said the United States is prepared to help. "We stand ready to provide any and all assistance that the Japanese Government may require," he told reporters. "Obviously, our thoughts and prayers go out to everybody affected by the earthquake – this second one as well. And we're monitoring as best we can. We're in touch with authorities in Japan, but I don't have anything specific to announce today with respect to assistance."
Japan's Defense Minister Gen Nakatani has asked the Defense Ministry to consider U.S. forces' offer of help.
Saturday's quake was about 16 times as large as a magnitude 6.5 temblor that hit Kumamoto Prefecture Thursday night, the Japan Meteorological Agency said, according to Nikkei Asian Review. The agency described the latest jolt as the main quake and the initial one as a foreshock.