Jared Allen Building 3 New Homes for Wounded Warriors After NFL Retirement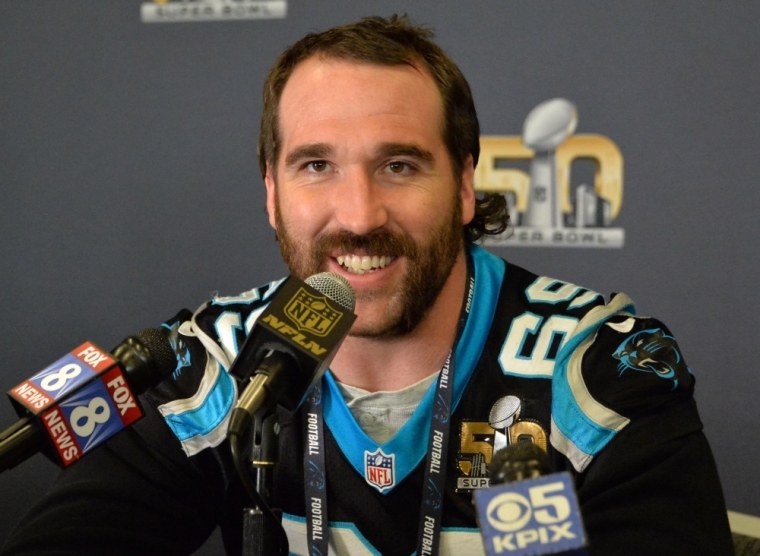 Jared Allen hung up his football cleats at the close of the 2015-2016 NFL season, but that isn't stopping the defensive end from tackling the problems many wounded warriors are facing.
Through his Homes for Wounded Warriors initiative, the Christian athlete broke ground on a new handicap-accessible home Monday for an Oregon veteran and his family. Cpl. Jed Morgan joined the Marines in 2009 and in 2012 was deployed to Afghanistan where he was critically injured in an IED explosion. As a result, he lost both of his legs and all mobility in his dominant arm.
Morgan has not stopped glorifying God in the midst of what some might view as a setback in his life. Along with the help of his family, the Marine said his faith in God was intigral to his survial and physical rehabilitation.
"My family and God," Morgan said in a KDRV.com local news report. "Without them, I would be down in the dumps, but I just keep thinking God must have had a reason for this."
Allen then explained why he feels it is important for him to give back to veterans like Morgan.
"Military has been in my family ... and those are the real American heroes," Allen told local reporters. "It's our way to serve those who are serving us."
Allen retired after his Carolina Panthers made it to Super Bowl 50, and told CBN that his primary goal in life on and off the field is to strengthen his relationship with Jesus Christ.
"Why wouldn't my first goal be, to be a better man of God? Everything I have is because of Him," Allen told CBN. "He wants people to pursue Him! What I found was the more I pursued Christ, is like the more, you know, He blessed me."
"'If you were arrested for being a Christian today, is there enough evidence to convict you?' And my answer was, 'No,'" the 34-year-old Allen told CBN of the exchange. "On an outwardly occasion, the world would not convict me of being a Christian. Even though I knew where my heart was at."
Although some people believe God knows their heart, Allen decided to rise to a different standard. Instead of being complacent, Allen decided to get serious about his faith.
"You know, everybody says, 'That's the most important thing.' It is. But let's be honest. You got to walk the walk."
"If I don't read my playbook, I'm not successful on the field," he said. "My Bible's my playbook for life."
Since 2009, Allen's organization has completed handicap-accessible homes for seven injured U.S. military veterans and is in the process of building three more this year.
Allen's Homes for Wounded Warriors teamed up with the White Heart Foundation, the United Brotherhood of Carpenters, and S&B James Construction Management to design a home that will best accommodate Morgan and his family.