Jeb Bush Describes His Not-Quite-Born-Again Conversion to Christianity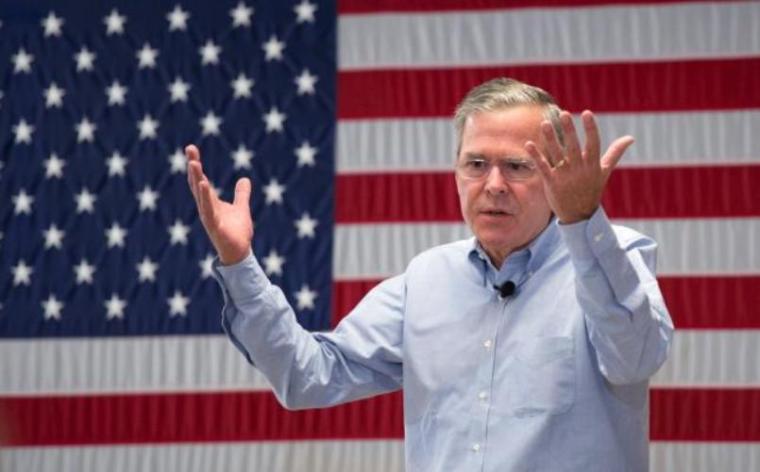 Ahead of Tuesday evening's GOP presidential debate, former Florida Governor Jeb Bush said that he converted to Christianity during a turbulent time in the 1980s through the reading of the Scripture.
Bush, who is seeking the 2016 presidential nomination, said in an interview with Ed Stetzer, president of Lifeway Research, that although he was a practicing Catholic for several years due to his wife's Catholic faith, he had his own personal experience with Christ during a stressful time in the 1980's.
The former Florida governor told Stetzer that this experience strengthened his relationship with God and converted him into an actual believing Christian with faith being an integral part of his life.
"In the late 1980s, it just was a time when I was being and doing and going — just going a hundred miles an hour in trying to run my business, be involved in civic and political stuff and trying to be a good dad and a good husband," Bush told Stetzer in the interview published in Ministry Today Magazine.
"It just became overwhelming, and I forced myself to get quiet and started reading the Bible quietly and it just gave me — it wasn't like what people would call a 'born-again experience' — like a moment where there was a flash or anything like that — it's just the serenity that I had reading the Gospels just converted me to a Christian," Bush added.
The phrase "born again," taken from Jesus' conversation with Nicodemus in John 3, is more often used by Evangelicals, and not Catholics, to describe their conversion to Christianity.
The 2016 presidential hopeful added that it was at this point that religion became an "integral" part of his life, instead of just an important part of his life, saying that before he was "observant I guess, I don't know, but it wasn't a deep relationship."
Bush is one of several 2016 presidential hopefuls to discuss their faith with the media.
Former neurosurgeon Dr. Ben Carson has long been outspoken about his Evangelical Christian faith, telling an Iowa congregation in August 2015 that he first turned to God when, as a teenager, he stayed in a bathroom for three hours and read the Book of Proverbs.
Carson also suggested to the congregation at LifePoint Assembly of God in Iowa that America needs "God's healing hands" right now, referencing 2 Chronicles 7:14 that states "If my people, who are called by my name, will humble themselves and pray and seek my face and turn from their wicked ways, then I will hear from Heaven, and I will forgive their sin and will heal their land."
Real estate mogul and 2016 presidential hopeful Donald Trump recently attacked the Christian faith of Texas Senator Ted Cruz, suggesting at a recent fundraising event in Iowa that "not a lot of Evangelicals come out of Cuba," referencing Cruz's father, a well-known Evangelical pastor and Cuba immigrant.