Jeb Bush Joins Instagram to Connect With Young Voters, Gains 4000 Followers and Counting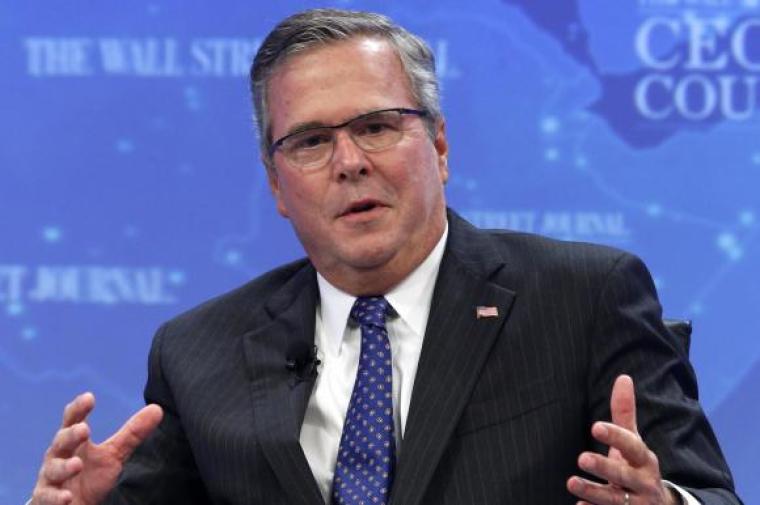 Jeb Bush has all but confirmed his 2016 presidential run and on Monday he made early efforts to connect with young voters by joining social networking site Instagram and within just three days his followers climbed to the 4000-mark.
"Hey everybody, today we're setting up the right to rise PAC which is a PAC to support candidates that believe in conservative principles to allow all Americans to rise up," a very presidential-looking Bush said in his very first Instagram video before plugging his political action commitee (PAC) website. "If you're interested go to righttorisePAC dot org."
The video, which was filmed on the streets of New York, garnered more than 300 likes and dozens of mostly positive comments
According to Instagram, the social networking site boasts more than 300 million users worldwide. A businessInsider.com report says that most of these users are under the age of 35.
Bush's post comes more than one month after he announced via Facebook that he would "actively explore" a Presidential run.
"I have decided to actively explore the possibility of running for President of the United States," he wrote before also sharing his "Right To Rise" PAC plans. "I also plan to establish a Leadership PAC that will help me facilitate conversations with citizens across America to discuss the most critical challenges facing our exceptional nation."
The 61-year-old former Governor of Florida, born John Ellis Bush, is the son of former U.S. President George Bush Sr. and the younger brother of former President George W. Bush.
He is among several names rumored to be considering a run for the GOP leadership. Others include retired neurosurgeon Ben Carson, 2012 GOP contender Rick Santorum, New Jersey Governor Chris Christie and Florida Senator Marco Rubio among others.
On Wednesday, a Politico report claimed Bush, in an attempt to distance himself from 2012 Presidential contender Mitt Romney, was gearing up to release 10 or more years of tax returns. Romney infamously delayed the release of his returns during his 2012 campaign which only worsened his image as an out of touch millionaire.
"People forget that he spent eight years as governor in a state with the most pro-transparency laws in the country," a source close to Bush was quoted as telling Politico. "He is used to living in the sunshine. Most of the other likely candidates aren't."
Bush is married to Mexican-born philanthropist Columba Bush, 61, with whom he shares three children.
He converted from Anglicanism to Catholicism in 1995 and the couple regularly attends Miami's Church of The Ephiphany.
The Christian Post contacted the Church of The Ephiphany's Monsignor Jude O'Doherty for a comment on Bush but he did not respond by press time.
On Monday a judge lifted a ban on same-sex marriage in Miami-Dade county, permitting same-sex couples to wed and Bush - who has long opposed gay marriage - made surprising statements on the issue. Some political pundits believe that he has become a more moderate conservative in recent years, while others disagree.
"We live in a democracy, and regardless of our disagreements, we have to respect the rule of law," Bush said in a statement. "I hope that we can show respect for the good people on all sides of the gay and lesbian marriage issue — including couples making lifetime commitments to each other who are seeking greater legal protections and those of us who believe marriage is a sacrament and want to safeguard religious liberty."