Jeff Younger says pediatrician ex-wife began telling son he was a girl at age 2: 'Monsters eat boys'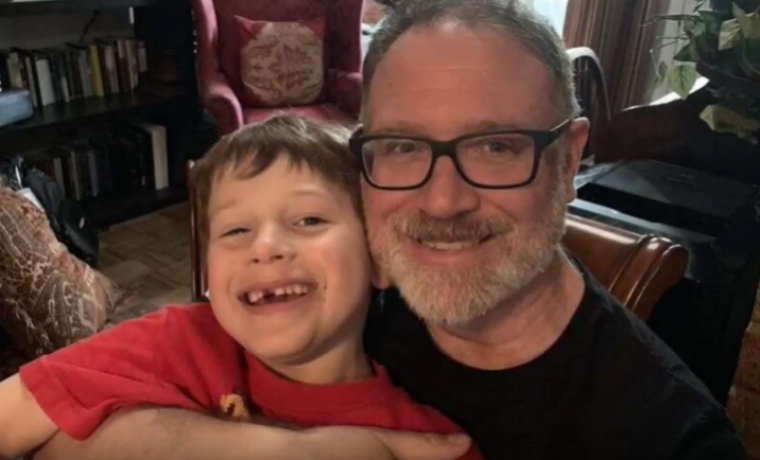 A Texas father who found himself in a bitter custody battle with his ex-wife as a result of her efforts to get their twin son to identify as a girl recently revealed he hadn't seen his two sons in over a year, and his ex's attempts to get her son to transition date back to the time when the boy was only 2 years old. 
Jeff Younger, whose son, James, is the subject of the GiveSendGo fundraiser "Save James," appeared on Tim Pool's "Timcast IRL" podcast Friday night. The fundraiser was set up to help the Texas father pay legal bills associated with the contentious custody battle he's engaged in with his ex-wife, Anne Georgulas — a pediatrician who is not the biological mother of James and his twin brother.
"Starting [at] about 2 years old, my ex-wife decided to transition my son to a girl," Younger said.
"I told her that she couldn't do that," he recalled. "She forced me out of my house, filed for divorce and then began to really in earnest try to transition my son." 
When James was 3 years old, Younger recorded footage of his son repeating what his mother had told him, saying, "I'm a girl." When Younger asked, "Who told you you were a girl?" The child replied, "Mommy." James also told his father "she paints my nails" and answered in the affirmative when he asked if she had him wear dresses.
Younger shared other details of his ex-wife's early efforts to convince their son, who is now 10 years old, to identify as a girl. "I first noticed it when she would put him into time-outs and she would say things like, 'Don't be a boy. The monsters only eat boys,'" he said.
When asked under oath why she wanted to raise her son as a girl, Georgulas mentioned that her son once wanted "a girls' toy in a McDonald's Happy Meal" and "asked for a silver purse at Target that had a multicolored unicorn on it." Younger dismissed this suggestion because James is a "painter." 
Younger insisted that James "only presents as a girl with his mom," and has said his son believes that "Mommy doesn't love me if I'm not a girl." Although the boy recounted these feelings with court-appointed psychologists, they all concluded that he needed to be transitioned to a girl.
Younger completely lost custody of his sons after James told his counselor that "he doesn't want to be a girl; he's getting embarrassed wearing dresses at school." When the counselor didn't reply to James, Younger said his son pulled out his Apple watch and told her he was going to "record" their conversation. 
"She totally freaked out, threw him out of the office and initiated a [Child Protective Services] investigation against me and told the court that I had forced him to say it," Younger claimed, denying that he had ever forced his son to make those remarks. "He did ask me if he could record." 
Younger explained that he had told James he could record the conversation as long as he asked permission first. Younger hasn't seen either of his children in the year-and-a-half since that meeting took place, because the judge gave his ex-wife full custody of the twin boys shortly after the meeting. In September, Anne and their sons moved from Texas to California.
The move to California caused Younger particular concern because of the state's passage of Senate Bill 107, which makes it a sanctuary state for those seeking to prescribe puberty blockers, cross-sex hormones or perform body-mutilating sex-change surgeries on minors. Under the law, state courts have the authority to assume "temporary emergency jurisdiction" if a child "is subjected to or threatened with mistreatment or abuse, or because the child has been unable to obtain gender-affirming health care or gender-affirming mental health care."
Younger unsuccessfully asked the Texas Supreme Court to order Georgulas and the two boys to return to Texas, where the state government has taken the opposite view about sex-change procedures for minors. While the state has not passed legislation banning experimental drugs and body mutilating surgeries for minors, both Attorney General Ken Paxton and the Commissioner of Family and Protective Services Jaime Masters have issued opinions characterizing such procedures as a form of child abuse.
The characterizations of sex change operations for minors as a form of child abuse stem from concerns about their long-term effects. The American College of Pediatricians has listed potential long-term effects of puberty blockers as including "osteoporosis, mood disorders, seizures, cognitive impairment and, when combined with cross-sex hormones, sterility," while warning that cross-sex hormones can lead to "an increased risk of heart attacks, stroke, diabetes, blood clots and cancers."
Three states have already banned the prescription of puberty blockers, cross-sex hormones and sex-change surgeries for youth: Alabama, Arizona and Arkansas. Similarly, the Florida Boards of Medicine and Osteopathic Medicine has voted to ban sex-change procedures on minors. 
Outrage over the situation involving his son has led Younger to become politically active. Last year, he ran unsuccessfully for a seat in the Texas House of Representatives, losing the Republican runoff election to represent the 63rd House District to now-State Rep. Ben Baumgarner.