Jefferson Bethke on New Book, 'Jesus>Religion,' and His Generation's Role in the Church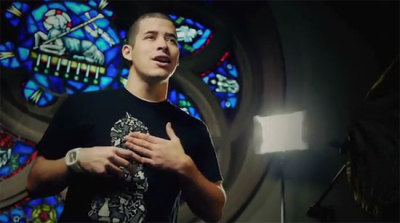 Jefferson Bethke, author of the book, Jesus>Religion: Why He Is So Much Better Than Trying Harder, Doing More and Being Good Enough, that's ranked at No. 3 on The New York Times best-sellers list, shared his message with MSNBC's "Morning Joe" co-host Mika Brzezinski on Friday.
Bethke, whose spoken word YouTube video called "Why I Hate Religion but Love Jesus," has been viewed 26 million times since January 2012, said he wrote the book because he believes modern-day evangelism is not reflective of scriptures in the New Testament.
"What I said no to as a child, or at least what I was rebelling against in high school, really wasn't what I see in the New Testament and wasn't what I see in the scriptures. It's kind-of just this modern evangelicalism that looks nothing like the scriptures," he said.
However, Bethke added that he wanted to clarify his use of the word religion, because he doesn't want people who hear his message to think that he's opposed to churches or attending church.
"To define that term (religion) I don't mean institution, I don't mean church or anything of that nature. It's a short-hand term within my Seattle context which means legalistic, false religion," he explained.
In the book, Bethke said he's trying to pose Jesus against all of the false ideologies that claim people have to be good enough, pray a specific way, do certain things or eat certain types of foods.
"Jesus is the exact opposite," he said. "It says in the scriptures that we're running away from Him; we don't want Him; we're spitting in His face with our behaviors. He comes and gets us and says, 'Hey, I want you.' And that's radically different."
Bethke also commented that he doesn't want his generation to leave the church or stop attending because they see something they don't like or disagree with. Instead, he wants them to be proactive and help transform the church to reflect the scriptures.
"That's one of the things I dislike about my generation. I think sometimes we critique and then say, 'See you later.' That's the difference between a servant and a critic," Bethke noted. "They see the same problem, but a critic leaves and a servant says, 'I want to help change it.'" And so, for me, when I'm about to die, I want people to look back and say, 'He believed in the church, and with its frailties and shortcomings, he poured into it in the hope that it might bring change."
Reflecting on God's grace, Bethke said he likes to compare it to marriage, opposed to a business contract.
"The best way I explain grace is that it's like a marriage. When you really understand Jesus, you're under covenant not contract. A contract is that when you mess up, you're fired. A covenant is that it's about the promise, not the behavior. When you understand that, it actually motivates you to grow."
He continued, "Me and my wife, Alyssa, we don't date for 60 year and then when we're both good enough at 99 years old get married. We marry first, promise first, covenant first. That's behind us, pushing us toward growth. And when you get that it's a lot different."
Even though Bethke's book, Jesus>Religion has been on the New York Times best-sellers list for two weeks, he said he'll value the success of the book by the emails and messages he receives from readers who tell him that they now see Jesus differently.
"In the intro of the book, I put a few emails I got from the "Why I Hate Religion but Love Jesus," video. They all just come from the idea that people of my generation, my age, are struggling under this burden of shame, guilt and not being good enough. And how Jesus, when you get Him and you see His grace is beautiful and amazing, it sets you free a little bit," he said.
"Whether it's videos or a book, I want to do things that make people look at Jesus in a different light."