Jeremy Lin Asked to Speak at School Graduation by Students Inspired by His Faith (VIDEO)
Jeremy Lin Asked to Speak at School Graduation by Students Inspired by His Faith (VIDEO)
New York City students at Stuyvesant High School are asking Knicks' player, Jeremy Lin to speak at their high school's graduation.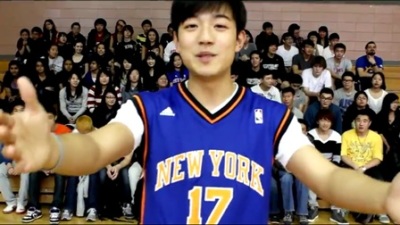 Eric Han, the senior class president of Stuyvesant, along with classmates, posted a message on YouTube explaining that after a poll of over 800 seniors, the graduating class came to a consensus that Jeremy Lin would be the best fit as guest speaker at their graduation.
Han introduces the video by saying, "We decided that you would be the best fit. Your story is an inspiration to all and it will be an honor to have you come down and spend an afternoon with us sharing some of your work's wisdom."
The video moves on to a performance by two students, Jun Hong and Jamie Zhan, rapping the song "The Jeremy Lin Cypher."
The creative lyrics read:
"Jeremy Lin, could you please come to Stuyvesant?
 Speak for our graduation, that'll make us win,
 You're an inspiration for these generations of Asians,
 But not just us, for every underdog in this nation,
 But let's start with something small like our school,
 We voted for you, and we want you 'cause you're true,
 I think you could really reach us on a personal level,
 As we go through the next step of our life, you're our hero,
 Lin-sanity's affected us with serious gravity,
 We'll feel depravity and agony so please come and be our remedy,
 We appreciate everything you've done in the past,
 And you continue to rock on, so please speak for the 2012 class"
One of the students, Nade Daoud, President of Aspira Latino Heritage Club, shared how much Lin has influenced him, saying Lin "inspired me to break academic racial barriers as a part Latino, thanks man!"
Two students from Seekers Christian Fellowship said in the video, "Your faith in God inspires me every day to become a better Christian. It will be amazing for you to come and speak at Stuyvesant's graduation and everyone at Seekers Christian Fellowship will greatly appreciate it."
The segment of the message ends with a number of students saying in unison: "God is good, all the time! All the time, God is good."
According to Han, the video took weeks of effort, hours of hard work and was recorded during the students' free periods, lunch breaks, as well as after school.
It remains to be seen whether Jeremy Lin will respond to the posting, which went live on March 25.
SEE VIDEO OF STUYVESANT STUDENT'S PLEA FOR A SPEECH BY JEREMY LIN