Jeremy Lin Inspired by Tim Tebow's Impact On and Off the Field
NY Knicks Point Guard, a Committed Christian, Expresses Admiration for Broncos Quaterback
Jeremy Lin, the New York Knicks' newest guard who has made headlines recently for his openness about his faith and moves on the basketball court, said he is inspired by NFL player Tim Tebow, another Christian player noted for his displays of faith.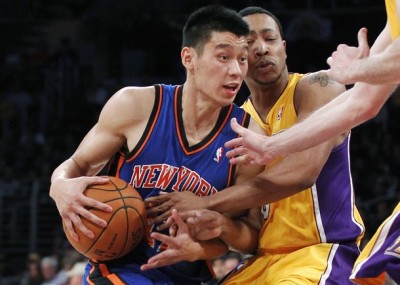 In an interview with 95.7 The Game in San Francisco, located a short distance from his hometown of Palo Alto, Lin spoke about  his respect for the Denver Broncos quarterback.
"Actually a lot of inspiration just because (Tebow's) such a polarizing figure but I think the things he says in interviews, his approach to the game is just unbelievable and I respect him so much," Lin said on Thursday. "I want to be able to do some of the things that he does in terms of the amount of charity work and the nonprofit work, and the way he impacts people off the field. I think that is what is most inspiring to me about him."
SEE VIDEO OF JEREMY LIN KNICKS VS LAKERS HIGHLIGHTS
In the interview, Lin also spoke about using the Bible to get through hurt feelings that he experienced when his former Golden State Warriors team decided to release him without any real chance to play.
"I definitely didn't see it coming and got pulled out midway through the first practice. My agent and I had zero idea that was going to happen," Lin said. "It was really tough for me at the time but I just tried to hold on to a lot of the stuff in the Bible that God gives to trust, have joy in the sufferings, and trust in his perfect plan. That's what I tried my best to do and I'm thankful the way things turned out."
Lin, the first Chinese-American NBA player, has managed to win three games for the Knicks since coming into their point guard rotation. Although his contract was officially guaranteed on Tuesday, Lin said he is not looking to prove anything to anybody in an ESPN report.
"It hasn't even been a week yet, so I'm not really too worried about that," Lin said. "I just want to make sure I do what I can to help the team win every time I step out on the floor. I'm not really too worried about proving anything to anybody right now."
Lin, a committed Christian, often speaks of God and his faith on his Twitter and Facebook accounts. On his Twitter account, the NBA player uses the phrase "to know Him is to want to know Him more" as his bio. On his Facebook page under his personal information, Lin has posted Romans 5:3-5 and Colossians 3:23.
Colossians 3:23 reads: "Whatever you do, work at it with all your heart, as working for the Lord, not for men" -- a verse Lin has expressed that he takes to heart when on the court.