Jeremy Lin Scores 28 as Knicks Beat Mavericks 104-97
Lin Bounces Back to Post Best Game Yet
Jeremy Lin shook off his first loss as an NBA starter earlier this week to drive the New York Knicks to a 104-97 win over the Mavericks, scoring 28 points himself, as well as recording 14 assists, five steals and four rebounds in Sunday's victory.
Knicks coach Mike D'Antoni described Lin's game Sunday as "ridiculous," and pundits across the board are saying Lin had his best game yet.
With the Knicks down by 10 late in the third quarter, Lin again went to prove he is a big game player who can deliver when it is most needed. In the final 15:19 of the game Lin went on to score 14 points, as well as record six assists and three steals.
D'Antoni said, "Seems like the harder the moment, the better he shoots the ball. He makes big plays and he's fearless."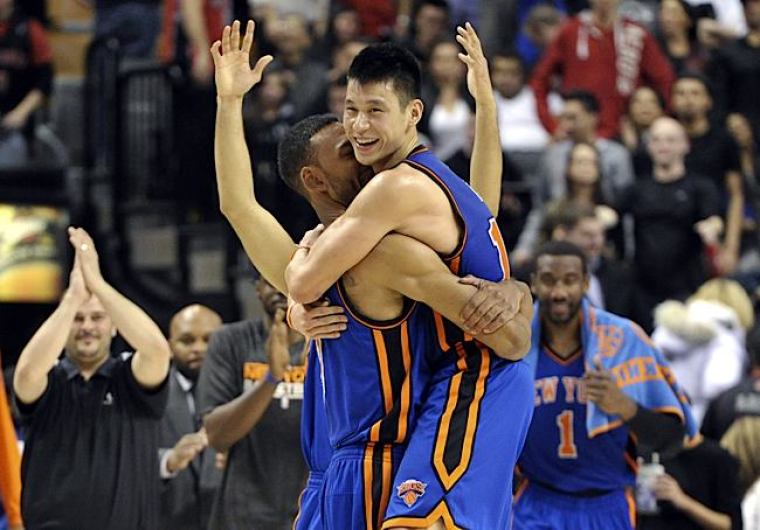 The Dallas Mavericks' defense was ranked fourth in efficiency prior to the game Sunday, and defensive hard man Shawn Marion was one of the main players put forward to take Lin out of the game. In his past three games he had successfully muted Ricky Rubio, Chris Paul and Ty Lawson.
According to Lin, Marion's defensive strategy was effective and made life difficult for him. Lin said after the game: "It was different, I haven't seen that so definitely it caught me off guard a little bit."
However, to most observers Lin dealt with Marion perfectly and it was definitely difficult to tell Lin had been "caught off guard." According to ESPN, the Knicks went 22-for-37 and scored 44 points in the paint while Lin was on court.
The Knicks have now won eight of their last nine games, all of them coming since Lin became their primary point guard. Most of them have also come despite the loss of Carmelo Anthony, who injured his groin two weeks ago. However, it may get even better for the Knicks as Anthony is due to return Monday night against the Nets.
Jeremy Lin has become the focal point of the NBA over the past few weeks, and has put the league in the international spotlight, with millions across China keeping a close watch on their newest hero.
Lin has also been praised for his humble character and devoted work ethic, which he had largely contributed to his upbringing and Christian background. He has often spoken about his faith in post-match interviews, leading some to compare him with NFL Christian star Tim Tebow.
WATCH VIDEO OF JEREMY LIN'S TESTIMONY
WATCH VIDEO OF JEREMY LIN PRAISING GOD FOR A VICTORY
WATCH VIDEO OF JEREMY LIN BEING COMPARED TO TIM TEBOW
WATCH 'A DAY IN THE LIFE' VIDEO BY JEREMY LIN HERE
WATCH 'HOW TO GET TO HARVARD' VIDEO HERE
Lin, a Harvard graduate, was co-leader of a Bible study group during his time at the university, and has testified how his faith allows him to overcome intense situations on the court, as he trusts God is guiding everything; whether in success or failure.
Lin was involved in a Bible study group run by the Harvard-Radcliffe Asian American Christian Fellowship, according to a 2010 interview with the online publication StudentSoul.org.
"I became a co-leader my junior year and I'm co-leading again this year. The group is a mix of believers and seekers," said Lin to StudentSoul.org.
"Our fellowship has about 80 people and our purpose is to know God and make him known. We're trying to do that in a way that is relevant for everyone on our campus."
In addition to the AACF, Lin was also involved in the InterVarsity Christian Fellowship/USA, a Christian student organization that focuses on small-group Bible studies.
"I meet weekly for discipleship with Adrian Tam, my InterVarsity staff worker. Having small group once a week gives me a lot of encouragement and accountability," said Lin. "Even though I go to church, I don't really know many people there, but my real community is my small group."
While with the Golden State Warriors in 2010, Lin gave a faith testimony at River of Life Christian Church of Santa Clara, Calif. He said everything in his life were blessings from God.
"I look back and I realize these are His fingerprints all over my story," Lin said, adding that "our true prize ... was something in heaven, not on earth."
He concluded, "I realize I had to learn ... to stop chasing the perishable prizes of this earth ... and give my best effort unto God and trust Him with the results."