Jeremy Lin Scores First ESPY Nod for Taking 'Control of Knicks Backcourt'
Jeremy Lin, New York Knicks point guard who was most recently named NBA TV's First Ever "Social Breakout Player of the Year," has been nominated for his first Excellence in Sports Performance Yearly Award (ESPY) as the "Breakout Player of the Year."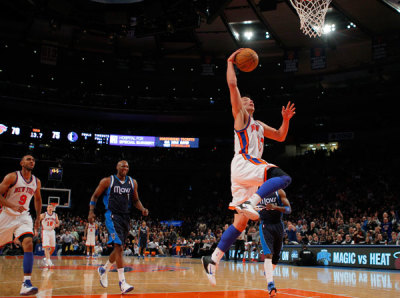 Lin, 23-year-old Asian-American point guard, came into the NBA from Harvard University and was sent to multiple teams after riding the bench from his hometown Golden State Warriors. Although Lin ended up with the D-League this past season, he also managed to impress the Knicks coaches who needed him to step up when other starting guards were injured.
Lin found a way to lead his team to a six-game winning streak in February and was dubbed "Linsanity" after becoming the first player to score 20 points with seven assists in his first five NBA starts.
Soon after Lin earned the "Social Breakout Player of the Year" award from NBA TV for leading the league in Twitter mentions this past season, his first ESPY Award nomination was announced. Fans will have the opportunity to vote for Lin, who is competing against Anthony Davis, the first overall draft pick in the NBA this year who recently helped his Kentucky Wildcats earn a NCAA Championship; 2011 Heisman Trophy winner Robert Griffin III; record-breaking New England Patriots tight end Rob Gronkowski and Alex Morgan, the youngest player on the USA's roster at the 2011 FIFA Women's World Cup.
According to the ESPY website, "Linsanity" was nominated for the honor because of his unique tale this season.
"'Linsanity' became a phenomenon unlike anything the NBA had seen in a long time," a statement about his nomination reads on ESPN.com. "In such a short span, after injuries thrust him into the starting role, Jeremy Lin took control of the New York Knicks' backcourt. As a starter, he led the Knicks on a six-game winning streak and a 9-3 record in his 12 starts prior to the All-Star break."
Fans can vote for their favorite athletes in numerous ESPY categories until July 9 on the website for the awards, www.espn.go.com/espys. Voting for the award show ends July 9, while it will air on July 11.
Jeremy Lin - Episode 1: A Day in the Life