Jesus Christ in Bed With the Statue of Liberty: Ad Causes Outrage in Brazil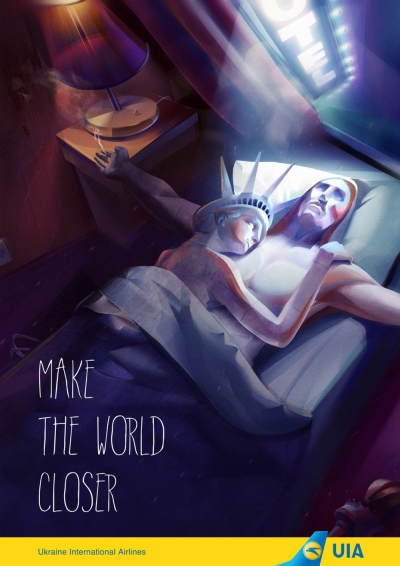 An advertisement depicting Rio's Christ the Redeemer Statue in bed with the Statue of Liberty has sparked outrage in the Christian community. The advert, which shows the Ukraine International Airlines logo at the bottom, has gone viral and has received much criticism since it was first launched.
The ad shows the Statue of Liberty and the Christ Redeemer statue in a bed of a motel, with Jesus holding a cigarette in his hand.
The poster also carries a tagline that reads "Make The World Closer," with the Ukrainian airlines name and logo at the bottom.
Evangelical Christians in Brazil have gone to the Internet websites to comment on the controversial poster.
"Whether it offends or not, this is disrespectful," one commented in Genizah's blog.
Meanwhile, the issue has also made other Brazilians reflect on the controversy of the Christ statue existing at all. Some have said that the Christ the Redeemer statue is blasphemy itself, because objects should not be made to represent Jesus more than the cross.
Since the poster went viral, however, it has been found that the ad was not even commissioned by the Ukrainian airline company, but was a piece of exploratory work made by creative director Aleksandr Bozhko.
After the poster went viral, Ukraine International Airlines claimed on its Twitter account that the ad was fake and was not created or endorsed by the company.
Bozhko has since issued a statement in which he clarified that it is not an ad for UIA and he apologized to the company for any confusion and criticism he had brought on them.
According to Advertisement Journal, the art was intended to be a joke to enter for the "Altai Fake Festival."