Jesus Culture's Kim Walker-Smith Talks Tragic Loss Leading Up to New Album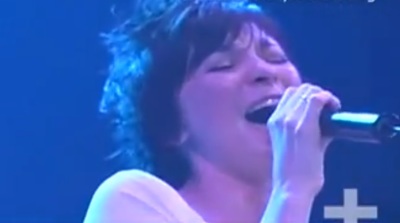 Walker-Smith admitted that she recently had a season in which she felt like she needed to be perfect to come before God, but He reminded her that He was not looking for perfection.
"My baby boy was born 3 weeks after their baby [was lost] and it was such a mixture of emotions and feelings, and so difficult to watch my good friends go through that, and to feel my own fears and anxieties and upset and everything that I was facing," she confessed. "I felt like I was surrounded by flesh and I couldn't allow God close to me in that. I felt like I had to have everything perfect."
As she continued to try and do everything perfectly but failed, she said the Lord spoke to her. "I just couldn't do it and then finally the Lord spoke to me and was like, 'I don't want perfection. I just want you. I just want the invitation to come and sit with you in that. I'm not afraid of the mess. I'm not worried about the mess, just let me come and sit with you in the middle of all of that and be with you,'" she recalled.
Walker went on to say that her revelation from God "totally changed everything."
"I think all of these songs on this album are a reflection of that journey that we've all been on this last year and a half. It looks different for each of us but similar in many ways," she noted.
Let it Echo carries the recurring theme of unwavering trust in God despite the struggles. Throughout the years fans of Jesus Culture have made it known that they love the music but what they seemingly admire more is how they themselves are led into the presence of God to encounter Him through the band's anointed worship. When asked if there was a specific thing that they do to be used so greatly by God, Walker-Smith equated it to her level of surrender.
"It goes back to my choice many years ago to give my life 100% to God and I've never allowed anything to be more important to me than Him and His presence and pursuing Him and walking with Him," she explained.
The mother of two went on to say that because she is a very ambitious and driven person, surrendering is a big challenge, but it is how she chooses to live her life.
"I've always been a dreamer and a builder and constantly wanting to go after things but even in all of that, nothing is more important to me than the Lord and His presence," Walker-Smith sustained. "I fought really hard to constantly yield my heart to Him and to not carry offense at Him – if anyone would have reason to be angry at God or walk away from God I definitely would have that. I went through abuse as a child, a rough upbringing – but in all of that I've not allowed that to get in the way of me and my relationship with Him."
The California native said she personally has never once tried to book a show or push her way into ministering, she said God is the one who has always made a way for her and Jesus Culture.
"I just fully trust Him. I've always had the conviction of not promoting myself and not trying to push my way into anything but just allowing Him to open the doors and put me where He wants me when He wants me there," Walker-Smith expressed. "I just think that when a life is truly yielded and living for Him then there's a lot that He can do with you and in you and through you. If people aren't experiencing that then I would challenge them and say 'Are there areas in your life where you haven't fully given yourself to Him yet? Are there still things that you hold on to or are there still things that you trying to control?'"
Jesus Culture was formed through the momentum of a movement that is focused on equipping a generation to transform society by bringing people into an encounter with God's love through worship and discipleship. As she powerfully shared, Walker-Smith revealed that her heart is to continue doing that.
"We're all going to be different and we're all going to have different gifts, and different anointings, and different callings, and we can't compare," advised Walker. "We can't say one is bigger or better or greater than the other, it just is what it is, but I do think there's something significant about making sure the we are completely yielded to Him in every aspect of our life."
Let It Echo hits stores everywhere January 15, but can now be preordered on iTunes along with the instant download of their song "In The River." Their goal for this album is the same as it has always been. Walker-Smith said her prayer is that "this record will be a rebirth and fuel to that fire that will draw people to Jesus and draw people into His presence."
As far the the Jesus Culture movement, she said they are putting all of their energy into building up their new church and their community. Individually, Walker-Smith concluded that because of her young family, she's not quite able to do as much as she did before.
"I'm taking some time out this year because it's been really hard on us and on these little guys," she said of her family and their stability. "We're still just following God every step of the way and trusting Him and just waiting to see what He has for us."
For more information on Jesus Culture or their movement, visit JesusCulture.com
jeannie.law@christianpost.com