'Jesus' Tomb' Restoration Project Releases New Photos of Shrine Where Christ Was Buried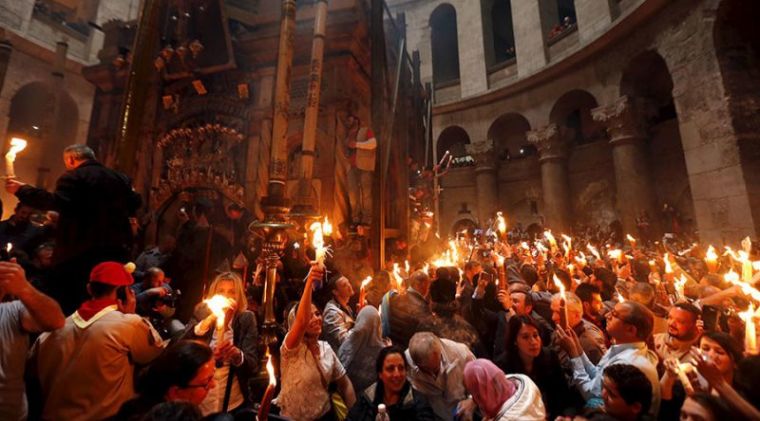 A collection of new photos of the ongoing restoration project at Jesus Christ's burial shrine at the Church of the Holy Sepulchre in Jerusalem has revealed that work is progressing steadily on the $3.7 million endeavor, which is expected to continue into spring 2017.
The MailOnline shared dozens of new images from the restoration work on Thursday, including from the original tomb's surface, which has been encased in marble since 1555 A.D.
Archaeologists said in October that they had uncovered the original limestone bed that Jesus is believed to have been laid down upon before His resurrection, which has sparked notable international interest.
"I'm absolutely amazed. My knees are shaking a little bit because I wasn't expecting this," said Fredrik Hiebert of National Geographic at the time.
"We can't say 100 percent, but it appears to be visible proof that the location of the tomb has not shifted through time, something that scientists and historians have wondered for decades."
The tomb itself is located inside a shrine known as the "Edicule," which was last reconstructed following a fire in the early 1800s. Engineers are currently injecting mortar around the marble slabs of the structure so that supports will no longer be needed.
The Greek Orthodox Church, the Roman Catholic Church and the Armenian Orthodox Church share management rights over the Church of the Holy Sepulchre, and all agreed on the ambitious restoration project, which is expected to cost somewhere around $3.7 million.
National Geographic said in an earlier report that while it is hard to conclude with certainty whether the shrine really is the historical location of the tomb where Jesus was buried, it has continued to attract great attention for many centuries.
"While it is archaeologically impossible to say that the tomb recently uncovered in the Church of the Holy Sepulchre is the burial site of an individual Jew known as Jesus of Nazareth, there is indirect evidence to suggest that the identification of the site by representatives of the Roman emperor Constantine some 300 years later may be a reasonable one," the report stated at the time.
The church was once completely destroyed in 1009 by the Fatmid Caliph Al-Hakim bi-Amr Allah, known as the "mad Caliph" or "Nero of Islam," in his quest to destroy Christian sites, but was again rebuilt in the mid-11th century.