Endangered Jesus Tomb Unites Rival Catholic, Orthodox Churches in $3.4 Million Restoration Project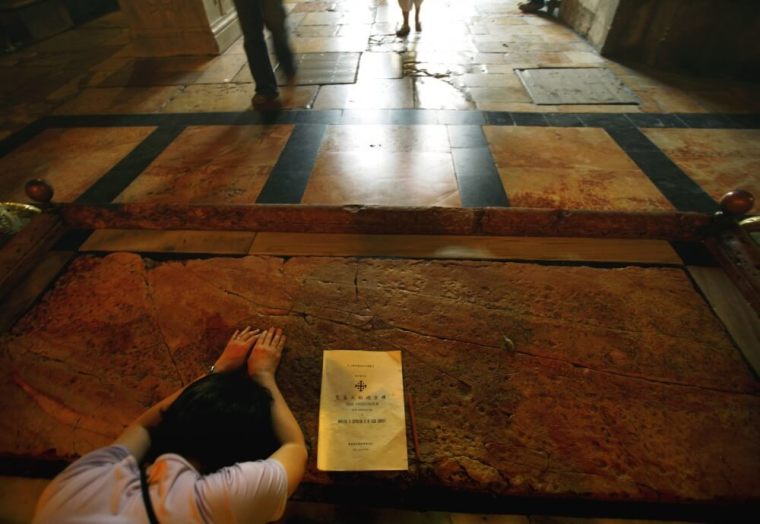 Three Christian traditions have put aside their theological differences and partnered to save the endangered holy place where Jesus is believed to have been crucified, buried, and resurrected, in Jerusalem.
Members of the Greek Orthodox, Roman Catholic, and the Armenian Orthodox churches have partnered in a $3.4 million renovation project for the tomb of Jesus, located inside the Church of the Holy Sepulchre in Jerusalem's Old City.
According to the New York Times, each church tradition will donate money toward the restoration project, as well as a Greek bank.
The renovation will include fortifying the the centuries-old structure, which was so in danger of caving in earlier this year that the Israeli government temporarily stopped worshippers from entering for fear it would collapse.
The Custody of the Holy Land told the Times of Israel in a statement that over the course of eight months, the tomb will be taken apart, piece by piece, and rebuilt to ensure its stability.
As the Times reports, the three Christian traditions are crediting the Israeli government for saving the tomb, given that the Israeli police shutting down the tomb incited the $3.4 million restoration project.
"[…] [S]omebody had to push us," the Rev. Samuel Aghoyan, the Armenian Patriarchate's representative at the Holy Sepulcher, told the NY Times. "If the Israeli government didn't get involved, nobody would have done anything."
The holy site has served as an important pilgrimage for Christians around the world, particularly drawing tens of thousands of visitors in the springtime as they gather to see the Holy Fire, a flame that is believed to miraculously emerge from the tomb each year ahead of Orthodox Easter.
It has also served as an important symbol of unity for the Roman Catholic and Eastern Orthodox Church, with Pope Francis meeting with Ecumenical Patriarch of Constantinople Bartholomew I at the Church of the Holy Sepulchre to mark the 50th anniversary of the meeting in Jerusalem between Pope Paul VI and Ecumenical Patriarch Athenagoras of Constantinople that ended 900 years of mutual excommunications.
The Church of the Holy Sepulchre serves as the headquarters of the Greek Orthodox Patriarch of Jerusalem, but control of the structure is shared between several churches and secular entities. It is home to branches of Eastern Orthodoxy and Oriental Orthodoxy as well as to Roman Catholicism.