Tens of Thousands of Christians Fill Jerusalem to Witness 'Holy Fire' Miracle
Tens of thousands of Christian pilgrims gathered Saturday at Jerusalem's ancient Church of the Holy Sepulcher, built at a site where Jesus was crucified and buried, to witness a flame that is believed to emerge miraculously from the tomb of Jesus a day before Orthodox Easter each year.
Orthodox Christians filled the church and surrounding streets in east Jerusalem's Old City for the ceremony, held under a heavy police presence, Agence France Presse quoted Israeli police spokeswoman Luba Samri as saying.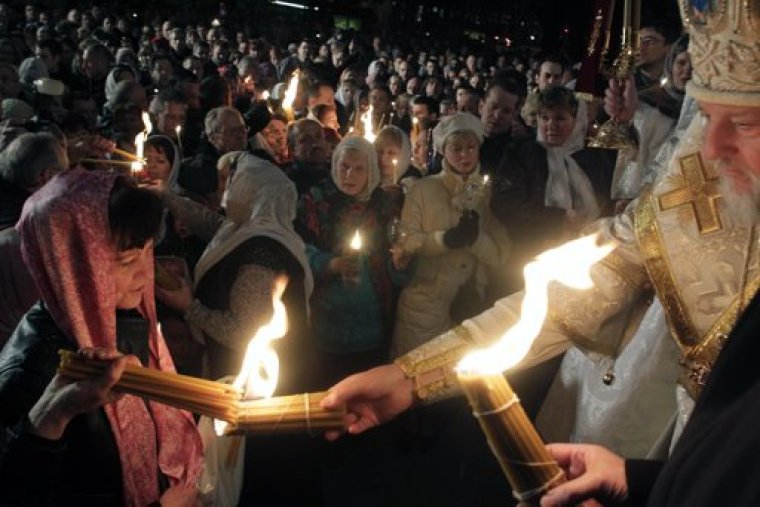 The pilgrims were mostly from Eastern Europe but also Christian Arabs living in the Holy Land. They swiftly passed the light on from candle to candle as it emerged from the church.
Thousands of Palestinian Christians would have also joined but they could not reach the site due to Israeli restrictions.
International Middle East Media Center quoted a Palestinian Christian woman from Beit Sahour as saying that despite being allowed to go to Jerusalem, she chose not to go. She said she can't walk long distances or face strict Israeli measures and searches.
Many revere the Holy Fire as the power of Resurrection of Jesus and the fire of the Burning Bush of Mount Sinai as mentioned in the Old Testament.
Orthodox Christians believe in the Holy Fire miracle, which has been documented each year for over 1,000 years. Christians in many countries, including Georgia, Greece, Ukraine, Russia, Romania, Belarus, Bulgaria, Cyprus, Lebanon and Egypt, who are unable to go to Jerusalem watch the ceremony live on television. The Holy Fire is brought to some of these countries after the ceremony.
The Holy Fire ceremony begins at noon with a procession where the clergy sing hymns.
After the procession, the Orthodox Patriarch of Jerusalem or another Orthodox Archbishop offers a prayer, removes his robe and enters alone into the sepulcher after being examined by Jewish Israeli authorities to prove he has nothing to light the fire.
Waiting for the Holy Fire, the congregation chants Kyrie eleison, or "Lord, have mercy." When the patriarch finally emerges from the tomb, he offers prayers and distributes the flames to the congregation.
Some pilgrims have claimed that flames received from the Holy Fire do not burn their hair, faces or clothes during the first 33 minutes of its appearance.