Jews, Christians, Muslim Work Together After Hurricane to Provide Kosher Meals for Orthodox Jews
Jews, Christians, Muslim Work Together After Hurricane to Provide Kosher Meals for Orthodox Jews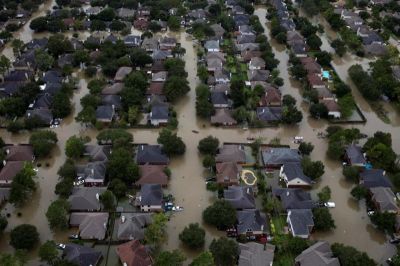 The floodwaters rose so high, that people found that snakes had moved in, ready to greet them when they returned home. From reports by people of faith, however, one ancient reptile didn't take part in the housewarmings. The Primordial Serpent, real or allegorical, kept its distance from lots of the affected area.
Perhaps it fled in revulsion of all the good that was in evidence, especially among people of faith. Here is one example out of many.
The Orthodox Jewish community was particularly hard hit. Many communal institutions and much of its population were in the path of Brays Bayou that overflowed beyond anyone's imagination. Hundreds of people were flooded out of their homes, just as were, tragically, thousands of their fellow Houstonians.
Their plight had an added dimension. Observant Jews can only eat kosher food; little was available in Houston after Harvey. Tzivia Weiss, the woman who heads the Houston agency that oversees kosher facilities, phoned her colleague in the closest Orthodox community — Dallas. Rabbi Sholey Klein, the head of Dallas Kosher, working in concert with local rabbis, immediately committed to fill the shortfall, one way or another. Three caterers — ordinarily competitors — joined to start production of thousands of kosher meals. The funding would have to wait for later.
Initially, the team thought to provide for 300 people, three times a day. One visit to the submerged community in Houston drove home the realization a much greater need. Food preparation quickly morphed into a military-type campaign. They commandeered a school campus in Houston as a distribution center. As the water receded, they branched out to three satellite locations.
Here is why people of faith are so grateful to be Americans:
Two pastors associated with Eagle Mountain International Church (EMIC), west of Ft. Worth, remembered their Jewish friends. They had worked cooperatively in the past; the Christians United For Israel organization was the glue that had first held them together. Pastors Brian Sanders and Troy Grimes set out for Dallas to see what their friends were up to. Seeing the quality of their work, the two decided that they wanted to be part of it.
They volunteered to take care of transporting the food to Houston. Trucks, however, were not to be found. At the last moment, the pastors somehow managed to secure a 24-foot refrigerated truck, and committed it to the "kosher run" for the next six weeks. Then they volunteered to do the driving as well. So they set out on Sunday at 7AM, and met up with Rabbi Klein in Houston, who offloaded the truck, and then sent the two on various errands, shuttling between warehouses and kitchens.
Now it gets even more interesting. Rabbi Klein had earlier called on Tom Thumb, the supermarket chain that supplies the needs of most of the Dallas Orthodox community, to donate some food for the effort. The chain readily agreed, only to find out that their affiliate closest to the affected area in Houston had been wiped out. No worries, the trucker-pastors drove their now empty truck to an alternate supermarket to pick up the Tom Thumb donation.
It was there they were met by Ahmed Elstazo, the Muslim store manager, who not only provided the food, but sent along a message of support to the beleaguered Jewish community. Our pastors then returned to Ft. Worth, but vow to be back.
Meanwhile, teams of volunteers from EMIC fanned out over a huge swath of territory from Corpus Christi to Beaumont, checking on the well-being of people who are associated with their church through online distance learning.
The amazing dramatic scenes of rescue and relief in Houston by Americans of all backgrounds and races presented our country and the world graphic relief from the ugly, divisive images from Charlottesville. Strangers spontaneously put their lives on hold and came to the aid of fellow human beings.
Still, faith played an outsize role, as it has in the response to other disasters. Putting it all together, the spirited cooperation between different groups illustrates what some of us like to call multi-faith, not merely interfaith, activity. Put theological discussion and text study aside. Double down on the goodness that resides within people who are believers. Tap into their commitment as religious people to translate that goodness into action, and set them loose.
Back in Houston, you might say that a Christian, a Jew and a Muslim walked into a flood, only to discover that we don't need to make America great again. It already is.
Rabbi Abraham Cooper is Associate Dean and Director of Global Social Action for the Simon Wiesenthal Center. Rabbi Yitzchok Adlerstein is Director of Interfaith Affairs of the Simon Wiesenthal Center.