Jill Duggar Still in Hospital After Delivering Son; Family Helping as She Recovers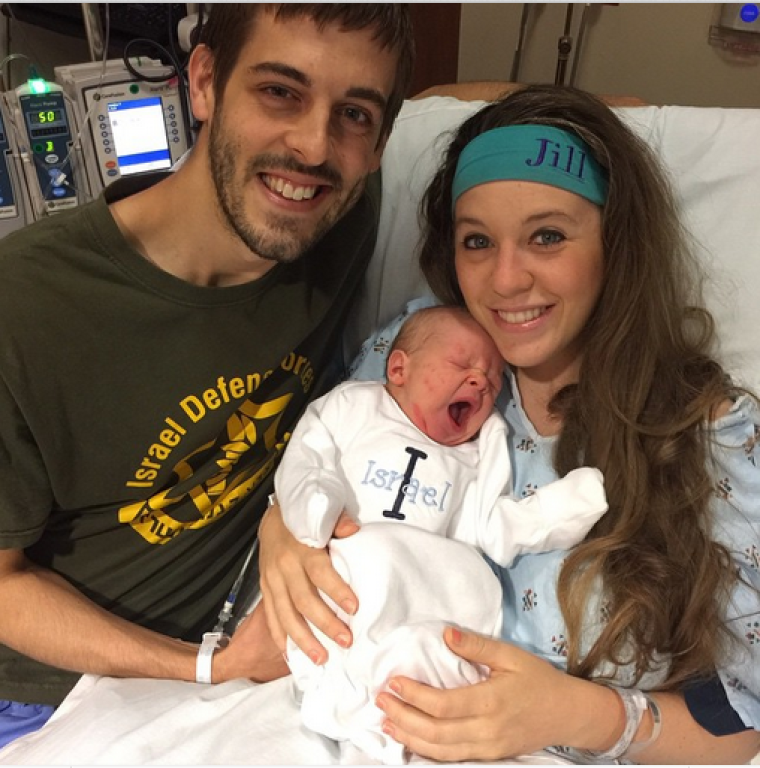 Jill Duggar is still recovering in the hospital after giving birth to her first child, a son named Isaiah David, on Monday.
Baby Isaiah weighed in at a hefty 9 pounds, 10 ounces, much to the delight and relief of his parents, Jill and dad, Derick Dillard. The couple had been expecting his arrival for a full nine months and two additional weeks before Isaiah was born. Jill required medical assistance to deliver her son, which was quite different than the couple's plans for a home birth assisted by Jill's mother and sisters. Yet the family is now spending plenty of time with Isaiah and Jill, who is still in the hospital.
"We are so blessed to have such a great family and such great support here at the hospital with the doctors and the nursing staff. My sisters and my mom and Derick's mom have all been in to help!" Jill told People. "Everyone is over the moon and so excited about him being born."
Jill's mom, Michelle, stayed with her while Derick went to have braces put on his teeth, and she and Derick have been taking turns caring of Jill. Sister Joy Anna also stayed with Jill, even doing her hair, and is part of a three-person "buddy team" to help Israel adjust to the larger Duggar family. Jason and Jennifer Duggar are the other two people chosen to be on the team.
The reality TV family took to social media to introduce Isaiah to the world, with a special video posted to their Facebook page. The couple explained how their faith had helped them get through the disappointment and frustration with not having the birth experience they wanted.
"Not everything went as expected," Jill said in the family video. "But we're reminded of the verse [where] the Bible talks about where man plans his way, but the Lord directs his steps. We're encouraged by that … and he's just a handsome fella."
Baby Isaiah's birth will be aired on an upcoming TLC special on May 5.