Jill Duggar Wedding Registry Includes Guns and Ammo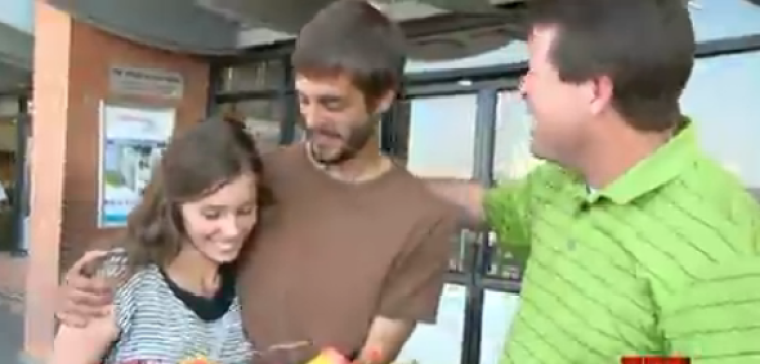 Jill Duggar and Derick Dillard are only one day away from exchanging vows and becoming man and wife, but that doesn't mean that they are fully prepared. Their wedding registry, recently updated and posted, still shows that the couple is in need of several things, including two guns and plenty of ammo.
According to the Wal-Mart registry for the couple, they have requested a Maverick Model 88 Pump Shotgun as well as a Smith & Wesson Rifle and four boxes of ammo. It's not something that you would normally see on a wedding registry alongside requests for sheets, towels, and other home goods. However, the couple does enjoy firing off a couple of rounds every now and then.
It's no secret that the Duggar family enjoys hunting and shooting. Earlier this month, Jessa Duggar was photographed posing with a gun; the picture was posted on Instagram with the caption: "My AWESOME girlfriend. #DontmesswithJessa." Boyfriend Ben Seewald was quite proud of the photograph and his gal's enthusiasm for guns.
"We believe it is important for children to learn safety about guns and knives," Jim Bob Duggar told Radar Online. "To learn how to use them properly and to learn not to use them to hurt others but to use them as a tool. [Gun ownership] is one of our constitutional rights," he concluded.
Jill and Derick recently celebrated two separate wedding showers, one a more modern shower and the other a traditional "pounding party," in which guests bring pounds of flour, sugar, rice, and other necessities to fill a pantry. The tradition dates back to the Quaker tradition of helping neighbors fill their pantries before marriage so that the house would be set up, and the kitchen stocked, when the couple returned home.
The couple will exchange vows tomorrow, June 21, in front of family and friends. They were set up by dad Jim Bob, who is very pleased with the outcome of his matchmaking.