Jill Duggar Welcomes First Son 11 Days After Due Date, Gives Him Biblical Name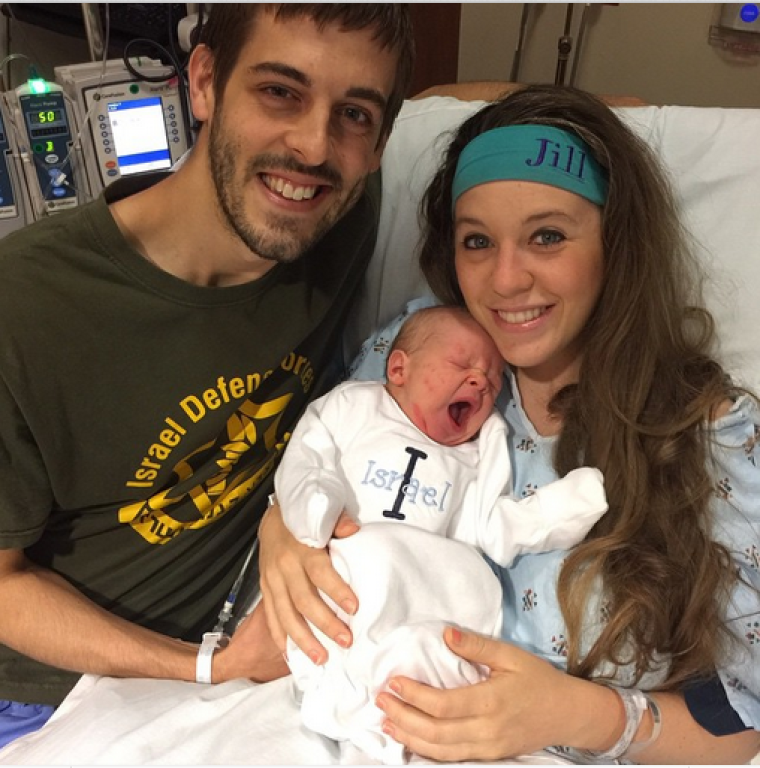 Jill Duggar and Derick Dillard welcomed their first child, a son, on Monday, April 20 and gave him a very Christian name.
After nine months and 11 days, baby Israel David Dillard made his arrival on Monday night at 11:49 p.m. Both mom and baby are doing well, according to the family, and Israel weighed in at a very healthy 9 pounds, 10 ounces.
"I can't even describe right now the anticipation I am feeling, as I am about to get to meet my firstborn son for the first time face to face," Derick wrote in a blog post last week. "So many people have already testified that nothing can quite describe that moment and that I'll just have to experience it for myself. When I look around, I can see new life everywhere. The trees are budding, which means summer is near. My wife, Jill, is beginning to have contractions which means that the birth of our son is near."
The couple recently celebrated their first wedding anniversary, and with the Easter holiday, joked that they might have a special Easter baby. However, it still took another 24 hours before Israel made his arrival. It remains to be seen whether Jill and Derick will stick with the "I" theme for their future children, much as their family has "J" names and Jill's brother, Josh, went with the "M" theme for his own children.
Jill and Derick spoke with The Christian Post not long after learning they were expecting and discussed their excitement.
"It's really exciting just thinking about being parents. I'm sure we'll be getting plenty of advice from our parents. I've always dreamed of being a mother and having kids and so, it's something that I've prepared for while growing up and taking care of babies and loving on them," Jill said.
"Well, ultimately, we want to be an example for them," Derick added.