Jim Caviezel Believes He's 'Called' to Play Biblical Roles to Show Hollywood Christ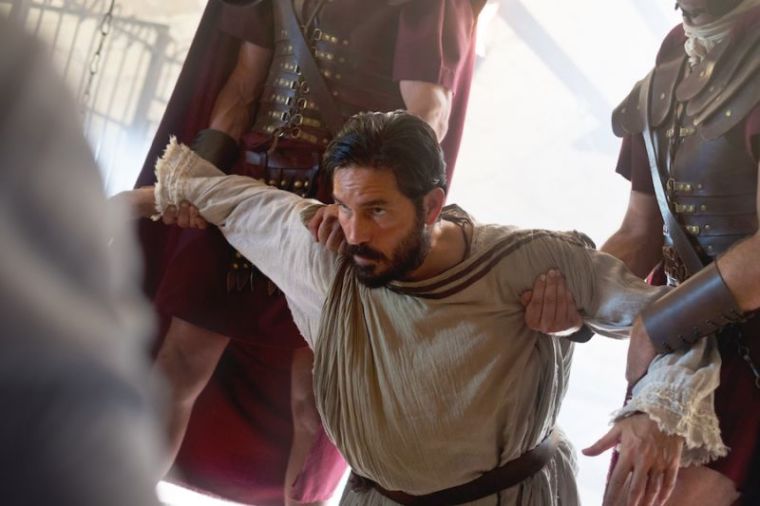 NASHVILLE — Hollywood actor Jim Caviezel is gearing up for the release of his new film, "Paul, Apostle of Christ," and says he feels called to make Christian films and share the love of Jesus Christ throughout his industry.
"Paul, Apostle of Christ," hits theaters March 23rd and will bring to life the story of Saul of Tarsus, who was known for persecuting and murdering Christians but went on to become one of the most powerful and important figures of the Church after he encountered Jesus on the road to Damascus.
Caviezel said he wanted to do this film because it's the "most important genre" for this time.
"Often times when we think about conversion, it's not necessarily going to make us wealthier but it'll do one thing, it'll give us a heart filled with just great joy that we've been lacking," Caviezel told the Christian Post at the National Religious Broadcasters' convention on March 1.
"Certainly, in my industry I've seen so many that are wealthy but are dead," he continued. "My Lord's message to me was, 'Ok you felt my love come through you. You can't judge them, you have to be love for them because that's the only Christ they're going to know.'"
Caviezel, who plays Luke in the film, commended Paul's example. When asked why he continues to do faith-based films although his industry often shuns Christianity, the actor made it clear that he'd rather serve God than the shallowness of Hollywood.
"I'll be point blank with you, my industry has been around for a century, the word of God has been around for 5,000 years if you want to go back to Moses and Abraham," stated Caviezel.
"Am I the right guy [for the parts]? No, I never thought I was the right guy to play Jesus [either] but a friend of mine told me this, he said – 'God doesn't always choose the best, but He chose you so what are you gonna do about it?'" the "Passion of Christ" actor shared.
Caviezel admitted that he enjoys the moral values he gets to take away from playing religious figures.
"I look at the role of Luke, to be whole (body, mind and spirit,). Now my industry says to be whole in body and the mind but not in the spirit," he maintained. "The spirit is what motivates."
In "Paul, Apostle of Christ" you will hear Paul boast only of his weaknesses, a quality not often seen in entertainers who are constantly praised for their work. The 49-year-old explained that it's easy to get an "ego" in his industry and then that same field can also be quick to turn on you.
Caviezel confessed that he "certainly," feels like taking the role of these men of God on the silver screen is a "calling." The Washington State native also believes he's meant to spread what those characters teach while in Hollywood with everyone he comes in contact with.
"I never focused on me, I just wanted to play the character well," he said of his role as Luke. "Christians need to understand that we are 2.3 billion, that's much bigger than 300 million people in the United States but if we want to hold the truth, we have to show it by love."
Caviezel has a long catalogue of films which he believes lean toward "faith-based," even if they are not explicitely Christian films. He listed, "The Count of Monte Cristo" and "Frequency" as redemptive films he's been a part of.
"I often talk to people are about this – 'Our Lord is not going to spare you from suffering. In fact, his closest apostles suffered tremendously and in that suffering, we still have to forgive and to be Christ [like] for others,'" he continued.
"If I said to you, 'Why did you convert?' You'd say, 'Because of His love towards me.' Well then why won't you share that with others?" Caviezel maintained.
He wants believers to understand that when they do not share their faith in their realm of influence, then it becomes an elitist mentality.
"It becomes like an elite country club .... And this is not appropriate," he stated.
"Paul, Apostle of Christ" stars Caviezel as Luke; James Faulkner ("Game of Thrones") as Paul; and Olivier Martinez ("S.W.A.T."), Joanne Whalley ("A.D. The Bible Continues") and John Lynch ("The Secret Garden").
The film will showcase when "Paul suffers alone in a Roman prison, awaiting his execution under Emperor Nero. Mauritius, the ambitious prison prefect, can hardly see what threat this broken man poses. Once he was Saul of Tarsus, the high-ranking and brutal killer of Christians. Now his faith rattles Rome. At great risk, Luke the physician visits the aged Paul to comfort and tend to him — and to question, to transcribe and to smuggle out Paul's letters to the growing community of believers. Amid Nero's inhuman persecution, these men and women will spread the Gospel of Jesus Christ and change the world," according to the synopsis.
Filmed in Malta, which is an archipelago in the central Mediterranean between Sicily and the North African coast, "Paul, Apostle of Christ" will premiere in theaters nationwide on March 23.
For more information visit the film's website.