Jimmy Fallon surprises couple; Operation Blessing to rebuild their home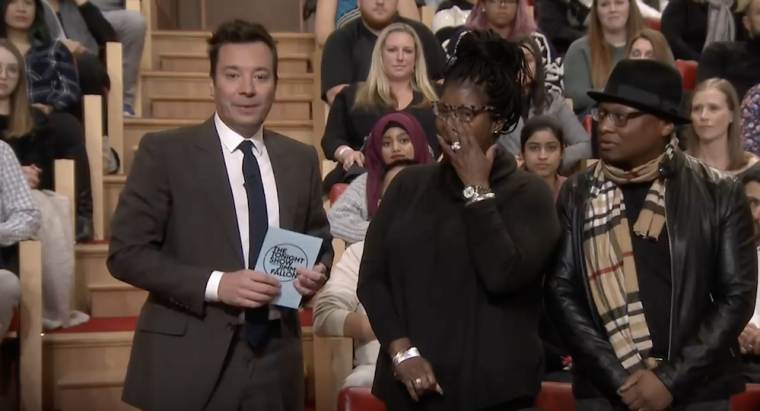 Jimmy Fallon, host of "The Tonight Show," surprised a North Carolina couple, whose home was damaged by Hurricane Florence, on Tuesday night's episode. 
Divya and Terry McArthur of Lumberton and their 12-year-old son were told they had won tickets to "The Tonight Show Starring Jimmy Fallon" and little did they know that they were the recipients of Fallon's "random act of kindness."
"Your house is a very special house. Why is it special to you?" Fallon asked the couple after sharing a bit of their story. Divya explained that the home was very important to her because it was left to her by her grandmother.
The McArthurs were hit by multiple storms, Hurricane Matthew in 2016 and then again by Hurricane Florence in September. Divya described the ordeal as "a nightmare" in an interview with CBN.
"But Romans 8:28 says, 'All things work together for the good of those that love the Lord,'" she told CBN. "So that's where I'm finding peace."
Divya told Fallon that their home was destroyed and because they did not have flood insurance they were unable to repair the damages. Fallon then announced that Home Depot and Operation Blessing were going to provide the assistance the McArthur family needed to help fix the house.
"They're going to come in. They're going to fix your home. They're going to fix your roof. They're going to repaint and insulate your house. They're going to provide a new furnace, appliances, redo your yard, and send in a Home Depot designer to re-furnish your home," Fallon said live on his NBC hit show.
The family was overwhelmed with emotion.
"All things work together for the good of those that love the Lord," Divya told CBN in response.
Operation Blessing was founded in 1978 by popular televangelist Pat Robertson. It was originally created to help struggling people and families with clothes, appliances and vehicles donated by viewers of CBN's "The 700 Club," Robertson's daily television program. Operation Blessing is now recognized as a respected relief organization that implements programs which provide disaster relief, medical aid, clean water, hunger relief, community development and orphan care.