Jimmy Fallon 'Tebowie': Comedy or Offensive? (VIDEO)
Jimmy Fallon is the latest to jump on board to create a Tim Tebow song or spoof.
On Thursday night's episode of Fallon's popular evening talk show, the host created a look for himself copying David Bowie's Ziggy Stardust.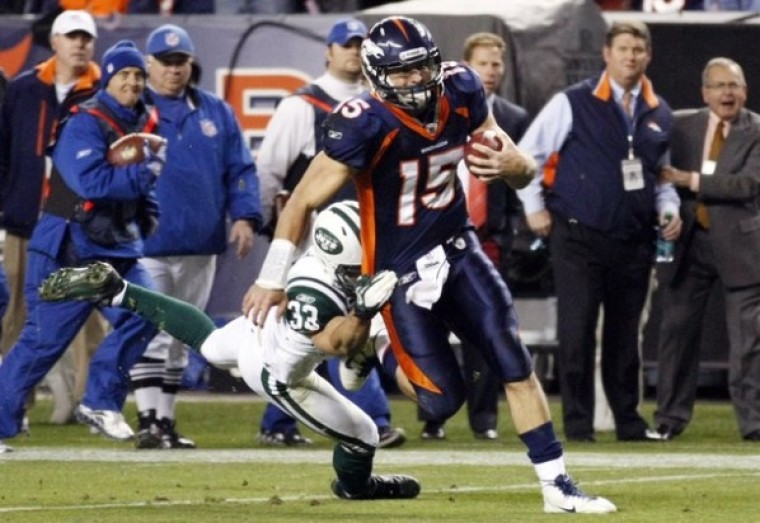 During the feature Fallon revamps Bowie's classic song "Space Oddity" into a lyrical conversation between Jesus Christ and Tim Tebow. Steve Higgins announced the comedy song by saying, "Tim Tebow and David Bowie together as one. Ladies and gentlemen: TeBowie."
Fallon is famous for his comedy impersonations of stars such as Neil Young and Bruce Springsteen, and his "History of Rap" performance is heralded as one of the funniest moments on his shows.
Despite the crowd clearly enjoying the comedy effort, others have since criticized Fallon for offending Christians with his lyrics. The full lyrics of Fallon's song, sung to David Bowie's "Space Oddity" tune, are:
Tim Tebow to Jesus Christ. (x2)
Commencing fourth down, hut, hut, hike.
Tim Tebow to Jesus Christ.
Snap the football and may God's love be with me.
This is Jesus Christ to Tim Tebow,
Please leave me alone.
Don't you know my day of rest is Sunday?
And I'm sick of watching all these Broncos' games.
I hear that you play New England next week.
Dude, you're on your own.
Brady is too good and I've got better things to do.
Though I've passed 316 yards there's still two games to go,
If I want to make it to the Super Bowl.
And show everyone on earth how to Tebow.
Tim Tebow to Jesus Christ, the Broncos won, we're still alive.
Come on, everyone, Tebow.(x4)
Jimmy Fallon's Tebowie song can be seen in the video below: