Jimmy Kimmel Mocks GOP Candidates in 'What Would Jesus Say?' Skit (Video)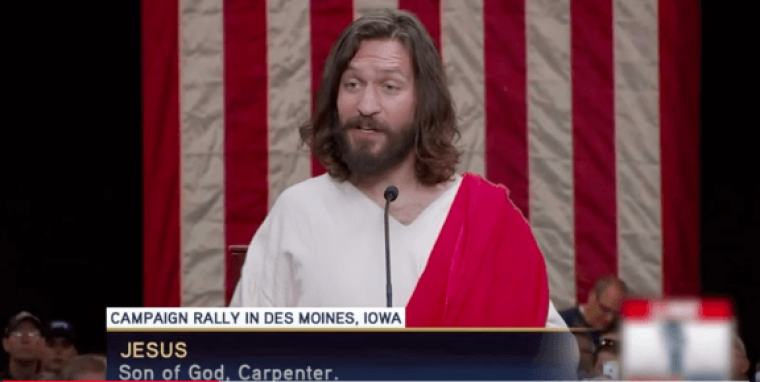 Late night host Jimmy Kimmel mocked Republican presidential candidates in a "What Would Jesus Say?" skit by having an actor portraying Jesus repeat some of the controversial comments they've made during campaign events.
On "Jimmy Kimmel Live" last week, the TV host chided some of the candidates who often reference their faith to appeal to evangelical voters.
Both Republican and Democratic candidates have spoken about their religious beliefs as they rallied supporters on the campaign trail. Last Monday, for example, Sen. Ted Cruz, R-Texas, opened his speech after winning the Iowa caucuses by saying: "God bless the great state of Iowa. Let me first of all say, to God be the glory."
And during Fox News' Republican presidential candidate debate on Jan. 28, anchor Bret Baier cited Time magazine's cover story that labeled Sen. Marco Rubio "the Republican savior," to which Rubio replied: "There's only one Savior, and it's not me. It's Jesus Christ."
Donald Trump, although not an evangelical Christian, frequently mentions that he is a Protestant, and more specifically, a Presbyterian. During one such political rally in October Trump declared: "And, look, I don't have to say it, I'm Presbyterian. Can you believe it? Nobody believes I'm Presbyterian. I'm Presbyterian. I'm Presbyterian. I'm Presbyterian. Boy, that's down the middle of the road folks, in all fairness."
Taking the political candidates' beliefs into consideration, Kimmel introduced the skit by saying, "God is a very important part of this primary election." But in an effort to show that people who claim to be believers in Christ do not always speak as He did on Earth, Kimmel had an actor dressed as Jesus repeat statements made by the candidates:
"You don't lock your doors because you hate people on the outside. You lock the doors because you love the people on the inside." — Marco Rubio.
"We need appropriate vetting, and I don't think orphans under five are being––you know, you should be admitted into the United States at this point." — Chris Christie.

"you don't stop bad guys by taking away our guns, you stop bad guys by using our guns." — Ted Cruz.

"Look at that face! Would anyone vote for that? Can you imagine that, the face of our next president?!" — Donald Trump.
"I would bomb the [expletive] out of them!" — Donald Trump.
"When you get these terrorists, you have to take out their families! They care about their lives, don't kid yourselves. They say they don't care about their lives. But you have to take out their families." — Donald Trump.
"I'll take the votes of everyone who loves machine guns and bacon!" — Ted Cruz.
"I will build a wall! It will be a great wall!" — Donald Trump.