Jimmy Peña Talks 'PrayFit' Workout Challenge, Healthy Holiday Tips (VIDEO)
Jimmy Peña Talks 'PrayFit' Workout Challenge, Healthy Holiday Tips (VIDEO)
Author of PrayFit Jimmy Peña has released a 33-day workout system offering tips on staying healthy, just in time for the holiday season.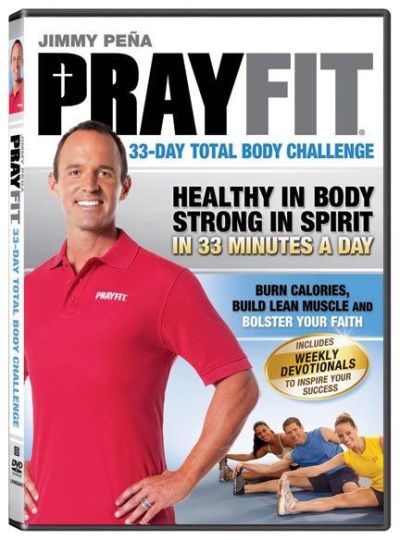 Released earlier this month from Lionsgate, "PrayFit 33-Day Total Body Challenge" is a workout system tailored for creating a fit body and a strong spirit.
Peña acknowledged that for many people, the holidays can be a struggle, considering the amount of food found at parties and gatherings. The fitness expert told The Christian Post that it is important not to fear the holidays or food, and that everyone should absolutely enjoy food as well as family during the season.
"Go into the holidays as fit as you can and have fun with your family," advised Peña. "Enjoy food, embrace food, and obviously pick it back up in January but we can't be afraid of food or the holidays."
But he also strongly suggested keeping a journal for "accountability," and emphasized that documenting progress serves those hoping to lose weight with the motivation they need to continue.
"The body will only change according to the level at which we stress it, so keeping a journal is pretty important otherwise you can't see the change," added the author, who reiterated that keeping a journal will also help people keep their New Year resolutions.
Exclusive Interview: Jimmy Peña Talks 'PrayFit' Workout for christians
A fitness expert and Christian, Peña merged his faith with his passion for exercise in the book PrayFit: Your Guide to a Healthy Body and a Strong Faith in 28 Days. The book calls on Christians to start living healthier lifestyles, to lead others by example. Following the success of the book, Peña decided to release the "PrayFit" exercise program which emphasizes strength, stamina, and stability.
"We chose 33 days because, scientifically, a month-long program is proven to help establish good habits while also seeing noticeable changes in body composition," said Peña. "But we also chose 33 days to honor the life of Jesus. He could have given us a day or even a week. But because He lived 33 years, we know He can relate our day-to-day issues."
The fitness mogul first realized the benefits of working out in college, but he still believes that Sunday should be a day of rest.
"In college, I went to train and then went to lunch and saw a bunch of kids coming from church," said Peña, who described the conflict he felt about missing Sunday worship that day. It was then that he decided Sundays would a day of rest and worship, and he has not trained on a Sunday since.
"If I don't get it in by Saturday, I don't get it in at all, and pick back up on Monday," added the author.
Nevertheless, Peña does want the church to play a role in fitness – with more emphasis placed on healthy physical activities as well as spiritual activities. Peña, who has trained celebrities such as Mario Lopez and LL Cool J, calls on Christians to demonstrate their obedience to God by staying healthy.
"Health and the body need to be talked about more often in the church," said Peña, who urges pastors to discuss exercise with their congregants. "I think there's a fear that it (exercise) is vanity, but I really believe that somewhere between vanity and gluttony lays abundant health and abundant living and that's where the church needs to be."
Speaking about the weight problems of today's Christian leaders, Peña said, "Pastors are at the mercy of all the different obstacles in life – stress, family … but it's time to embrace the fact that as leaders pastors have to lead as example and add our bodies into the mix of what God mandated."
In addition to Peña's quest to make Americans healthier, he guarantees that PrayFit can change the body while deepening one's spiritual faith.
PrayFit, which combines exercises and a fitness plan with daily devotionals that include Scripture, addresses the overwhelmingly large spectrum of overweight people and focuses on the church to lead the health movement.
"I really believe that it is very important to take care of the body that carries the soul," said Peña. "It doesn't take faith in Jesus to be fit, but if we have faith in Jesus we should strive to be fit. If we have faith, we should at least try to be healthy."