JLO Thanks God After Being Rear-Ended by a Drunk Driver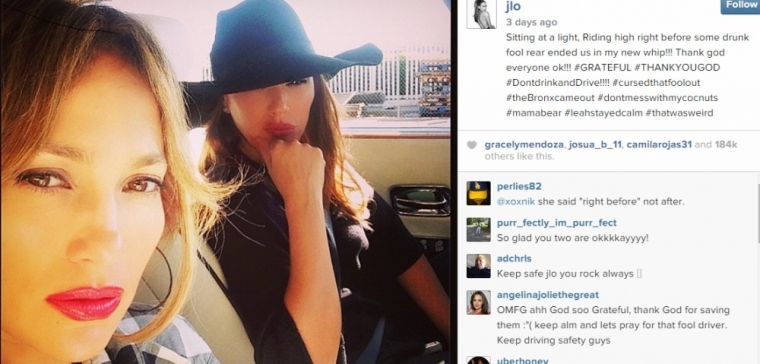 Singer and actress Jennifer Lopez took to Instagram to praise God after she and friend Leah Remini survived a car accident.
The actress posted a picture of herself and Remini with the caption "Sitting at a light, Riding high right before some drunk fool rear ended us in my new whip!!! Thank god everyone ok!!! "
Local authorizes told TMZ the pair was traveling along Malibu's Pacific Coast Highway in JLO's car Saturday when the accident occurred. Lopez's two children, Max and Emme, and Leah's daughter, Sofia, were reportedly in the car.
A driver in a pickup truck struck the car from behind and then drove off. One of the women called the police and described the driver and the truck to police. The authorities tracked down the hit-and-run driver a short while later, determined that he was driving while intoxicated and arrested him.
While the Daily Mail reported that Lopez is a scientologist who wants her children to join the Church of Scientology as well, the 45-year-old was raised Catholic and told Wendy Williams last year that she still looks to the Bible for insights.
"I'm a big soul searcher and I read a lot of, like, self-help books, you know what I mean," Lopez told the day-time host. "I am always kinda searching for answers. I'll randomly just open a Bible, looking for answers and guidance."
Lopez also an openly supported Remini when she publicly left the Church of Scientology.