Joe Biden Says Protecting Gay Rights Trumps Culture, Social Traditions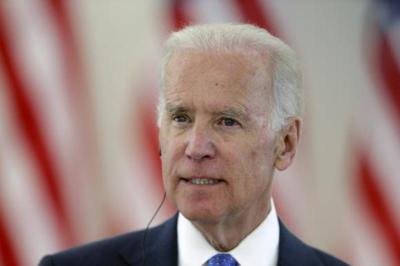 Vice President Joe Biden said during a speech on Tuesday that protecting gay rights trumps national cultures and social traditions, as President Barack Obama's administration continues promoting LGBT rights around the world.
"I don't care what your culture is," Biden told about 100 guests at the Naval Observatory's vice presidential mansion, The Associated Press reported. "Inhumanity is inhumanity is inhumanity. Prejudice is prejudice is prejudice."
He added that the cause is a "defining mark of a civilized nation" and met with a number of religious, human rights and HIV health care advocates in a forum dedicated to promoting gay rights internationally.
White House National Security Adviser Susan Rice added that protecting gay people from global discrimination, abuse and even death is one of the most challenging international issues facing the U.S.
"To achieve lasting global change, we need everyone's shoulder at the wheel," Rice said. "With more voices to enrich and amplify the message — the message that gay rights are straight-up human rights — we can open more minds."
She continued: "Governments are responsible for protecting the rights of all citizens, and it is incumbent upon the state, and on each of us, to foster tolerance and to reverse the tide of discrimination."
The White House administration has butted heads with other governments when it comes to gay rights, and back in February Obama urged Uganda President Yoweri Museveni not to sign a controversial anti-gay bill that made "aggravated homosexuality" punishable by life imprisonment.
"The Anti-Homosexuality Bill in Uganda, once law, will be more than an affront and a danger to the gay community in Uganda. It will be a step backward for all Ugandans and reflect poorly on Uganda's commitment to protecting the human rights of its people," Obama warned. "It also will mark a serious setback for all those around the world who share a commitment to freedom, justice and equal rights."
Some Kenyan churches have spoken out against what they say is western pressure on African countries to abide by LGBT rights, however, with some comparing homosexuality to colonialism and slavery.
Bishop Arthur Gitonga of the Redeemed Church in Kenya included comments such as "homosexuality is equivalent to colonialism and slavery," "we feel it's like a weapon of mass destruction" and "it is not biblical and cannot bring blessing to Christians" during a news conference in March.
Biden announced in 2012 that he is "absolutely comfortable" with gay marriage, noting that his position on the issue has been "evolving," and called the practice "the issue of our day."