Joel Osteen, Carl Lentz, Hezekiah Walker, AR Bernard Make Tag Team Faith Declarations at 'America's Night of Hope' in NYC
NEW YORK — Joel Osteen invited more than a dozen area pastors, such as A.R. Bernard, Carl Lentz and Hezekiah Walker, to join him on stage to declare God's blessings over the thousands in attendance this weekend at his "America's Night of Hope" event at Yankee Stadium in New York City.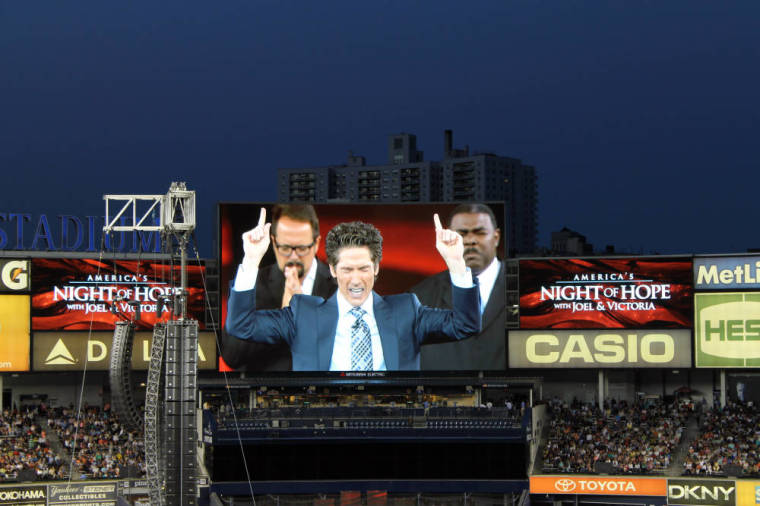 "You know, we believe it makes a difference to speak words of faith and speak words of victory, so I'll ask some of the great pastors of the New York area to join me tonight…" Osteen explained to a cheering audience. "I've asked them to take a moment to just make a declaration by faith over our schools, over our government, over our firefighters, our police force, teachers, nurses, everything about the city, and not only that but about your life as well."
Each minister then took the mic for a minute or two and stated their declaration before handing it off to the next pastor. The leaders represent congregations from New York, New Jersey, Pennsylvania, Connecticut, and Massachusetts, with all but one of them members of Lakewood Church's Champions Network, a national network that helps Christians find churches in their area (read about the network here). Hillsong NYC Pastor Carl Lentz, currently not listed in the Champions Network, was included in the declaration lineup Saturday night, although his name did not appear in the printed program.
Below is an audio player and a transcript of the declarations made by the pastors who joined Osteen on stage before an estimated 50,000 attendees Saturday night at Yankee Stadium.
The Rev. A.R. Bernard, Christian Culture Center, Brooklyn, New York
"We declare that the blessings of Almighty God are upon this city, this great state, our nation. We thank you Lord for all of those workers that serve our communities so well whether first responders, educators, hospital workers, wherever they serve, we declare Your blessings upon them and their families, and we do it in the matchless name of the Lord Jesus Christ. Amen and amen!"
Pastor Michael Durso, Christ Tabernacle, Glendale, New York
"We declare God's blessing and favor over every elected official, over our mayors and our governors, over our Congress and over our president, and that this nation will shine and be a picture of hope and favor because in God we trust."
Pastor Ron Lewis, Every Nation Church, New York City
"We declare blessing over every family member in here, that every husband and every wife would experience grace and love and peace in their household. We declare blessing and strength over every single mom and single dad, that every household would be coming under the blood of Jesus Christ, blessed and secured. Every prodigal coming home, every household raised up, to the glory of God. Amen."
Pastor Buddy Cremeans, Northway Church, Clifton Park, New York; Malta, New York; and Pittsfield, Massachusetts
"Father we declare tonight that God is good, and Father that You are our hero. And God we believe that You see us as strong as whole. You see us, Father, as strong in our mind, strong in our body, most importantly, God strong through the power of our spirit, through the power of Your Holy Spirit. Father, we believe that we would see tonight that the life-giving presence and power of your Spirit is poured out all over this stadium, God, to encourage, Lord, the people that are struggling, Lord, with sickness, pain, that are discouraged, that You brought them here tonight to encourage them, that You are for them. And, Father, we thank you in advance for healing in the mighty name of Jesus. Amen."
Pastor Trevon Gross, Hope Cathedral, Jackson, New Jersey
"And we declare the supernatural favor of God over your finances so that from the glorious riches of our Father every need is met and you are out of debt and your best financial days are ahead of you, in Jesus' name!"
Pastor Todd Bishop, The Point Church, Long Island, New York
"We declare God's favor over the next generation that they will experience the greatest days of their life and spiritual life of blessing and promise. We declare that the next generation will be a great generation that declares the (unintelligible) … We declare that this generation will unleash their full redemptive potential and experience the greatest days of their life."
Pastor Terry Smith, The Life Christian Church, West Orange, New Jersey
"We declare that we are strong in every dimension of our being, spirit, soul and body. Our strength comes from the Lord. Those who hope in the Lord will renew their strength, they will soar like eagles, they will run and not be weary, they will walk and not faint. We can do everything through Jesus Christ who strengthens us."
Bishop Hezekiah Walker, Love Fellowship Tabernacle, Brooklyn, New York
"We declare a power and authority on every church here in this area. We declare that (unintelligible) to the pulling down of strongholds. Every member of every church, we declare a prosperity miracle upon your life and on your pastor, in the name of the Lord Jesus Christ we pray. Amen."
Pastor Joseph Nieves, Transformation Church, Middletown and Bronx, New York
"I declare that the harvest is now. New life is springing forth in the Bronx, in Brooklyn, in Queens, in Manhattan, in Long Island, in New York City, and in the Northeast. I declare that tonight tens of thousands of people will open up their hearts to the life-changing, life-transforming love of Jesus Christ."
Pastor Frank Santora, Faith Church, Milford, Connecticut, and New York City
"We declare that you are people of vision, destiny and purpose, that you are not an accident, that are here on divine assignment to change this world for the better. We declare that you are important to God and He changed you to live a life of significance and purpose and that every promise He has placed in your heart will come to pass. We declare it in the mighty name of Jesus."
Pastor Paul Andrew, Liberty Church, New York City
"We declare that the peace and protection of God is upon you, that you dwell in the secret place of Almighty God and you rest in the shadow of the Most High. We declare because your trust is in Him, He will keep you in perfect peace and that you will dwell in that name of the Lord, the name that is above every other name, the name of Jesus Christ. Amen."
Pastor Carl Lentz, Hillsong Church, New York City
"Tonight we declare John 3:16 over this city. For God so loved the world that he sent His only begotten Son so that the whosoevers in Brooklyn, and the whosoevers in Staten Island, and the whosoever's in Manhattan shall not perish but have everlasting life. Give God some praise for Jesus!"
Pastor Troy Gramling, Potential Church, Miami, Florida, and New York City
"We declare that you are blessed, you are God's kids, created by the all-powerful, all-knowing, everywhere-at-one-time God to do something of significance, knit together in your mother's womb to succeed. And together, we declare that we will impact this city. If I can say it one more time, you were created with incredible potential, and just like the New York Rangers, we're gonna win."
Pastor Osteen
"Lord, I receive what these gentlemen said. Lord (unintelligible) of all of our hearts. Not only those here, but those that are watching, those that are listening. Lord, I pronounce this declaration in the name of Jesus that right now You are releasing us from defeat into victory, releasing us from sickness into health, releasing us from depression into joy, releasing us from addictions into freedom, releasing us from debt and lack into abundance, releasing us from everything that's holding us back into total victory. I declare that every chain is being loosed, every stronghold is coming down. You're going to step into a new level of your destiny, in Jesus' name. If you receive it, can you say amen!"
"America's Night of Hope" is a two-hour praise and worship event that includes encouragement from Victoria Osteen, a testimony from Dodie Osteen, prayer, a message from Pastor Osteen and an altar call for those in attendance who want to make a decision for Jesus Christ. Several such events are held throughout the year across the United States. Joel and Victoria Osteen lead Lakewood Church, America's largest Christian congregation that attracts more than 52,000 worshippers weekly.