Joel Osteen, Hallmark Channel Team Up for America's Night of Hope Special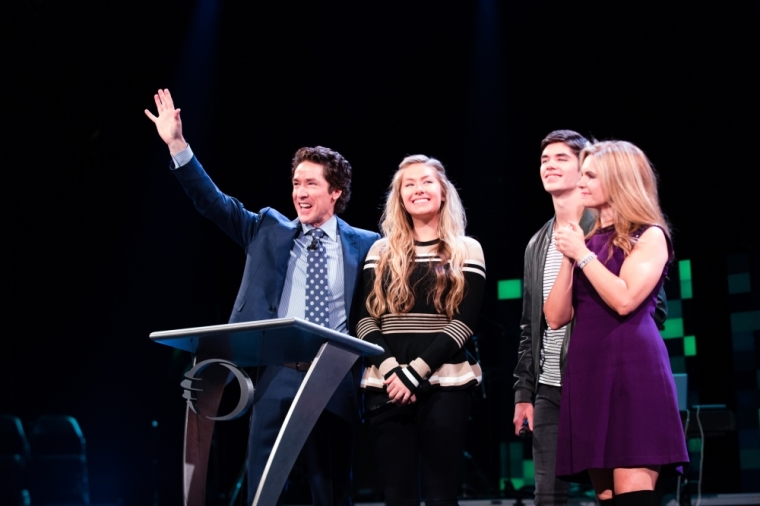 Lakewood Church's Joel and Victoria Osteen's America's Night of Hope has crisscrossed the country spreading the hope of the Gospel. Now that message may reach an even wider audience with a partnership with Hallmark Channel.
Multichannel News reported that Hallmark will team up with the Osteens, who will produce an original special that is likely to garner a large audience thanks to Hallmark's viewer track record. The channel reached No. 2 among primetime total viewers with an all-time high of 2.48 million last year during the week of Nov. 23-29, according to Variety.
The special will spotlight an edited version of the Osteen's Detroit-based event, which is part of their America's Night of Hope events that take place around the country, according to Hallmark.
Bill Abbott, the president and CEO of Crown Media Family Networks (the parent company of Hallmark Channel and Hallmark Movies & Mysteries) praised the Osteens.
"There is a reason why Joel Osteen is one of the most sought after thought leaders in the world. Joel and Victoria are voices for a new generation who draw millions to their universal messages about love and hope, a much-needed respite in today's troubled world," Multichannel News reported.
But Osteen's wildly popular messsages haven't been received without their fair share of criticism. Some of his detractors claim that the pastor's perennially positive sermons rarely mention Hell.
The preacher and New York Times best-selling author, who once said, "I've always tried to get outside of just the church world," often delivers upbeat sermons that center on subjects like forgiveness, having a positive attitude, and reaching one's dreams rather than sermons that elicit guilt, which the pastor says is often a reason why people don't go to church. Instead he frequently reminds audiences "God is for you."
As previously reported by The Christian Post, Osteen was recently consulted by National Geographic for its six-part documentary series on faith titled "The Story of God."
The host of the docu-series, Oscar-winning actor Morgan Freeman, took viewers to seven countries and 20 cities where he delved into the religious beliefs and practices of several cultures.
Texas-based Lakewood Church is a non-denominational Christian megachurch that averages over 45,000 weekly attendees, making it one of the largest church congregations in the U.S.
The Hallmark special with Joel Osteen is set to air on Sept. 11.