Joel Osteen, Lakewood Church Announce Support for Bill to End Sex Trafficking in US
Nationwide FBI Raid Leads to 152 Arrests, 106 Children Recovered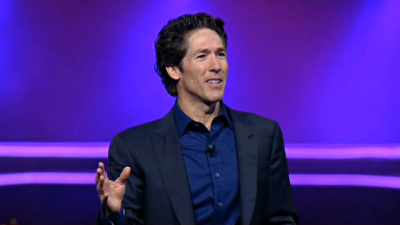 Joel Osteen, senior pastor of the 40,000-member Lakewood Church in Houston, Texas, announced Thursday his and the congregation's support for H.R. 2805, the "End Sex Trafficking Act of 2013."
"The suffering associated with human trafficking resonates strongly within the Christian community, and we know of many churches, like our own, whose compassion for its victims has moved them to act," said Joel and Victoria Osteen in a statement to The Christian Post on Thursday.
Introduced by Rep. Ted Poe (R-Texas), the bill, which is supported by both Republican and Democrat lawmakers, is intended to help eliminate human trafficking rings by "targeting the criminals who purchase sexual acts from these organizations and ensuring that they are prosecuted as human traffickers."
Osteen's announcement comes just days after the FBI's Operation Cross Country VII led to the arrest of 152 sex traffickers and recovery of 106 children during a 72-hour raid conducted July 26-28 in 76 cities throughout the United States.
Working with local, state and federal law enforcement and the National Center for Missing and Exploited Children, the 47 FBI divisions involved in the operation led to the arrest of pimps who face state and federal charges. Eighteen of those arrests were made in Detroit, Mich., followed by 17 in San Francisco, Calif., 13 in Oklahoma City, Okla., and 10 arrests were made in both Jacksonville, Miss. and Atlanta, Ga.
The nationwide operation also led to the recovery of 106 children who were being trafficked as prostitutes. Twelve children were found as part of the raid in San Francisco, followed by 10 in both Detroit and Milwaukee, Wis., nine in Denver, Colo., and six in San Diego, Calif.
"Our goal is to get these young girls into some form of treatment and to help them reshape their lives and reclaim their innocence to the extent they can," said Ronald Hosko, the FBI's assistant director of the Criminal Division.
"Child prostitution remains a persistent threat to children across America," Hosko continued. "This operation serves as a reminder that these abhorrent crimes can happen anywhere, and the FBI remains committed to stopping this cycle of victimization and holding the criminals who profit from this exploitation accountable."
Annie Lobert, the founder of "Hookers for Jesus" whose faith-based organization is featured on the Investigation Discovery television show, "Hookers: Saved on the Strip," told KVVU-TV on Monday that a lot of the girls who are prostituted are underage.
"More than half the women I deal with were underage prostitutes," she said, affirming her belief that every level of government needs to work with community partners and religious institutions to combat sex trafficking.
Lobert also noted her surprise that in the Las Vegas, Nev., raid, only two children were recovered and one pimp was arrested.
In a statement released by the FBI, the government agency reports that along with its task force partners, they have "recovered more than 2,700 children from the streets," and their efforts have led to "1,350 convictions, including 10 life terms and the seizure of more than $3.1 million in assets."
The investigative operations "usually begin as local enforcement actions that target truck stops, casinos, street 'tracks,' and websites that advertise dating or escort services," the FBI reports.
Established in 2003, Operation Cross Country is part of the Innocence Lost National Initiative by the FBI's Criminal Investigative Division, in partnership with the Department of Justice and NCMEC.
"Operation Cross Country demonstrates just how many of America's children are being sold for sex every day, many on the Internet," said John Ryan, CEO of NCMEC.