Joel Osteen Ministries to Draw Thousands to Miami for 'America's Night of Hope'
Lakewood Church Leader, Family and Generation Hope Project to Impact City Amid 5th Annual Event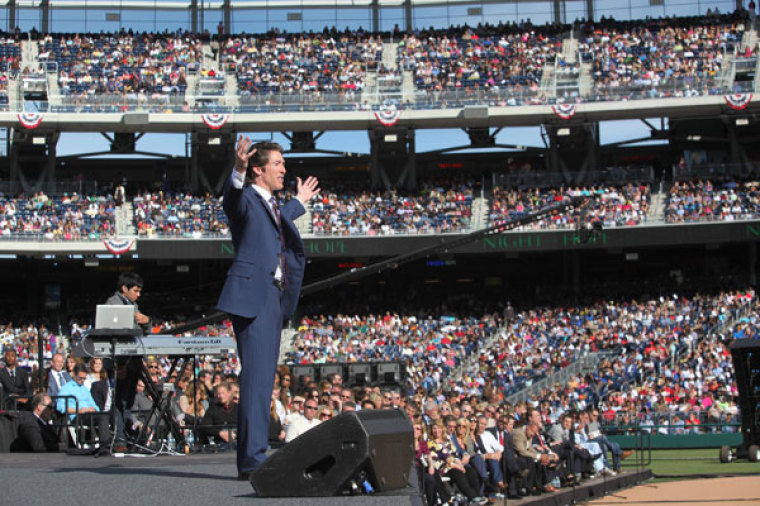 Thousands are expected to gather in Miami, Fla., next week at the 5th annual "America's Night of Hope" with Joel and Victoria Osteen of Lakewood Church, one of several events that also will see youths descend on the city in service before culminating in a night of celebration and hope at Marlins Park.
The main event, scheduled for Saturday, April 20, will gather tens of thousands from the Miami-area and beyond at the 37,000-seat MLB stadium for a night of inspiration and worship, much like last year's "American's Night of Hope" event in Washington, D.C., at Nationals Park, which drew tens of thousands of participants and was attended by The Christian Post.
"Victoria and I love the people of Miami," Pastor Osteen said in a statement shared with CP. "We're excited to come to this beautiful city again and bring our signature event here. I believe people will be uplifted and filled with an expectation that their best days are still out in front of them."
Miami Mayor Tomas Regalado welcomed the Osteens and their expected guests.
"We are pleased to welcome Pastors Joel and Victoria Osteen and 'America's Night of Hope' to Miami ..," said Regalado. "We pray not only will attendees find uplifting hope and unity in the message they hear that evening and throughout the week with the Generation Hope Project, but that visitors will enjoy the many cultural tastes and sounds of Miami."
The "America's Night of Hope" signature event is a combination of praise and worship music, a word of encouragement from Victoria Osteen, special testimonies, prayer, and a final word of encouragement and hope from Pastor Osteen. The Osteens' two teen children, Jonathan and Alexandra, also will participate in the night's activities, as will their grandmother, Dodie Osteen.
Also like last year's gathering in Washington, the Joel Osteen Ministries-affiliated Generation Hope Project will have youth and young adults positively impact the residents of Miami through service projects that include planting victory gardens, distributing free meals and developing a culinary training curriculum for inner city youth, among other activities.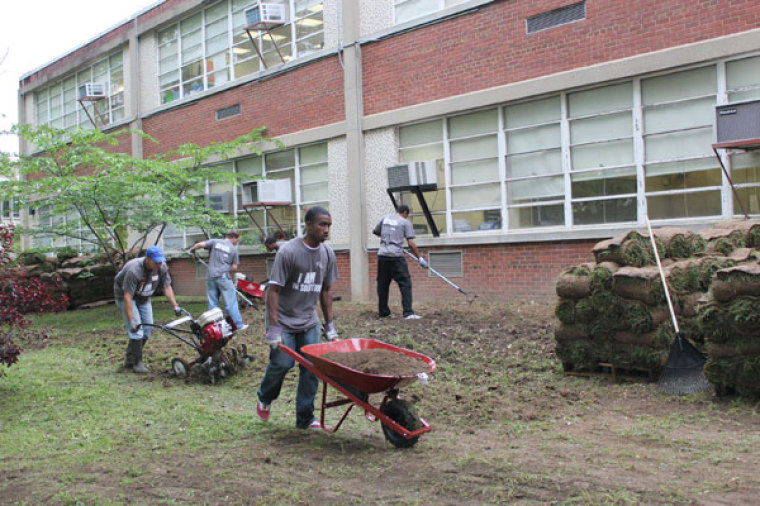 Additionally, Lakewood Church and Joel Osteen Ministries will open the first-ever Spanish Champions Club in the city. Champions Clubs are special needs programs for children and teens that provide spiritual therapy and a full Christian curriculum.
Osteen, a best-selling author who reaches more than 10 million homes via broadcasts every week, is lead pastor of Lakewood Church. The nondenominational megachurch, located in Houston, Texas, is home to America's largest and fastest-growing congregation, with a weekly attendance of more than 43,000.
The Texas pastor became the victim this week of what appeared to be an April Fool's Day prank when a man launched a viral news campaign that claimed Osteen had turned away from his Christian faith and was leaving the church his father founded in 1959. In an interview with The Huffington Post, the unidentified man denies that his elaborate scheme was a prank, and insists that it was actually intended to "motivate him (Osteen) to talk about more serious subjects."
"He has a worldwide stage he isn't using to do enough good, but rather he's wafting lightweight sermons peppered with clichés across the Sunday airwaves," said the man, echoing opinions held by some Christians who claim Osteen's messages focus heavily on financial prosperity while neglecting other subjects like sin and suffering.
Osteen commented on the elaborate scheme in an interview with ABC News, saying, "You know, I'm really not angry. I don't feel like a victim. I feel too blessed, that life is too short to let things like this get you down."
"You can't stop everything from happening, but you can choose to say, 'God, it's in your hands'. I'm going to move forward. I'm going stay full of joy and I'm going enjoy this day," he added.
Osteen previously told The Christian Post that he does not consider himself a prosperity preacher, but does believe God rewards obedience and wants Christians to "prosper in your health, in your family, in your relationships, in your business, and in your career."