Joel Osteen Returning to NYC's Yankee Stadium for 'America's Night of Hope' — What Should You Expect?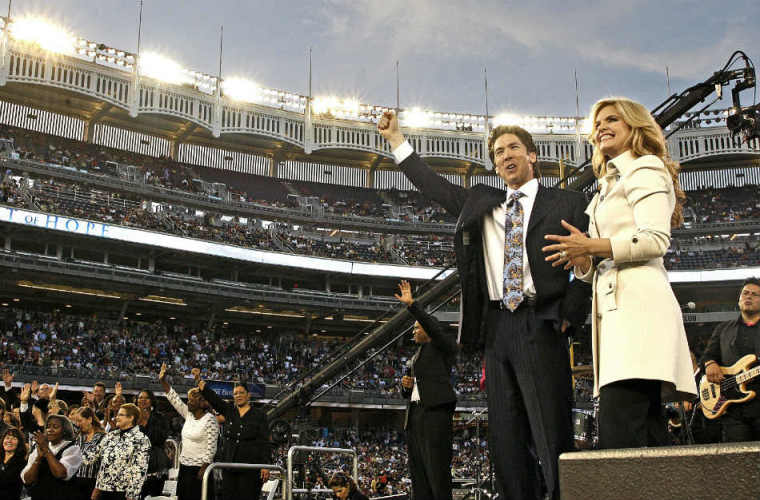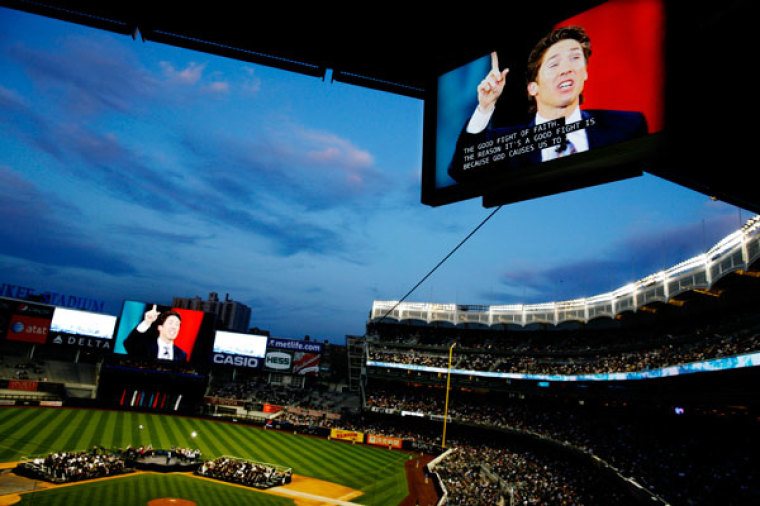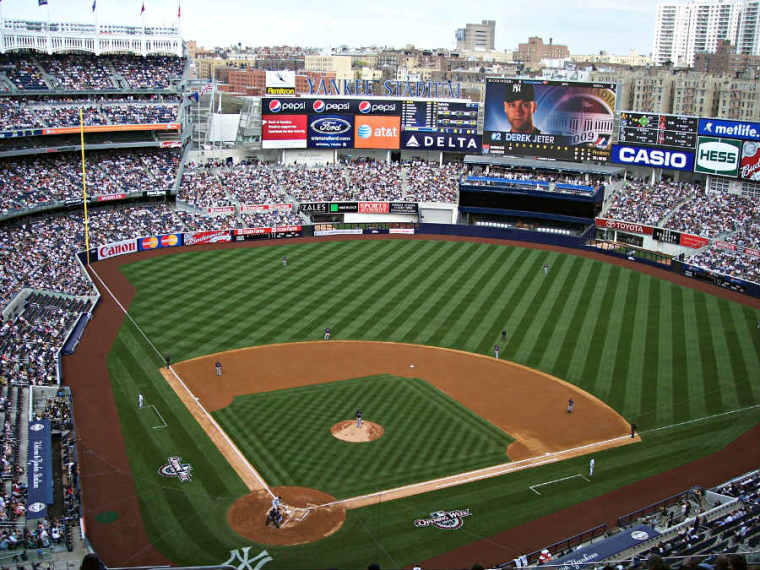 View Photos
Megachurch pastor and bestselling author Joel Osteen is making a second trip to New York City's Yankee Stadium this summer for his annual "America's Night of Hope" tour. The last time the Texas preacher and his family visited the baseball stadium in 2009, they brought a near-capacity crowd with them. But what happened during Osteen's visit to Yankee Stadium, and what can the estimated 55,000 worshippers who will likely join him in June expect this time around?
Osteen's "Historic Night of Hope" at Yankee Stadium on April 25, 2009, was the first non-baseball engagement held at the current venue, located in the Bronx borough of New York City. The ballpark, home to the N.Y. Yankees, had re-opened after a move just 9 days prior to the Christian event with Osteen reportedly beating out the Rolling Stones rock group for the inaugural spot.
Night of Worship & Weekend of Service
The Lakewood Church worship team featuring Dove winner Cindy-Cruse Ratcliff, Steve Crawford and Da'dra Greathouse will be joining Joel and Victoria Osteen at Yankee Stadium again this year. Dodie Osteen, Pastor Osteen's mother, and his siblings, Lisa Comes Osteen and Dr. Paul Osteen, will also take to the stage.
A media representative for Joel Osteen Ministries confirmed that Alexandra and Jonathan Osteen, seen performing on stage at a different event in the photo below, also will be in attendance at the ballpark.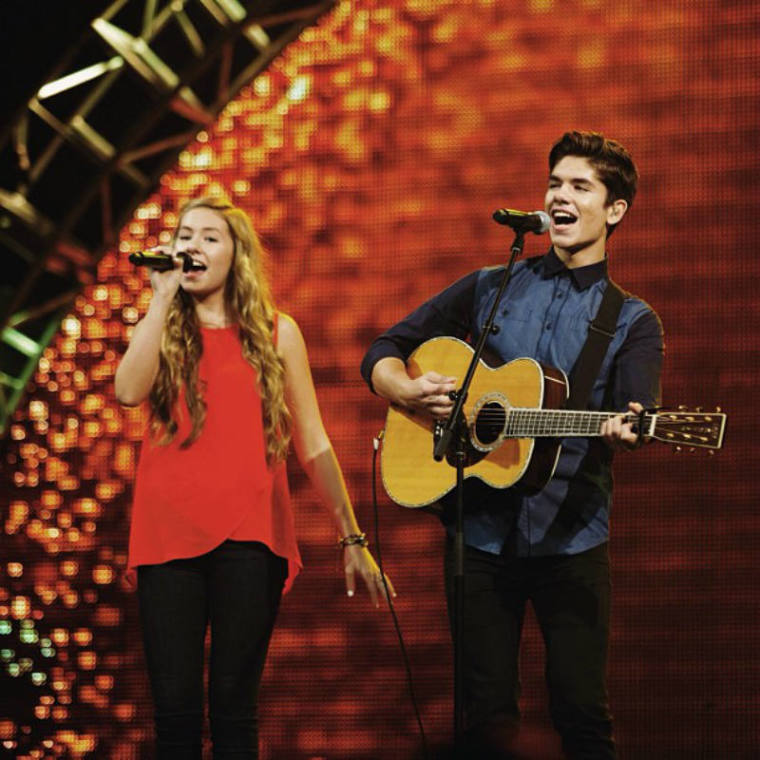 The megachurch ministry, located in Houston, Texas, has released a Generation Hope Project video for youth interested in volunteering for service projects the weekend of "America's Night of Hope" in New York City. The Generation Hope Project gathers volunteers to serve cities that host "America's Night of Hope" events, as was the case last year in Miami and in 2012 in Washington, D.C.
While in town, "Joel Osteen Ministries will reach into New York City's local communities with hundreds of volunteers — many from Houston — in order to bring hope through acts of kindness and compassion," according to the ministry. Learn about the Generation Hope Project NYC 2014 here: http://youtu.be/6kKmFlXlVAU or here: www.generationhopeproject.com.
Tickets Going Fast
Tickets for Osteen's "America's Night of Hope" at Yankee Stadium start at $15, although some vendors and resellers, independent of the ministry, were selling tickets for more than 10 times that price. According to a Joel Osteen Ministry representative, about 11,000 tickets have been purchased since being released for sale on Jan. 25.
Yankee Stadium is again to likely draw a capacity crowd, and there's no telling when tickets might sell out. It's quite likely scalpers are among some of the early ticket buyers, as some of Osteen's ardent admirers have shown they are willing to pay $100 and higher to hear the popular preacher in person.
The ministry obviously condemns the illegal practice of scalping, and warns on its website that sometimes "tickets you see posted on unauthorized resale sites do not actually exist," and for supporters "to purchase tickets only from the venue Box Office and / or the authorized ticketing company" to assure that they are purchasing genuine tickets.
Why is JOM even charging money for people to gather to hear the Gospel and worship God? According to previous reports, the ministry does not gain financially from charging a $15 entry fee, and ticketing is for "crowd control and convenience."
Learn more about the event here, and how to make your way to and around Yankee Stadium here.
The Mantra and The Message
"This is my Bible. I am what it says I am. I have what it says I have. I can do what it says I can do. Tonight, I will be taught the word of God. I boldly confess, my mind is alert, my heart is receptive, I will never be the same. In Jesus' name!"
As anyone who has ever tuned into a Joel Osteen sermon knows, the above remarks are made by the Houston megachurch pastor at the opening of every message — with the thousands listening in person usually joining in.
At Yankee Stadium in 2009, it wasn't any different.
Osteen, standing on stage, held his leather-bound Bible in the air, as did many others in attendance, and declared his belief in what the Scriptures say about who he is and about what he has.
What did Osteen preach?
"The moment you quit planning for your future, is the moment you quit living. The day you quit being excited about what God has in store, is the day you went from living to just breathing. You need to have the right attitude, have the right vision for your life. You are a fully-loaded person, totally equipped."
"If you will learn to stretch your faith, refuse to die with the music still in you, here's what's gonna happen: the Master's gonna step in. That means, you're gonna get breaks that you didn't deserve. You're gonna overcome obstacles that looked insurmountable. You're gonna accomplish more than you ever thought possible. When you come to the end, you'll be able to say, I've finished my course. I've spent all my potential. I've released all my gifts. I've fulfilled my God-given destiny."
What has become Osteen's trademark, and somewhat controversial message of hope since he started pastoring Lakewood Church in 1999 continues to prove inspiring to millions around the globe, and will likely draw an estimated 50,000 people to Yankee Stadium on June 7.
The Osteens, who have held similar worship gatherings in New York City at Madison Square Garden, "love the people of New York."
"We're excited to be at Yankee Stadium again, and we believe people will be uplifted and filled with an expectation that their best days are still to come," said Pastor Osteen.
Joel Osteen Ministries has released a promotional video for the event in New York City that features footage from the Osteens' 2009 "Historic Night of Hope" event at Yankee Stadium.
Lakewood Church, led by Joel and Victoria Osteen, is America's largest church and one of the most racially diverse, with more than 52,000 worshippers attending services weekly. According to the ministry, Osteen's weekly television program reaches more than 10 million households each week in the U.S. and is seen by millions more in over 100 nations across the globe. He has also authored several books, including 2013's Break Out!: 5 Keys to Go Beyond Your Barriers and Live an Extraordinary Life and the New York Times Bestseller Your Best Life Now: 7 Steps to Living at Your Full Potential.