Joel Osteen Tells Stephen Colbert: I Have No Desire to Become a Denomination or Have Followers
Colbert Describes Osteen as a 'Texan Pope Francis'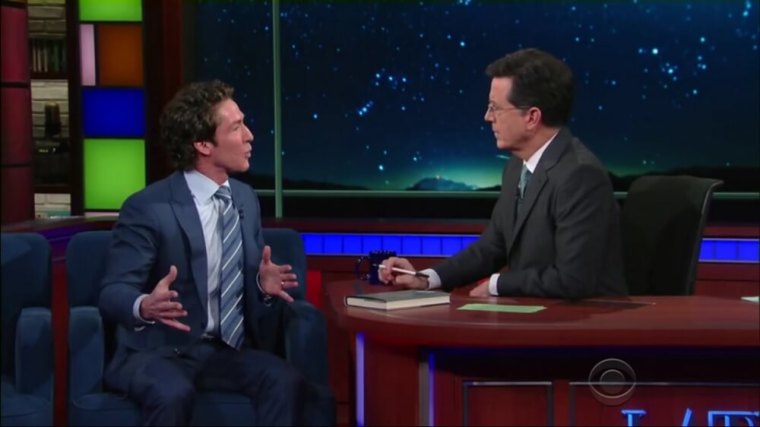 "The Late Show" host Stephen Colbert praised Pastor Joel Osteen as a "Texan Pope Francis" for his message of inclusion during a recent appearance, though Osteen said he has no desire to become a denomination or have people follow him.
"I like your open message, it is very accepting, non-denominational, you seem like a Texan Pope Francis," Colbert, a Roman Catholic, told Osteen, who is the pastor of Lakewood Church, one of the largest megachurches in America.
Osteen, who stopped by to promote his book, The Power of I Am, said that one doesn't necessarily have to be a believer of Jesus Christ to read it.
"Anybody can read this book. Even when Jesus was on the Earth, He went to all kinds of people – so I've always tried to get outside of just the church walls," Osteen said.
Colbert noted that as many as 10 million people around the world watch Osteen's weekly televised sermons, which the talk show host pointed out is larger than some religious groups. He asked Osteen whether he would consider himself a denomination due to the sheer size of his following.
Osteen replied: "I hope not. I hope people get inspired by our messages, but I turn everything back to the Lord. I have no desire to become a denomination or have followers of me – but followers of Christ."
The Lakewood pastor admitted that he does things a little differently than other faith leaders, because he chooses to focus on a message of positivity.
"I have been a little unusual, have gone outside of the church world. I talk about life, forgiveness, having good attitude, reaching your dreams. A lot of times religion pushes people down," he said.
Colbert, who has talked about his Catholic faith on a number of occasions, jokingly asked whether Osteen has tried "the power of crippling guilt."
"It works for me, man, it works for me," joked "The Late Show" host.
When asked to summarize the main message of The Power of I Am, Osteen said:
"It says God is for you, you don't have to live under the guilt and condemnation."
"[Don't] be against yourself. You're made in the image of God. He made every person a masterpiece."
Osteen previously told The Christian Post that he supports Pope Francis, and that he believes the pontiff is a "man of the people" due to his message of inclusion.
"I like the Pope. I like that he's making the Catholic Church more open to bring people in and not exclude them. He's a man of the people. I like what he stands for — humility, reaching out to others and he's not so formal that people can't relate to him," Osteen told CP in September 2015, regarding Francis' first ever visit to the United States.