Joel Osteen's Niece Seeks to Bring Awareness to Child Hunger in US (VIDEO)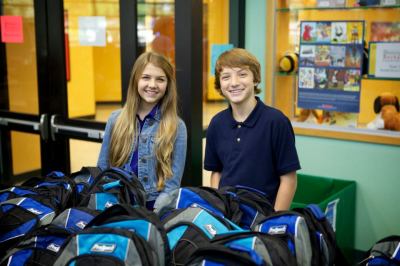 Olivia Osteen, niece of famed pastor Joel Osteen, has joined forces with Disney star Jake Short to bring national awareness to children suffering from hunger in the U.S. through the Blessings in a Backpack campaign.
The two young advocates have recently been featured in a public service announcement (PSA) to promote the nonprofit organization, which works to fight hunger in elementary schools nationwide by supplying children on the federal Free and Reduced Price Meal Program "with a backpack of food to take home for 38 weekends during the school year," according to the nonprofit's website.
Short, who is the star of Disney Channel's comedy A.N.T. Farm, and Osteen, an aspiring actress who serves as a young Christian role model, implore viewers to contribute to Blesssings in a Backpack in their recent PSA announcement, which was produced by Sound Tree Entertainment's Gregory James Blount.
"Blessings in a Backpack provides food to schoolchildren in need," Osteen says in the PSA.
"Better test scores, improved health, and increased attendance have all been attributed to the success of the program," Short adds.
The PSA was reportedly filmed at Pastor Joel Osteen's Lakewood Church in Houston, Txexas, and edited by film student Chandler Kravitz, according to a press release published by Sound Tree Entertainment.
The press release also notes that both Osteen and Short sponsor elementary schools on behalf of the Blessings in a Backpack organization.
Osteen supports the Janowski Elementary School in her hometown of Houston, while Short co-supports the Village Academy in Delray Beach, Fla., along with Blount of Sound Tree Entertainment.
Osteen said that her multiple mission trips to Africa inspired her to become a spokeswoman for Blessings in a Backpack.
"Because I've had the opportunity to travel to Africa many times, I've met a lot of people who are hungry, even malnourished," Osteen said in a statement.
"And through 'Blessings in a Backpack,' I've met kids who for different reasons need help with weekend meals. It's easy to think hunger only affects certain countries, but the truth is, there are hungry people living in America and your own city," the young actress added.
According to the Blessings in a Backpack website, those seeking to help the national fight to end child hunger can either donate a backpack, food, or money, or even adopt a school to ensure no American child goes home hungry.
Olivia's interest in charity work echoes the multiple charitable efforts of her uncle, Joel Osteen, who, along with leading a 43,000 member congregation, also heads Joel Osteen ministries, which provides a variety of charitable efforts to impoverished areas of Haiti and Africa, among other places.
As The Christian Post previously reported that Osteen will be speaking at his "Night of Hope" event in Miami, Fla., this upcoming Saturday.
The event will be streamed live in order to reach thousands of viewers, who are encouraged to communicate about the event using social media.