John Kasich Wants Department Promoting Judeo-Christian Values to Combat ISIS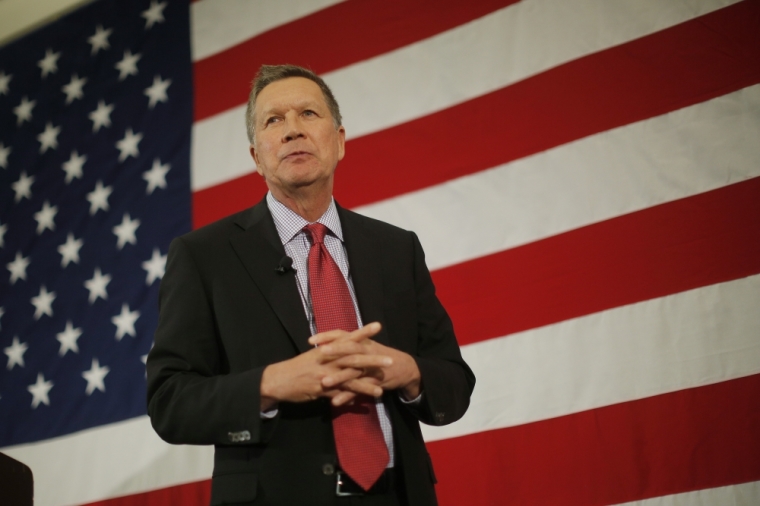 Ohio Governor and Republican presidential candidate John Kasich suggested forming a new agency that would promote Judeo-Christian values to combat ISIS ideology.
"We must be more forceful in the battle of ideas," Kasich said Tuesday in a speech at the National Press Club in Washington D.C. on a national security strategy that involves rebuilding the U.S. military, "reinvigorating" diplomatic alliances and renewing a commitment to "fundamental Western values."
"U.S. public diplomacy and international broadcasting have lost their focus on the case for Western values and ideals and effectively countering our opponents' propaganda and disinformation. I will consolidate them into a new agency that has a clear mandate to promote the core, Judeo-Christian Western values that we and our friends and allies share: the values of human rights, the values of democracy, freedom of speech, freedom of religion and freedom of association," he added.
Kasich said the target areas of this new agency would be the Middle East, China, Iran and Russia.
In an NBC News interview promoting the unnamed agency Tuesday, Kasich reiterated the purpose of the agency.
"Well its job would be fundamentally to revive what we used to do when we beamed messages into the former Soviet Union. Beam messages around the world about what it means to be, to have a Western ethic … It means freedom, it means opportunity, it means respect for women, it means freedom to gather, it means so many things," he said.
He defended creating the new government agency despite rival GOP presidential candidates calling for an elimination of some government agencies calling it a matter of priority.
"I think it's essential we begin to spread who we are, why we are who we are and what we represent. It is essential that those in the West begin to embrace again our Jewish and Christian tradition rather than running from it," he said.
The United States currently funds Voice of America which according to the agency's website: "is a dynamic international multimedia broadcaster with service in more than 40 languages. Serving an estimated weekly global audience of 171.6 million, VOA provides news, information, and cultural programming through the Internet, mobile and social media, radio, and television."
The Christian Post reached out to the agency Wednesday morning and asked about the promotion of Judeo-Christian values to the rest of the world and two individuals who said they weren't authorized to speak on the issue noted that they tried to present news and information in an "objective" way and could not say whether the promotion of Judeo-Christian values was part of their agenda.
Since the deadly terrorist attacks in Paris in which at least 129 people have been killed, U.S. foreign policy has come into sharp focus on the campaign trail.
The attacks also sparked controversy over how the U.S. should treat refugees fleeing from the nearly 5-year-long civil war in Syria. More than half of the nation's governors are now against a plan to accept 10,000 Syrians refugees into the country next year because at least one of the suspects believed to be involved in the Paris terrorist attacks entered Europe among the current wave of Syrian refugees.
Even Kasich who just two months earlier, according to NBC News, was willing to accept the refugees has changed his position.
"I'm criticized for having a big heart but I also have a big brain," he said in the National Press Club speech warning the federal government to "pause" the plan until adequate security measures are in place to vet the refugees.