John McCain Rivals George W. Bush, Barack Obama Honor Hero Who Frustrated, Made Them Better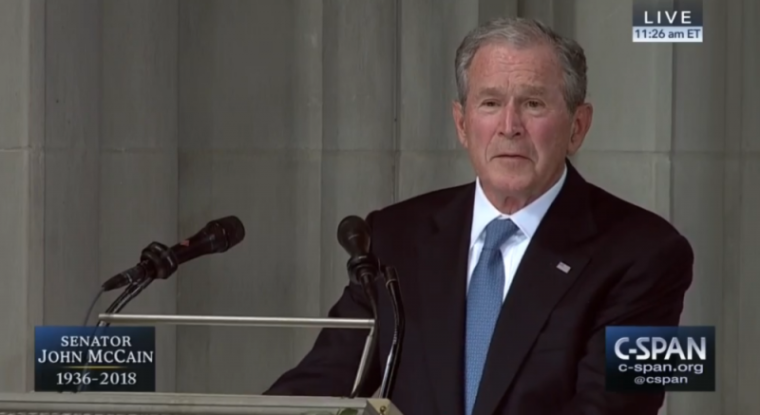 Former Presidents George W. Bush and Barack Obama, both political rivals of the late Senator John McCain, delivered eulogies honoring him as an exemplar of American ideals.
"What better way to get a last laugh than to make George and I say nice things about him to a national audience," Obama joked to laughter from the dignitaries in attendance.
McCain had asked Bush and Obama to speak at his funeral sometime after he was diagnosed with cancer about one year ago. A congressman and senator since 1982, McCain ran for president twice, and was bested by Bush during the 2000 Republican nomination contests, and by Obama in the 2008 general election.
Both former presidents recalled McCain as both bipartisan and hard-headed, contrarian and diplomatic, humorous and tempestuous.
"Back in the day, he could frustrate me, and I know he'd say the same thing about me. But he also made me better," Bush said.
Obama made a similar point in his speech: "He made us better presidents."
In the last few years of his life, McCain was notable for his opposition to current President Donald Trump. Remarking on McCain's heroism and 5 years spent as a prisoner of war in Vietnam, Trump, who did not serve in the military due to bone spurs, said in 2015, "He was captured. I like heroes who weren't captured."
Several of the eulogies contained subtle and not-so-subtle rebukes of Trump.
As we "mourn the passing of American greatness, the real thing, not cheap rhetoric from men who will never come near the sacrifice he gave so willingly, nor the opportunistic appropriation of those who live lives of comfort and privilege while he suffered and served," daughter Meghan McCain said.
"The America of John McCain has no need to be made great again because America was always great," she added to a rare applause from the audience.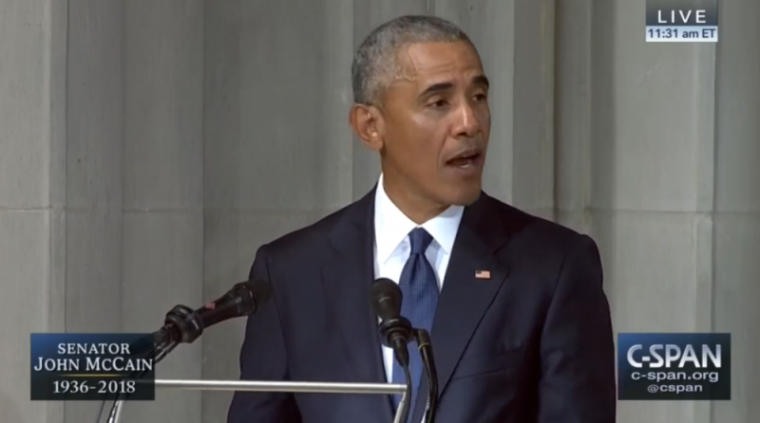 In what could be a description of Trump, Obama said, "So much of our politics, our public life, our public discourse can seem small and mean and petty. Trafficking in bombastic manufactured outrage, it's politics that pretends to be brave and tough, but in fact is born of fear. John called on us to be bigger than that. He called on us to be better than that."
Trump played golf during the service, and also tweeted about trade with Canada.
Both Bush and Obama spoke about McCain's willingness to buck his own Republican Party when he thought it was the right thing to do.
"At various points throughout his long career, John confronted policies and practices that he believed were unworthy of his country. To the face of those in authority, John McCain would insist: We are better than this. America is better than this," Bush said.
Obama recalled McCain had defended his patriotism while running against him. "I was grateful, but not surprised," he said.
Bush said McCain's politics were based upon an understanding of the dignity of every human life: "He respected the dignity inherent in every life. A dignity that does not stop at borders and cannot be erased by dictators."
Russell Moore, president of the Southern Baptist Convention's Ethics & Religious Liberty Commission, tweeted, "This John McCain funeral is inspiring — a reminder that honor and statesmanship and maturity in statecraft are still possible." And added, "And dignity. And respect."
Columnist and commentator Matt Lewis noted, "This is the most positive national exposure to Christianity since the royal wedding."
Fox News' Todd Starnes didn't appreciate some of the anti-Trump sentiments expressed at the funeral. "It's typically bad form to turn memorial services into platforms to bad mouth and smear people. #sad," he tweeted. Adding, "There was a time in American history when you could tell the difference between a funeral and a political rally."
Hymns sung during the service included, "Eternal Father, Strong to Save," "My Country 'Tis of Thee," "Amazing Grace," "Battle Hymn of the Republic," "The Lord Is My Shepherd," "How Great Thou Art," and "America the Beautiful."
Opera singer Renée Fleming sang McCain's favorite song, "Danny Boy."
Former Sen. Kelly Ayotte read from Wisdom 3:1-5, 9, and Sen. Lindsey Graham read John 15:12-13.
McCain will be laid to rest Sunday at the U.S. Naval Academy.