John Piper Cries Tears of Thanks After Final Day as Pastor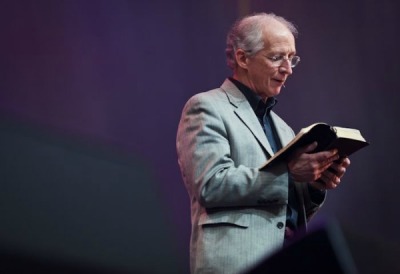 John Piper cried.
On Monday morning, for the first time in 33 years, Piper woke up without the title of pastor of Bethlehem Baptist Church in Minneapolis, Minn., and he cried tears of thanks and joy.
"… As I woke up on this Monday morning for the first time in 33 years without the official mantle of pastor, the only tears that came were tears of thankfulness. And under them was a great joy. It is finished. It has a completeness to it. God started it. God sustained it. God ended it. And I have loved it," he wrote of his feelings on his blog, Desiring God.
The day before, on Easter Sunday, Piper preached his swan song message at Bethlehem and it was poetic, unifying and exalted Jesus as the Church's great shepherd. In the message titled, "God Raised Your Great Shepherd from the Dead", he prayed that God would continue to bless and unite the Bethlehem congregation.
"Father, I ask that you would be for Bethlehem the absolute, unshakable existing one; that in Jesus Christ you would be fully reconciled to this flock and they to you, and they to each other in your blood-bought peace; that you would keep your covenant with them and fulfill every promise in your word," he prayed.
But on Monday, he bared the pang of his new life while explaining why he was happy with the seamless succession of leadership God had orchestrated for the church after they prayerfully sought His direction.
"Finishing the ministry at Bethlehem has been deeply and painfully satisfying. Painfully, because of long, tearful embraces with people who don't want to let go. But here I want to show you how finishing can be so satisfying," he noted.
Referring to the point in his ministry when he realized it was time to hand over the baton as his "Antioch Moment," Piper said he was grateful that God had created that moment which set things in motion in identifying the new pastor of the church.
About two weeks ago, Piper, 67, told his church that he would be moving his family to Tennessee for a year in May to allow Bethlehem's new pastor, Jason Meyer, to develop a strategic vision for the church without distractions.
In his reflections on Tuesday, he said he loved looking back at his time leading Bethlehem because even though it was "imperfect in a hundred ways" his work as pastor was "complete." He is now excited about what the future holds for him and Bethlehem.
"Being Bethlehem's pastor has been my life. But now it is finished. And I am thrilled at what lies ahead – for her and for me. Especially in a thousand years," he said.
Bethlehem Baptist Church will honor Piper for his service in an official thanksgiving service on April 14.