John Piper Explains Why He Doesn't Talk More About Politics in America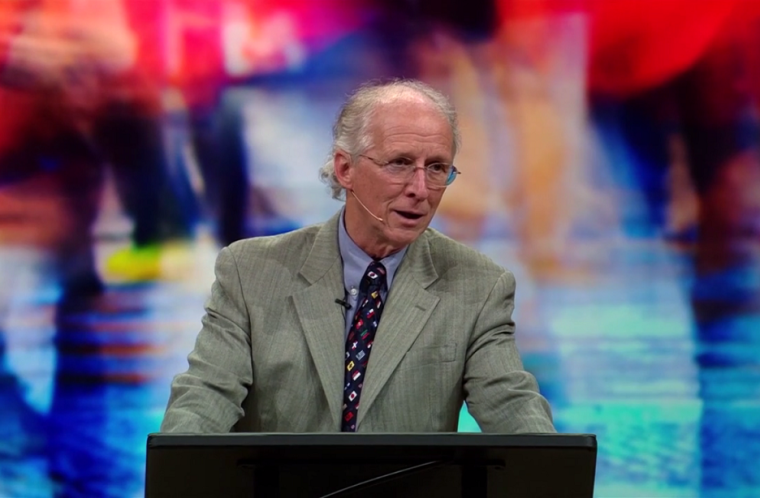 Reformed theologian John Piper has provided an explanation for why he stays out of political discussions despite the curiosity of others.
Piper said on desiringGod.org Monday that people's observations of him avoiding discussions on politics and current events are mostly true, and reflected on the various reasons for why that is.
"It is a generalization — let's be clear. It's a generalization because I wrote a whole book on racism, and it has political ramifications everywhere. I have lots of sermons and articles on abortion, marriage, homosexuality. I've looked [former President Barack] Obama right in the face and spoken stuff on YouTube," he positioned.
Still, he said that the observations are not wrong.
"In general, that is the impression you would get of my life's work — my sermons and messages and articles and APJs and Look at the Book episodes. Piper doesn't come at current events very often," he said of himself.
He listed a number of reasons for why he is the way he is, starting with the way he was raised, namely in an atmosphere where the condition of one's soul is seen as infinitely more important that politics on Earth.
"I feel today that most of the macro and international, political, economic issues are too complicated for me to figure out. Therefore, I don't have anything authoritative to say from the Bible about particular strategies for how to solve various political or economic issues," he said.
As an example, he offered up socialism, and comments made by Democrat candidate Alexandria Ocasio-Cortez and Sen. Bernie Sanders, I-Vt.
"It would take a ton of time learning about Ms. Ocasio-Cortez and Bernie Sanders, and the socialistic experiment in Venezuela or Sweden, and the historical examples of its failures or successes, and the reasons the minimum-wage law works or doesn't work, or the pros and cons of rent control and whether they work or don't work to accomplish anything good long term for the poor, or the probabilities of corruption in a socialist government versus a capitalist government, etc.," he argued.
"It would lead me into a wholly different life than the one I am presently called to. I am called to the enormous task of understanding the Scriptures, and preaching what they mean in their original context, and then, so far as I'm able, to apply them to people's real lives. In other words, I deal with the Bible pretty far upstream from the flow down into the nitty-gritties of political realization," he added.
Piper said that what is more, he is "one hundred times more passionate about creating Christians and churches that will be faithful, biblical, countercultural, and spiritually minded in a socialist America, in a Muslim America, in a communist America, than I am in preventing a Muslim America or a communist America."
The author insisted that his main calling "is not to help America be anything, but to help the Church be the Church. I want to help the church be the radical outpost of the Kingdom of Christ, no matter what kind of America it happens to be in or any other people group or country in the world."
The evangelist admitted that he has "very significant limitations," and that people are wired differently by God. In his case, he repeated that the conditions of the soul are much more engaging to him than politics.
Piper also said that he feels a better impact for Christ would not be made by him politicizing his voice.
"If a pastor is faithful to do consistent, rich, careful, unflinching expositions of the whole counsel of God in Scripture, his messages will certainly touch on the ethical dimensions of social and political realities, of the world where people live," he concluded.
"He will see where a biblical, moral issue in Scripture has a clear and unavoidable connection to a current issue or promise seen in the culture, and he'll draw that out and call for courage and righteousness and holiness in his people.
"But — last comment — he will never lose sight that the greatest issues are not temporal, but eternal. For what does it profit a man if he gains the whole world and forfeits his soul (see Luke 9:25)?"
In the past, Piper has also argued that Christians are not obligated to vote in political elections.
Days before the general election in November 2016, he said that followers of Jesus need to show their allegiance to another world.
"[God's] children are free! Free from human institutions. As citizens of Heaven, we are not bound in every situation to participate in the processes of human government. We are not bound! This is not our homeland! We vote — if we vote — because the Lord of our homeland commissions us to vote, and he does not absolutize this act above all other considerations of Christian witness!" Piper said at the time.