John Piper Reveals How to 'Fight Demonic Temptations to Discouragement' and Preserve Joy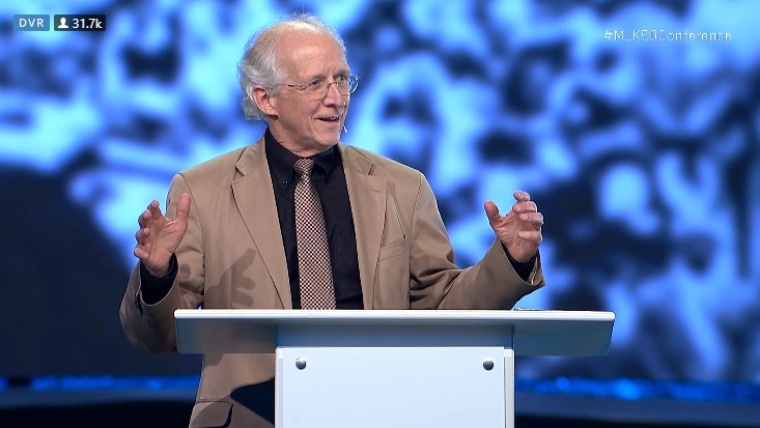 Reformed theologian John Piper has shared practical tips for fighting the "demonic temptations to discouragement" and preserving joy in God throughout the day.
In an episode of the podcast "Ask Pastor John" that was posted to DesiringGod.com on Labor Day, a listener named Katie asked Piper to identify the little things she could do throughout her day to find and preserve her joy in God.
Piper, who is also the chancellor of Bethlehem College & Seminary in Minneapolis, Minnesota, first pointed out that if Christ is not our supreme satisfaction, something else will be — and as a result, we will be drawn away from the Christian faith.
"Our flesh and the devil are active all day long to draw us into pleasures that are anti-God," he explained. "If we have no strategies for awakening and cultivating and preserving and intensifying our joy in God, we will be drawn away by our flesh and the devil into alternative pleasures, which are, as Paul said, idolatry (Colossians 3:5)."
Yet, killing evil desires isn't enough, Piper contended, as doing so leaves us with an "empty soul." Instead, Christians need to train their minds to recall Scripture throughout the day to battle joylessness.
One way to do this, he said, is through Scripture memorization.
"The value of memorizing for me is that my mind can take that phrase that comes to my mind and put it in place with the sentences before and after it so that I can properly say it, grasp it, preach it to myself for the sake of my joy," he said.
After reading a Scripture passage in the morning, Piper recommended picking out several verses to "preach to yourself" during the day.
"Set yourself a reminder on your phone to go ding every hour or buzz on your wrist to tell you to pull out that sword from your morning reading, say it to yourself, preach it to yourself, and tell Jesus thank you for it and that you really believe it," he advised.
"Tell the devil you believe it. Tell the devil that this is blood-bought truth from the Bible, and they're all blood-bought for Christians. Tell the devil that this truth is more precious to you than anything this devil has to offer."
Training your mind to recall Scripture and continually preaching it to yourself throughout the day helps you combat sin and Satan and find lasting joy, Piper said.
"Recognize that once you've read a lot of the Bible, most of it is a haze, a muddle in your mind. Indeed, it's not even in your conscious mind. You have to tell your mind — like a muscle, like you tell your hand to do something — you tell your mind like a muscle to go find it, pick it up, and put it before your consciousness."
"Then you have to tell your mind to set it in context so you understand it rightly," he concluded. "Then you have to preach it to yourself and against the evil one. This is how you wield the sword of the Spirit, and slay the demonic temptations to discouragement, and feed the fires of joy in Jesus."
Previously, Piper explained that storing texts in our minds about God helps us relate to Him as He really is and live a life that reflects His attributes.
"Most of us are emotionally crippled — all of us, really. We do not experience God in the fullness of our emotional potential," he said. "How will that change? One way is to memorize the emotional expressions of the Bible and speak them to the Lord and to each other until they become part of who we are."
"For example, in Psalm 103:1, we say, 'Bless the Lord, O my soul, and all that is within me, bless his holy name!' That is not a natural expression for many people," he continued. "But if we memorize this and other emotional expressions from the Bible, and say them often, asking the Lord to make the emotion real in our hearts, we can actually grow into that emotion and expression. It will become part of who we are. We will be less emotionally crippled and more able to render proper praise and thanks to God."