Jonathan Roumie says 'all glory to God' as 'Jesus Revolution' continues to exceed expectations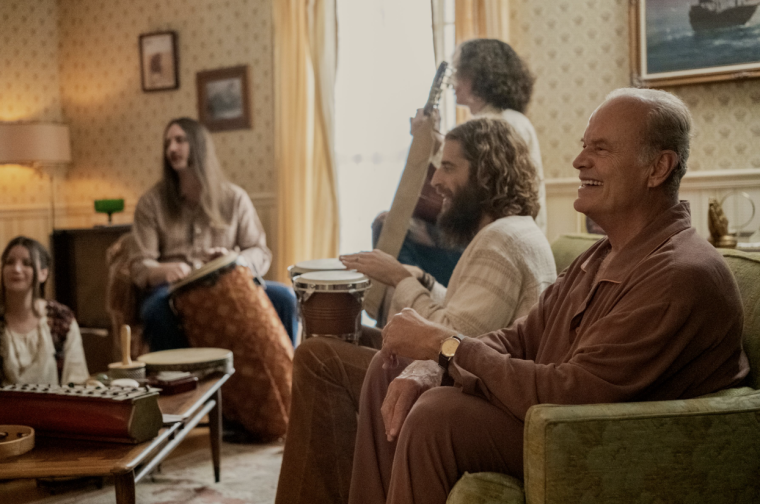 Jonathan Roumie gave all the glory to God after "Jesus Revolution," the revival film in which he plays hippie preacher Lonnie Frisbee, continues to exceed expectations at the box office. 
"My dear friends ... this is just too unreal. Thank you for supporting and embracing this film! All glory to God," he wrote on Instagram.
"Looks like our prayers are being heard. I spent opening day in a monastery in prayer, grateful for all I've been given. Because that's where I needed to be. … Reminding myself that serving God and each other is the first priority in life. Everything else is icing on the cake. … Or in this case, bourbon vanilla, chantilly whipped cream with maraschino cherries. … Thank you again."
Starring Roumie as Frisbee, Kelsey Grammer as Pastor Chuck Smith and Joel Courtney as Greg Laurie, "Jesus Revolution" follows Laurie in the 1970s as he searches for truth and meaning on the West Coast. There, he meets a charismatic young evangelist who introduces him to Jesus and invites wandering youth to church, challenging traditional church culture. What followed was a national spiritual awakening that left a lasting impact on culture. 
The film, which opened in over 2,400 theaters, took in $15.5 million in its opening weekend at the box office — more than double what was projected. As of March 2, the film has grossed over $19 million domestically.
Filmmakers also reacted to the film's overwhelming success. 
In a statement, co-director Jon Erwin said that the cast and crew knew "Jesus Revolution" "would be a special movie back during filming," but "didn't know how perfect God's timing would be in releasing it."
"With the revivals sweeping the country, I'm blown away by how much people love this movie and how 'Jesus Revolution" feels like a part of something so much bigger," he said. 
Brent McCorkle, who directed the film alongside Erwin, added, "'Jesus Revolution' is all about love. After all, you can't spell 'revolution' without 'love.' My heart for this film is that people who watch it have a stirring inside that calls them back to love ... to getting back to the practice of caring for each other again, just as Jesus did. Reading stories of that happening across the country has been incredible."
Laurie, who today leads Harvest Christian Fellowship, challenged believers to bring others to see the film as a form of evangelism.
"Taking a nonbeliever to see 'Jesus Revolution' is one of the easiest ways I can think of to do evangelism," he wrote on Facebook. "This film is full of the Gospel and touches people deeply. We have heard SO many stories of people accepting Christ after they saw it. We've also heard stories of people who went on their own and wanted to know how to become a Christian after seeing the film. TAKE someone to see 'Jesus Revolution' tonight!"
Ahead of the film's release, filmmakers had stressed the importance of Christian audiences supporting the film opening weekend: "You vote for your content at the box office and opening weekend will determine a lot. It'll determine how long it stays in theaters, it will determine Hollywood paying attention to the numbers," McCorkle told The Christian Post.
"If this is content that you want to see, if you want to see more of this, you have to go support the content that you want to see more of," he added. 
Erwin also set a movie industry record when the film recorded an A+ CinemaScore, making him the first director ever to receive four perfect scores. Erwin previously received  A+ for the faith-based films "I Can Only Imagine," "American Underdog" and "Woodlawn."
The director told CP he wanted to make a film that celebrates pastors, as much of the content released by Hollywood focuses on stories of church leaders who fail.
"For every story that our industry tells of a pastor gone bad, televangelists, whatever, there are 10,000 pastors doing great work on the ground all across America. I think the American pastor is one of the most … under-celebrated, under-seen jobs in American society that binds us together. And they're doing great work. And a lot of times those stories are not told," Erwin said. 
"I wanted to tell a story of a pastor that threw his doors open to something he didn't understand, and opened his doors to an audience of people that in the religious context of the day, a hippie going to church at the time, was like, go home, get a job, cut your hair, rejoin society, now maybe you can come to church. Instead, Chuck just threw his doors open to this group of people. And I think that is a challenge to pastors all across America."