Jordanian Fighter Pilot Moaz al-Kasasbeh Burned Alive in Latest ISIS Horror Video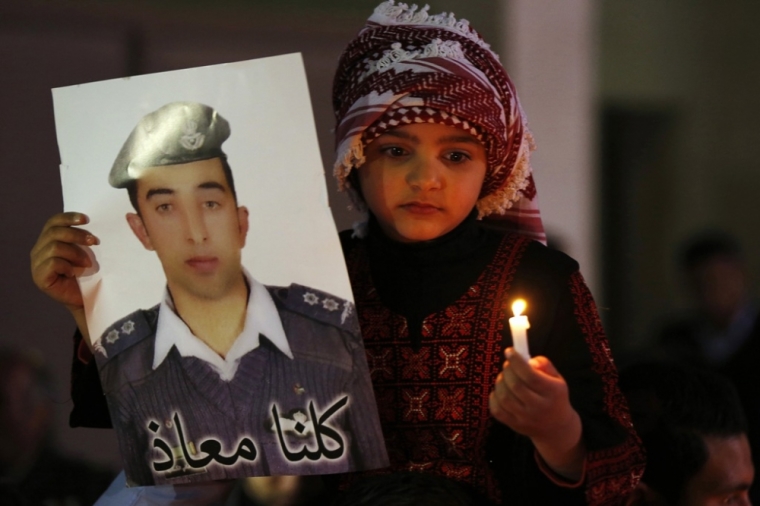 Islamic State terrorists reached a new level of atrocity after releasing a video of the captive Jordanian pilot being burned to death on Tuesday.
The terrorist group, known as ISIS, released a video entitled "Healing the Believers' Chests" on Tuesday, which revealed the brutal murder of Moaz al-Kasasbeh, the pilot held captive by ISIS. The 26-year-old pilot is the first foreign serving military soldier (non-Iraqi or Syrian) held captive by ISIS since the U.S.-led international coalition began its aerial campaign against the extremists in September. Furthermore, Kasasbeh is the first victim known to have been burned to death as opposed to being beheaded.
The video, which has been deemed the most appalling footage from ISIS yet, was released just days after ISIS' British Jihadi John brutally murdered Japanese journalist Kenji Goto in a filmed beheading after days of intensive negotiations through intermediaries to save him.
In response to the barbaric slaughter, Jordanian officials have stated that they will retaliate. Jordan currently holds five prisoners believed to be linked to ISIS, and the nation had hopes of striking a deal with ISIS for Kasasbeh. However, any possibility of a civil exchange was eliminated with Kasasbeh's murder. Within the hour of the video, Jordan moved the five prisoners to a jail in the south of the country which is usually used for state executions.
President Barak Obama said Tuesday that if the video of Kasasbeh's execution is real, the global coalition group would re-double their efforts to degrade and destroy the terrorist group.
Obama added that if ISIS' video is "just one more indication of the viciousness and barbarity of this organization," Huffington Post reports.
Obama added: "Whatever ideology they're operating off of, it's bankrupt," Reuters reports.
The White House is working to confirm the video's authenticity, according to Reuters. It is believed that Kasasbeh was executed on Jan. 3 — one month before ISIS revealed the appalling video on Tuesday.
Kasasbeh was captured by ISIS after his F-16 fighter jet crashed in to territory controlled by the militants in northern Syria in December. The Islamic terrorist group is accused of torturing and murdering prisoners, including teenagers and children, and forcing many to convert to Islam or die. ISIS is responsible for nearly 6,000 executions in Syria alone in the past six months.
Find photos taken before the execution here.