Josh Duggar pleads not guilty to child pornography charges after arrest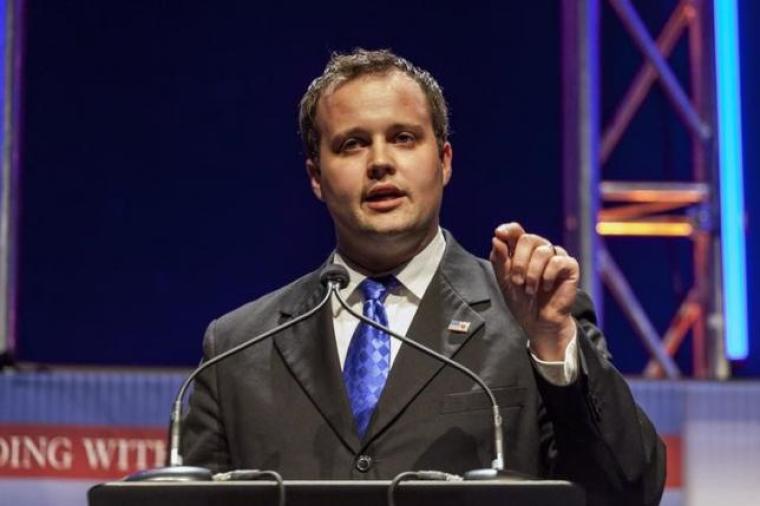 Josh Duggar of "19 Kids and Counting" fame pleaded not guilty to charges of possession of child pornography Friday, one day after he was arrested for allegedly receiving and possessing material showing the sexual abuse of children. 
Duggar, 33, is best-known as the eldest son of ultra-conservative Christian parents Jim Bob and Michelle Duggar. His father served in the Arkansas House from 1999 to 2002.
Following his arrest by FBI agents, a hearing was held virtually over Zoom in the Western District of Arkansas Friday. Represented by his attorney, Travis W. Story, Duggar appeared from jail and "was seen smiling before the hearing kicked off," Fox News reported. 
Duggar is accused of using "the internet to download child sexual abuse material. Duggar allegedly possessed this material, some of which depicts the sexual abuse of children under the age of 12, in May 2019," the U.S. Attorney's Office said in a statement Friday. 
If convicted, the father of six faces up to 20 years in prison with fines up to $250,000 on each count. The former reality star's fate is in the hands of a U.S. District Court judge who will determine his sentence.
Duggar's charges were not read publicly during the hearing as per his request and his attorney also requested that he be released on bond.
At the hearing, Judge Erin L. Wiedemann told Duggar that if he was to be granted release he would not be allowed to be in the presence of minors. 
"Given the nature of the charges against him, the court would likely require a third-party custodian that he could reside with and that would ensure compliance with conditions of bond so you all would need to get that line out and inform our probation office of who that person is so they could interview that person," Wiedemann said. 
A separate hearing on May 5 will determine whether he will be released from jail or remain in custody until his trial date which is set for July 6.
"They also will want to interview Mr. Duggar. They won't discuss your charges Duggar, but they will interview you for information to determine whether you're a good person for release in a residence where there are no minors in the home or that would be visiting unsupervised," the judge continued.
U.S. Attorney's Office added: "This case is being prosecuted as part of Project Safe Childhood, a nationwide initiative to combat the growing epidemic of child sexual exploitation and abuse launched in May 2006 by the Department of Justice. Led by U.S. Attorneys' Offices and CEOS, Project Safe Childhood marshals federal, state, and local resources to better locate, apprehend and prosecute individuals who exploit children via the Internet, as well as to identify and rescue victims." 
Both Homeland Security Investigations Fayetteville and the Northwest Arkansas Internet Crimes Against Children Task Force are investigating the case against Duggar.
In 2019, his place of employment at the time, a car dealership, was raided by Homeland Security in relation to a federal investigation. It has not been confirmed if the raid and recent arrest are related.
Some reports claim that Duggar's home was also raided around that same time. Those reports have been refuted by family, however.
Duggar's character first came into question when his family's hit show, "19 Kids and Counting," was canceled by TLC in 2015. The show was pulled after allegations began to swirl that Duggar had sexually abused two of his sisters.
Jim Bob and Michelle Duggar released a public statement Friday, saying: "We appreciate your continued prayers for our family at this time. The accusations brought against Joshua today are very serious. It is our prayer that the truth, no matter what it is, will come to light, and that this will all be resolved in a timely manner. We love Josh and Anna and continue to pray for their family."
The arrest comes on the heels of Duggar's wife, Anna, announcing that the couple are expecting their seventh child. 
A pre-trial hearing for his case is set for July 1.