Joyce Meyer Ministries Addresses Lingering Controversies About Financial Practices
Representative for Popular Christian Nonprofit Explains Changes Made in Wake of Senate Probe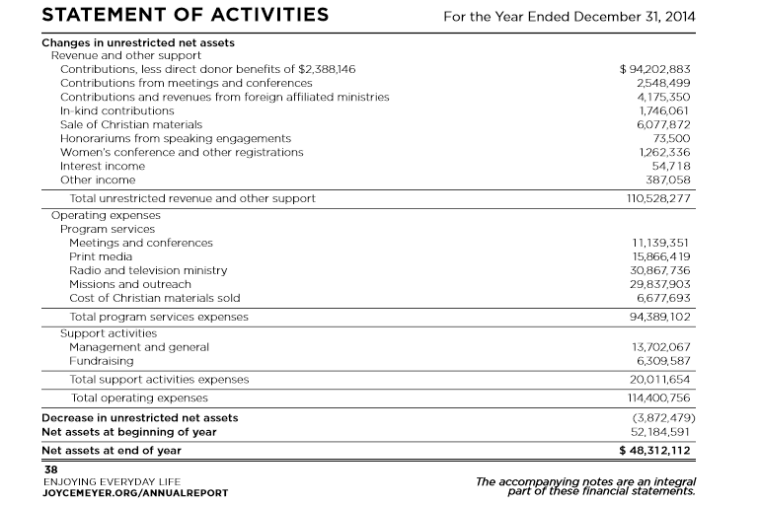 Lingering Questions
Meyer, 72, was paid $250,000 last year, according to her ministry's 2014 annual report. The ministry itself earned $110.5 million, with about 27 percent of its revenue ($29,837,903) used specifically for "missions and outreach" (not including "operating expenses" for conferences or JMM's radio and television ministry).
As previously noted, among JMM's current board of directors are Meyer, her husband and two sons (Dave, Daniel and David L. Meyer, respectively). Also listed on the board are: pastor Tommy Barnett; John Bevere; pastor Don Clowers; Dru Hammer; Paul Osteen; Paul Schermann; Kurt Warner; and pastor Bob Yandian.
Daniel Meyer took the helm as CEO of JMM's U.S. operations in 2004, when he was just 25. David L. Meyer serves as CEO of JMM's global missions arm, Hand of Hope. Meyer is president, while her husband, Dave, is vice president of the board.
The St. Louis-Post Dispatch reported in a 2003 feature on Meyer and her ministry: "Minutes of ministry board meetings show that for 2002 and 2003, the board approved compensation packages of up to $900,000 for Joyce Meyer and up to $450,000 for her husband."
JMM's public relations liaison disputed that report, telling CP that "although the information you bring into question was documented in meeting minutes as part of a discussion, the ministry never adopted salaries for Dave and Joyce Meyer at that level."
"The board approved compensation studies to determine acceptable salary ranges, but these findings did not represent the salaries actually paid. The fact is, $250,000 is the highest Joyce has been paid, and again, her salary has remained at this level for well over 15 years. Likewise, Dave Meyer's salary is not, nor was it ever set at $450,000," Potter stated in her responses to CP's emailed questions.
The St. Louis-Post Dispatch also reported that Joyce Meyer Ministries had purchased five homes for Meyer and her family members.
"To answer your second question, the ministry does not pay for any personal expenses of the Meyer's homes or vehicles, and the same rules apply to the other board members," Potter told CP. That reply was clarification to her original statement that: "Vehicles owned by the ministry consist of trucks and vans used for transporting personnel, goods and services. Joyce Meyer Ministries does not own board member [sic] homes or vehicles. All ministry buildings and vehicles are strictly used for ministry purposes."
One question that did not receive a response from JMM pertained to the amounts of the salaries of Meyer's husband and two sons. When asked why a response to that question was omitted, CP was told: "... we publicly disclose information on our president and founder. As for other executives, compensation studies are done each year on those requiring them, and they are based on the salary thresholds our outside attorneys recommend. This has been done for years to assure we are not exceeding the recommended compensation levels. We do report those salaries to ECFA."
CP confirmed with the ECFA's listed media contact that the accreditation organization does not publicly disclose reported salaries of board members.
Give.org, run by the Better Business Bureau Wise Giving Alliance, declined to give Joyce Meyer Ministries its stamp of seal of accreditation as it has with other Christian charities, such as Prison Fellowship Ministries, American Bible Society and several others. The BBB Wise Giving Alliance concluded that JMM met 14 of its 16 requirements for approval, and noted its CEO sitting as chair of the board of directors as a negative mark. The charity report for JMM, last accessed by CP on Aug. 3, has since been removed from Give.org.
"It depends. It may be more common for a startup, a nonprofit that's starting from scratch and hasn't developed a network of supporters from which they can select board members," ECFA's Busby told CP when asked if it was common for a nonprofit's president or CEO to have family members on his or her board of directors.
"Even with organizations that have matured over time. It's not uncommon for a church or a parachurch organization to have a family member or two on the board," Busby added.
Busby explained that for members, the ECFA's "litmus test is whether the majority of board members are independent, and their independence is reflected by the fact that they're not on staff or that they're not related to anyone on staff."
"There are a few other fine line definitions involved there, but basically, that over 50 percent of individuals serving are not family members and not staff. That's the test that we apply on that," he added.
Busby explained that the means of enforcement for this particular requirement involved the same "litmus test."
Some Christians cannot help but be skeptical when questions about financial accountability and transparency are raised, CP told Busby. "Are ministries that refuse accreditation or oversight shooting themselves in the foot? How do they gain confidence if they are unwilling to disclose any of their financial dealings?" were some of the questions CP asked him.
The ECFA president referenced a passage in the previously noted "Enhancing Accountability" book produced by the national commission about freedom of religion leaving churches and other religious entities room to choose what works for them based on their own polity and doctrine.
"The commission took the position that these non-990 filers have a great deal of freedom because the law gives them this freedom, yet at the same time they need to step up and demonstrate their commitment to oversight and accountability. That's the America that we live in today. A great deal of freedom for these folks but they also have a great deal of responsibility from an integrity standpoint to demonstrate accountability," Busby said.
"Sometimes that works out well where...they design enough accountability. And at other times, it doesn't work out very well. That's the landscape of where we are today," he added.
Joyce Meyer Ministries, meanwhile, was preparing to host its first-ever Social Media Giving Day. On Aug. 20, the ministry will invited the 14.4 million supporters across its social networks to donate money for the "Joyce Meyer Ministries General Fund," presumably to maintain its evangelism efforts and humanitarian outreach.
"We want to show the world what our social community (that's all of you on Facebook, Twitter & Instagram) can do when they join together to Share Christ and Love People. No amount is too small, and when we all join together…well, amazing things happen," reads the campaign promotion.
[Read "Joyce Meyer Was Never Paid $900,000 and Her Nonprofit Does Not Pay Expenses for Or Own Board Members' Homes, Rep Says in Q&A About Financial Practices" for CP's complete email exchange with Lori Ann Potter, JMM's public relations liaison]