Evangelist Benny Hinn, Citing Financial Teacher Todd Coontz, Asks Supporters to Donate $1,000 in 'Higher Seed-Level Giving'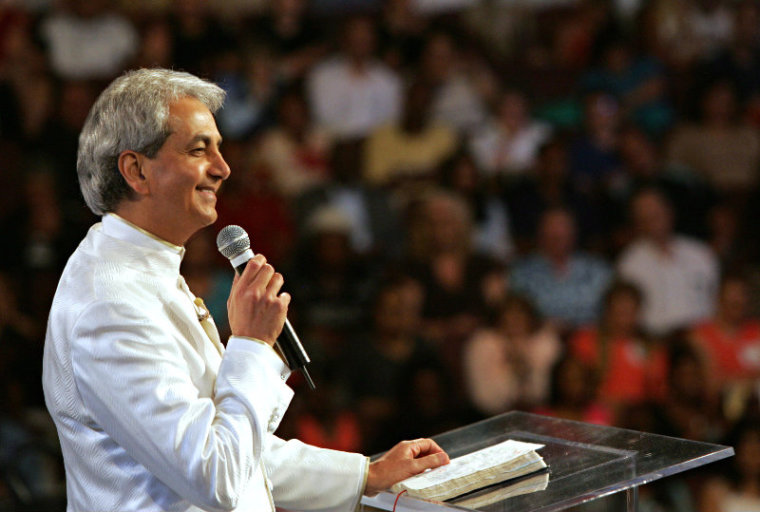 Benny Hinn, Christian faith-healing evangelist, has asked supporters to step up to "higher seed-level giving" by donating $1,000 to his ministry, with the suggestion that they would enter a "new dimension of favor and increase" like he did after trying out financial teacher Todd Coontz's "thousand-dollar principle."
Hinn, whose followers number more than 1.7 million on Facebook and Twitter, credited Coontz as inspiration for the higher seed-level giving principle in a newsletter emailed to supporters over the weekend.
"I've believed in seed-faith giving for decades, and I've seen it work time after time, but where do you get this $1,000 teaching?" Hinn says he asked Coontz during a conference in Dallas. "He showed me from the Bible how Solomon offered a thousand animals to God. He told me there's something very special about the number 1,000 and the miracles he has seen when people cross that line in giving."
After trying out Coontz's "$1,000 teaching," Hinn claims he received from God "quick" results that were "nothing short of miraculous, and totally life-changing!"
"Because of what I heard, and responding to his challenge, I stepped into a new dimension of favor and increase," adds Hinn. "And that's the purpose of this email!"
Hinn goes on to cite Luke 6:38 and 2 Corinthians 9:6, verses popular among prosperity preachers, about receiving or "reaping" in proportion to one's giving, or "sowing," stating, "Give God more to work with. Expect more. Greater faith releases the anointing!"
Prosperity preachers commonly claim that God rewards financially those who donate money, oftentimes to their own ministries or churches, and that the more one gives, the bigger the reward.
In his request for supporters to "move up to a higher level," the Israel-born televangelist explains why the figure 1,000 holds significance in the Bible: "In fact, the word thousand is recorded in the King James Version of the Bible 521 times, so it is obviously a number that is important to the kingdom of God."
Hinn concludes his appeal by encouraging supporters to "sow a generous gift of $1,000 or whatever God places on your heart today."
Although Hinn reports having several outreach ministries, such as orphanages in places like Asia and Mexico, and relies on donations to finance his national and international "miracle crusades" and evangelistic meetings, the minister remains controversial among some in the Christian community for teaching a prosperity message. Hinn, who reportedly has a net worth of $42 million, also has been criticized and investigated by numerous news organizations for his purported faith healings.
Coontz is described as a businessman, entrepreneur, television host, financial teacher, philanthropist and best-selling author. He also is a televangelist who promotes on his RockWealth International Ministries website at least four different options for "seed" giving. The giving options range from a "Hope Seed" of $30 a month to feed the hungry, to the "Triple Favor Seed" with a price tag of $1,000.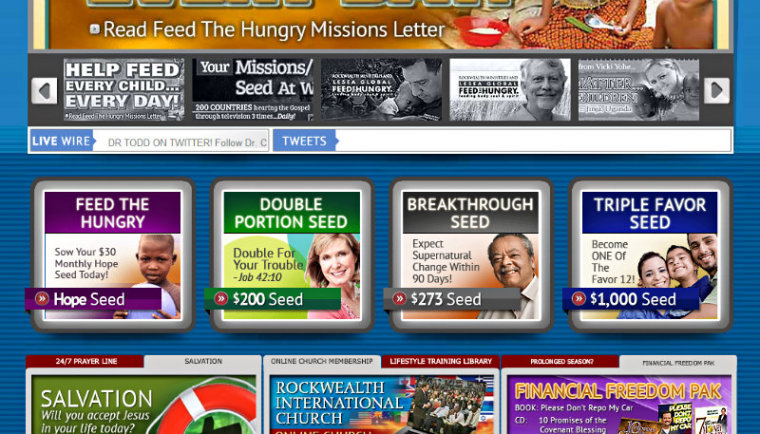 Coontz, who claims that "for over 20 years he has carefully embraced his lifetime assignment and passion to teach people how to Qualify, Receive, and Manage Wealth according to Deuteronomy 8:18," was the subject of a news investigation last year for telling viewers of his TV program to rush him a $273 "Recovery Seed" donation. His RockWealth International Ministries is affiliated with RockWealth International Church, which is registered in South Carolina with the IRS and appears to exist only online.
Coontz and Hinn frequently work together, with the financial guru and minister tweeting on Monday that he had just arrived at Los Angeles International Airport to do a taping with the charismatic preacher. Coontz also shared a photo over the weekend of himself and Hinn, whom he identified as an "Uncommon Healer & Teacher of Jesus Christ!"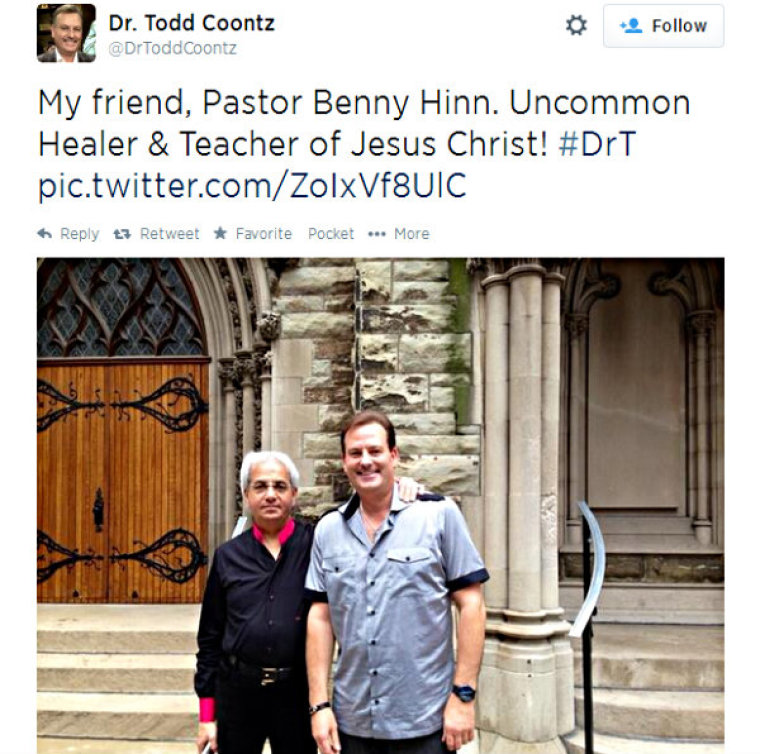 Benny Hinn Ministries is affiliated with his Texas church, World Healing Center Church, a nonprofit organization that is registered with the IRS and not required to publicly disclose its financial information, as is the case with Coontz's organization.
Next up for Hinn on what he calls his worldwide miracle healing crusade is an event on June 19 in Tunapuna, Trinidad, described on the evangelist's website as a "fire impartation conference."