Joyce Meyer, Former Focus of Senate Probe, Was Paid $250K While Ministry Earned $110.5 Million in 2014
Popular Bible Teacher Shares 2014 Financial Report on Nonprofit's Income, Expenses and Relief Work
Joyce Meyer, popular Bible teacher and preacher, has shared with her supporters the latest financial report detailing her ministry's assets, expenditures, and the results of its charitable and evangelistic undertakings. The ministry's production of publicly-available yearly financial reports was just one change Meyer made after being named years ago in a Senate probe of the finances of six notable Christian televangelists.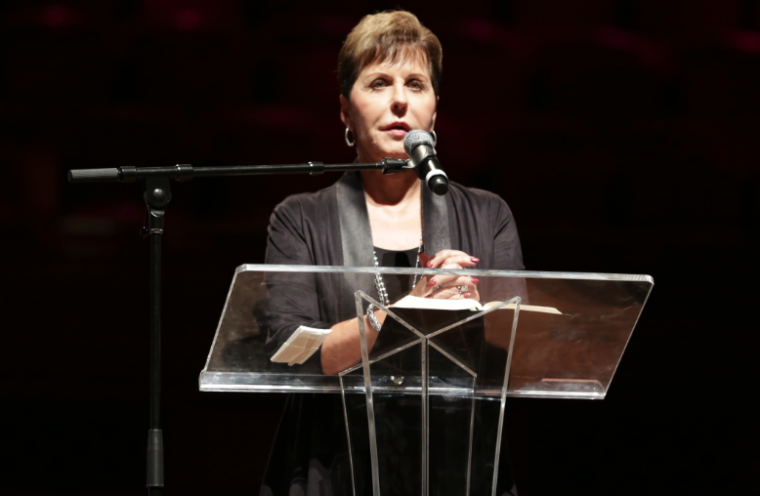 Meyer, named in 2005 by Time magazine among the 25 Most Influential Evangelicals in America, is a prolific author, having written more than 70 books, including the bestselling Battlefield of the Mind (1995). The 72-year-old minister is also a powerhouse on social media (totaling about 13 million followers across Twitter and Facebook), perhaps falling second only to Joel Osteen where evangelical Christian preachers are concerned.
The Fenton, Missouri-based Joyce Meyer Ministries, founded in 1985, claims that Meyer "reaches a potential audience of 3 billion people worldwide" through her "Enjoying Everyday Life" broadcasts. Meyer's 32nd "Love, Life Women's Conference," the only conference for which she charges an entry fee, attracted 14,000 women who paid $69 per ticket for the Missouri event last year, the St. Louis Post-Dispatch reported.
The ministry's 2014 annual report reveals that 49,930 people "received Christ" at its free conferences (which reportedly number "close to 15 annually"), 1.1 million copies of Meyer's books were distributed globally, and 4.5 billion people were potentially reached via the nonprofit's television program.
The financial report states that 83 percent of the ministry's total expenditures were "for outreach and program services directed at reaching people with the Gospel of Jesus Christ and meeting the physical needs of the less fortunate all over the world." Some aspects of the ministry's missions work, done through its Hand of Hope relief wing, is helping to build clean-water wells in seven countries, assisting women and young girls escaping sexual slavery, and providing meals to children around the world and in Missouri via Meyer's St. Louis Dream Center.
A breakdown of Joyce Meyer Ministries' statement of activities for 2014 shows that "total unrestricted revenue and other support" yielded $110,528,277, while the ministry's "total operating expenses" were $114,400,756, leaving it with year-end net assets totaling $48,312,112 ($3,872,479 less than it started the year with). The biggest areas of expense were Meyer's radio and television ministry ($30,867,736), missions and outreach ($29,837,903) and print media, which includes salaries, printing and production and postage costs ($15,866,419).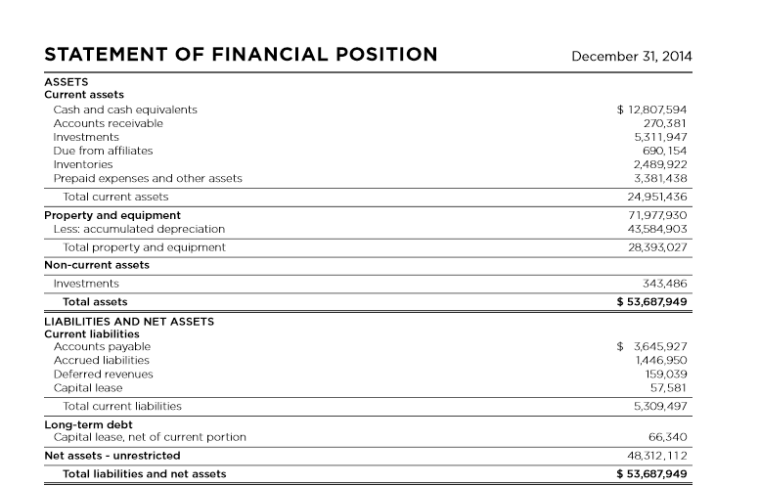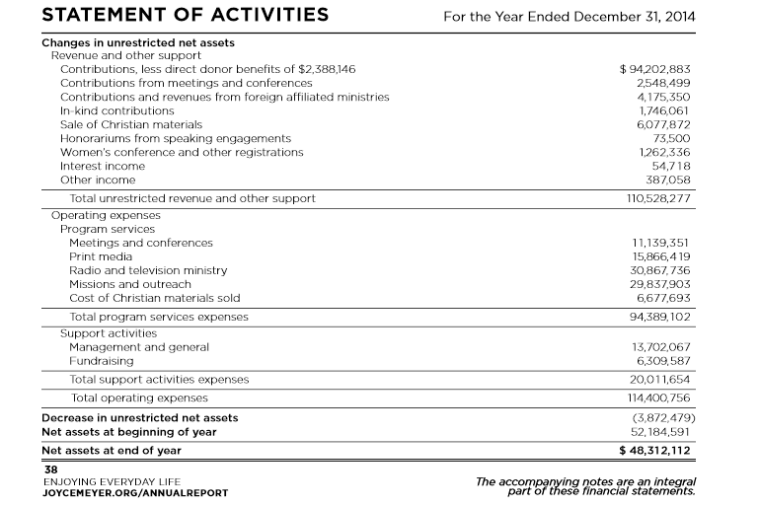 As a 501(c)3 nonprofit operating as a "church," Joyce Meyer Ministries, like other public charities, is exempt from federal income tax and is eligible to receive tax-deductible contributions, according to the IRS. A nonprofit ministry classified as a church, specifically if it is a large operation, is not required by the IRS to report its financial dealings, a privilege that some Christian ministers have been accused of abusing to secretly and illegally amass personal wealth.
For basic comparison, here is what other charitable Christian organizations have made publicly available about their recent earnings and assets: multi-campus NewSpring Church based in Anderson, South Carolina, reported $59,340,144 total income in its 2014 financial report; LifeChurch.tv, also a multi-site church and based in Edmonton, Oklahoma, reported closing out 2014 with total assets valued at $154,972,715; Oak Cliff Bible Fellowship church pastor Tony Evans reported that his Urban Alternative ministry's 2014 income totaled $8,971,167; Franklin Graham's global relief organization Samaritan's Purse reported $346,712,522 in total assets.
Joyce Meyer Ministries has nine international offices and 25 field offices, 500 employees at its U.S. headquarters and an additional 184 people working at its international offices. Listed on its board of directors are Meyer, her husband and two sons (Dave and Daniel and David L. Meyer, respectively). Also listed on the board are: pastor Tommy Barnett; John Bevere; pastor Don Clowers; Dru Hammer; Paul Osteen; Paul Schermann; Kurt Warner; and pastor Bob Yandian.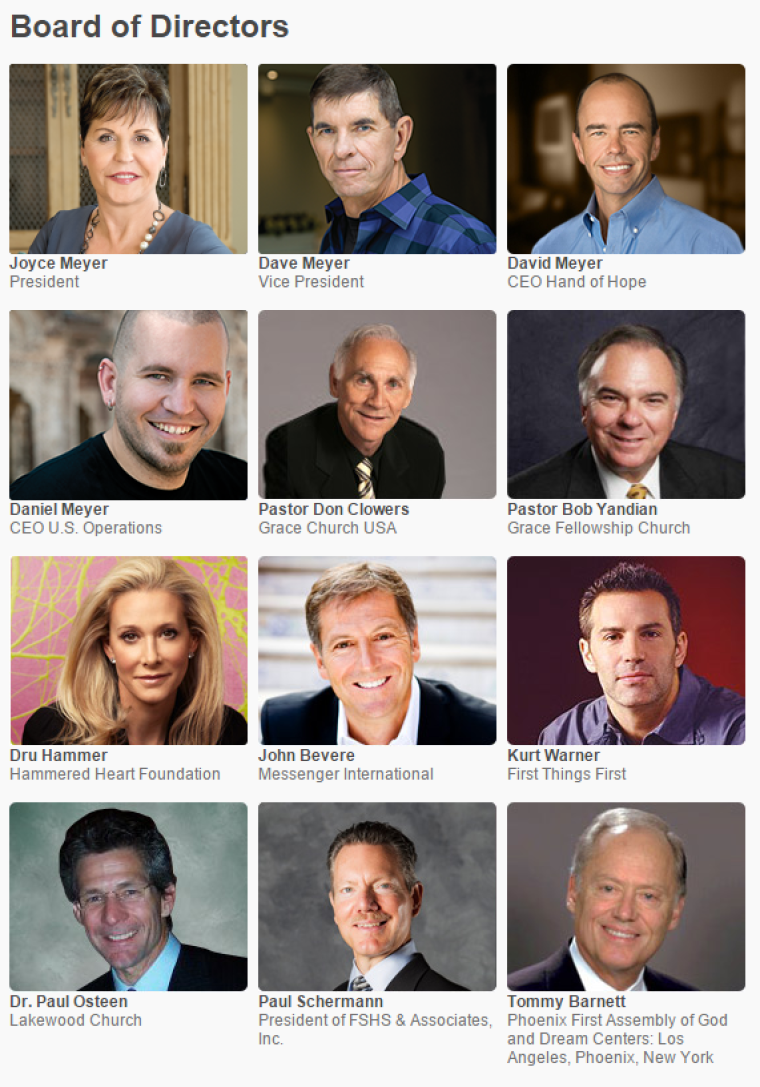 A "Management Report to Supporters Regarding Compensation" addresses Meyer's "salary and fringe benefits," which the board of directors decided last year was $250,000, in addition to a housing allowance and contributions to retirement plans. The compensation letter, signed by Chief Financial Officer Delanie Trusty, adds that the ministry's gross profits from Meyer's books and honorariums received by the ministry from her speaking engagements "exceed her total compensation stated above."